Gianni Mura has died aged 74. He was a legendary sports journalist in Italy and began covering the Tour de France at the age of 21 and was on the race last July too. Mura was sometimes portrayed as a curiosity in recent years for his use of a typewriter which made him look old-fashioned but there was a modern side too. He was one of the first in the pressroom to use a typewriter back in the days when journalists would write their piece in ink and then phone it through to the newspaper. He wrote his columns from the Tour de France last summer on a laptop.
Mura's writing stood out more than the manner of his typing. Affectionate towards the riders, he was able to evoke literary or poetic ideas when it the moment required and often related a race to the terrain on which it took place, especially the food and he was said to always travel with Michelin guide. He could see the big picture, such as how a rider's win in a race could matter to a whole nation; and the small details such as the personal traits of riders. He became La Gazzetta Dello Sport's Giro correspondent but also covered football and the Olympics and joined La Reppublica in 1976 from where he became an institution.
Of course the Olympics will be postponed. The first question is when the announcement comes and this matters because until it's official athletes can't stop training, and those confined can't stop worrying about losing out. But that can't happen until the bigger question is answered: when are they moved to? The autumn, by one year to 2021 or even 2022? Postponing to, say, October could evoke a scenario that might not be prudent and at this rate even 2021 doesn't offer certainty. The games are so big it's not easy to keep shuffling them. There's a lot to organise, member federations from archery to wrestling might have scheduled events like tournaments, world championships in place for 2021 already that clash and these need rescheduling and so on, and all for every participant sport.
Staying in Japan, there are only so many vintage race re-runs to watch although some suggestions for how to watch old races again is an idea for a blog post in the coming days. If you want to watch cycling of a different kind then the "Cycle Around Japan" series from Japanese channel NHK is a good diversion. It's all in English and episodes stick to a formula where the cyclist presenter visits a region for a few days to ride on the roads and meet locals with more emphasis on travel and touring rather than technicalities but it's an easygoing distraction.
These are strange times. While news can spread around the planet in seconds, the new coronavirus is taking its time. There's a dislocation in watching events that first started in Wuhan, then reached Italy, Spain, France and probably where ever you are. There's been a similar slow change in attitudes, policy responses behaviour. In cycling terms this is obvious on social media where people in different countries display different attitudes to riding. British and American readers might think it's the right thing to pop out for a ride today; while Italian, French and Spanish readers reply with warnings, not so much of contagion but one of using up healthcare resources in case of an accident. If the situation deteriorates where you live then you may change your mind and become equally "Italian" in the days to come.
If you do ride and it's approved by the authorities then copy aviation pilots – who know a thing or two about safety – and give yourself a pre-flight checklist. Nobody sets off planning to crash but it happens and right now nobody wants to be visiting an emergency ward or even a local doctor because of a sports injury. Plenty of us just jump on our bikes assuming it works because it was did last time but these days maybe check it over for a few minutes. Treat your bike like it's a rental model about to be handed to a client whose day job is litigation lawyer.
Also if you are out on the roads, ride solo. Maybe you live in a flatshare with other cyclists but think about setting an example to others who won't second-guess your domestic arrangements. That once-habitual gesture of cleaning your nose needs to be thought about too, do it quietly and out of sight, not even with a driver on the road. Also if you feel like a long ride, think of doing loops near home rather than a long raid, that way if you get tired or have a problem you can make it back with less hassle.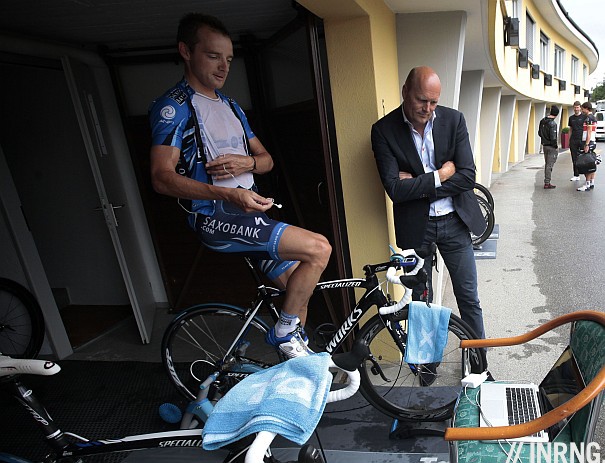 Lastly indoor training works. You might see the pros posting 150-300km indoor rides but thankfully 40-60 minutes is good training, especially since indoor riding is so focussed. Your outdoor riding will involve junctions, corners and other micro-moments when you stop pedalling, indoors you can maintain a solid load from start to finish. If you have no trainer you might know someone who does and can come to an arrangement for a rota as long as you and they can both take steps to keep it surgically clean; likewise if you have one, perhaps someone you know would love to use it a couple of times a week too?