Santa Claus
1. Dressed in red and white, who is the rider pictured above?
2. Red: Which grand tour has had a red jersey for the race leader?
3. White: Which World Tour race awards a white jersey to the overall leader?
4. Reindeer: Name a cycling team which shares a name with one of Santa's reindeers.
5. In Britain and other places the second day of Christmas is called "Boxing day". Which cyclist has recently retired and started boxing?
That Was The Year That Was
6. Who won the UCI World Rankings?
7. Which pro raced the most in 2019?
8. Name the climb pictured above?
9. Name a new race on the pro calendar this year?
10. Name a race than vanished from the calendar?
11. How many times did a rider from a Pro Conti team win a World Tour race?
Funny old sport
12. That's Igor Astarloa winning the Flèche Wallonne in 2003. Name something remarkable about his win that day?
13. Apart from being men's pro races, what do the Settimana Internazionale di Coppi e Bartali, the Quatre Jours de Dunkerque and the Driedaagse Brugge-De Panne have in common?
14. What have Paris-Tours, Gent-Wevelgem and Paris-Roubaix got in common?
15. The spring classics in Flanders are often grey, wet and windy. When was the last wet Paris-Roubaix?
16. What was the last race Chris Froome won?
17. Who was the lanterne rouge in the Tour de France?
Geography Lessons
18. How many countries do the Alps span?
19. What is Spain's highest mountain?
20. Name a spring classic which takes place in more than one country.
Business Section
21. Name three active pro cyclists who own bike shops.
22. What was Team Sky's budget for 2018?
23. Shimano makes bike parts and fishing tackle. Which division sells the most?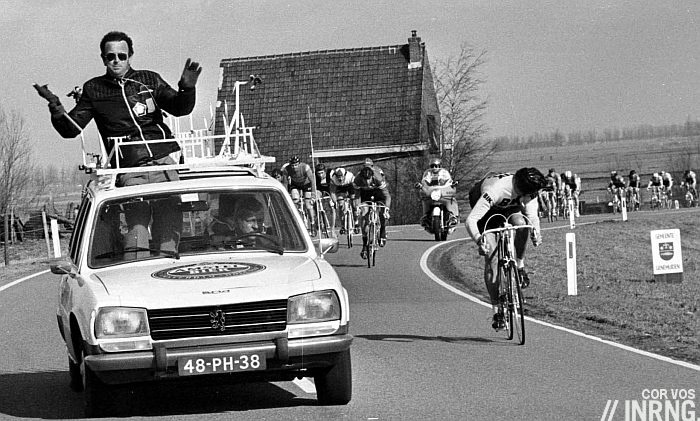 Chief Commissaire
24. What is the longest the neutralised start of a race can last?
25. Why are fines always levied in Swiss Francs?
26. Are stagiaires (trainee riders hired from 1 August onwards) salaried?
Lost in translation
27. Thomas of Ghent, Jacob Birdsong and Henry Moore are possible literal translations into English of three World Tour rider names. What's their real name?
28. The maillot jaune is famous in cycling, what is the ruban jaune?
29. The decisive climb of the men's road race in the 2020 Tokyo Olympics is Mikuni Pass (三国峠), what does its name mean?
30. What does campagnolo mean?
When They Were Young

31. Who is this astride a Kynast Cross 2000 BMX?
32. Look at the red circle on the left, who is that cheering the win?
33. Remco Evenepoel famously played football for Belgium before moving to cycling. Name another pro cyclist who has represented their country at international level in another sport.
Where Are They Now?
34. Jarlinson Pantano tried to get elected but it didn't work. Can you name anyone from pro cycling who has gone into government, local or national?
35. Which ex-US Postal rider now runs a dry cleaners?
36. Name an ex-pro who now owns a supermarket?
Picture round
37. Name the rider suggested above
38. Name the rider suggested above
39. Name the race suggested above
40. Name the team suggested above.
The Prize
This is a genuine quiz rather an email harvesting exercise. I don't expect many to try and answer all 40 questions. Still if you want to have a go or maybe readers collectively crowdsource their way together, feel free to leave your answers in the comments below and the deadline is midday Euro Time on Friday 27 December. As an incentive the winner gets a now ultra rare INRNG supporter's cap. The most correct answers wins and if there's a tie then a name gets picked at random. Obviously people can copy off each other which spoils the point of it all but if you want to wheelsuck your way to victory by copying someone else's answers and then sprinting past them with a final correct answer… …well that's cycling.
As loyal readers will know the quiz has some hard questions which can't be googled in one go, half the point of the quiz is to take a look at the sport in the answers which will appear here later this week. Happy holidays…