A Christmas quiz with 40 questions… and now for the answers.
Santa Claus
1. Dressed in red and white, who is the rider pictured above? It's Fausto Masnada, he's enjoyed a great season and will race for CCC in 2020.
2. Red: Which grand tour has had a red jersey for the race leader? The Vuelta a España. While the Tour de France celebrated the yellow jersey's centenary this year, the Vuelta's jersey has changed colour several times over the years.
3. White: Which World Tour race awards a white jersey to the overall leader? The Volta a Catalunya.
4. Reindeer: Name a cycling team which shares a name with one of Santa's reindeers. The story goes that one of Santa's reindeers is called Blitzen so the Japanese Pro Conti team Utsunomiya Blitzen works.
5. In Britain and other places the second day of Christmas is called "Boxing day". Which cyclist has recently retired and started boxing? No, not Nacer Bouhanni as he's signed for Arkéa-Samsic and faces an important year. Instead it's his former team mate and Tour of Belgium stage winner Zico Waeytens.
That Was The Year That Was
6. Who won the UCI World Rankings? I had to look this up, it was Primož Roglič and Lorena Wiebes.
7. Which pro raced the most in 2019? Astana's L-L Sanchez with 94 days of racing and 14,793km. The UCI is supposed to cap this at 85 days but teams can ask for exemptions and it's a guideline rather than a rule.
8. Name the climb pictured above? The Passo San Boldo. It looks dramatic but is regulated by a series of traffic lights meaning it's better to race up or down than ride and the real drama was its construction, it was built by forced labour in order to carry cannons and supplies to the front in World War One.
9. Name a new race on the pro calendar this year? Take your pick, the UAE Tour was one in the World Tour.
10. Name a race than vanished from the calendar? The Tour of California. When people running sport say they must seek out new sources of revenue, the answer across many sports these days seems to be swapping US and European sources for Middle Eastern ones.
11. How many times did a rider from a Pro Conti team win a World Tour race? I counted seven, including two in the Giro, three in the Vuelta. Put another way it's roughly 3% of the number of race days.
Funny old sport
12. That's Igor Astarloa winning the Flèche Wallonne in 2003. Name something remarkable about his win that day? It was the last time the race was won from a breakaway, ever since it's been the uphill bunch sprint.
13. Apart from being men's pro races, what do the Settimana Internazionale di Coppi e Bartali, the Quatre Jours de Dunkerque and the Driedaagse Brugge-De Panne have in common? All have names which get the duration of the event wrong, for example the Coppi and Bartali week doesn't last a week and so on. It's odd but charming.
14. What have Paris-Tours, Gent-Wevelgem and Paris-Roubaix got in common? They don't start where their name suggests they do. It's no bad thing because if Paris-Roubaix actually started in Paris it would so long they wouldn't have time to zig and zag across the pavé in the latter part of the race.
15. The spring classics in Flanders are often grey, wet and windy. When was the last wet Paris-Roubaix? 2002. It's odd, but because Roubaix is the last of the cobbled classics it means better chances of good weather and it turns out April is one of the driest times of year for the region.
16. What was the last race Chris Froome won? The 2011 Vuelta a España following J-J Cobo's belated disqualification.
17. Who was the lanterne rouge in the Tour de France? Sebastian Langeveld (EF Education First)
Geography Lessons
18. How many countries do the Alps span? Eight with France, Monaco, Italy, Switzerland, Germany, Lichtenstein, Austria and Slovenia. It's a big range but with shared traditions, apparently they even yodel in Slovenia for example. The Tour de France and Giro have made some passes famous but there's great riding across the range.
19. What is Spain's highest mountain? El Teide in Tenerife. Because of the Vuelta we often think of the mainland which usually sticks to the mainland and in recent years has visited the Netherlands more often than the Canary islands.
20. Name a spring classic which takes place in more than one country. Gent-Wevelgem crosses into France and the Amstel Gold Race has a tiny incursion into Belgium.
Business Section
21. Name three active pro cyclists who own bike shops. Philippe Gilbert has one in Monaco. Rigoberto Uràn has one and so does Warren Barguil. Ditto Greg Van Avermaet. They're all Tour de France stage winners too.
22. What was Team Sky's budget for 2018? £38 million. It's a matter of record but the sum still gets misreported, estimated and guestimated.
23. Shimano makes bike parts and fishing tackle. Which division sells the most? Bikes, it's about 80-20 for bikes to fishing.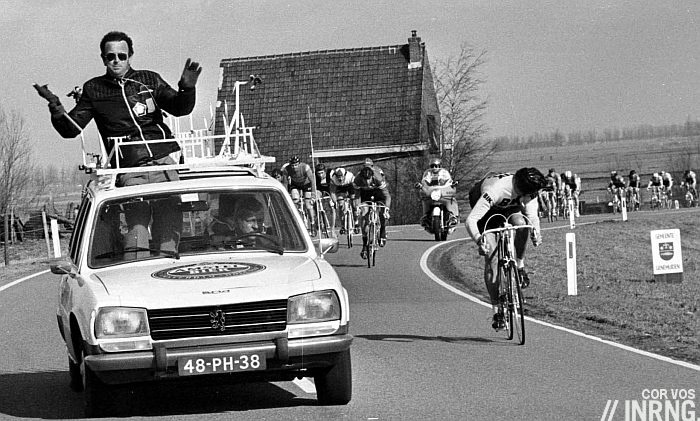 Chief Commissaire
24. What is the longest the neutralised start of a race can last? 10km according to the rulebook but we often see waivers.
25. Why are fines always levied in Swiss Francs? Because the sport's governing body, the UCI, is headquartered in Switzerland. Fines levied in a race go to the local federation rather than the UCI, eg drop litter in the Tour de France and it's the French federation that stands to collect any levy.
26. Are stagiaires (trainee riders hired from 1 August onwards) salaried? They weren't and still aren't but there's now a pro rata payment based off the UCI minimum wage.
Lost in translation
27. Thomas of Gent, Jacob Birdsong and Henry Moore are possible literal translations into English of four World Tour rider names. What's their real name? Thomas de Gendt, Jakob Fuglsang and Enric Mas.
28. The maillot jaune is famous in cycling, what is the ruban jaune? For the fastest average speed in a one day race. Matteo Trentin still has it from Paris-Tours.
29. The decisive climb of the men's road race in the 2020 Tokyo Olympics is Mikuni Pass (三国峠), what does its name mean? Literally "three countries pass" as it's where three prefectures meet.
30. What does campagnolo mean? The famous cycling brand actually means someone who comes from the countryside, the fields. It's almost a peasant or bumpkin.
When They Were Young
31. Who is this astride a Kynast Cross 2000 BMX? He's come along way since, that's Tour de France podium finisher Steven Kruijswijk.
32. Look at the red circle on the left, who is that cheering the win? It's Romain Bardet and he might or might not have skipped school that afternoon to watch the Tour de l'Avenir finish in his home town of Brioude.
33. Remco Evenepoel famously played football for Belgium before moving to cycling. Name another pro cyclist who has represented their country at international level in another sport. Did you know Primož Roglič used to be a ski jumper? You probably did but he's the Vuelta winner now.
Where Are They Now?
34. Jarlinson Pantano tried to get elected but it didn't work. Can you name anyone from pro cycling who has gone into government, local or national? There's a long list, Ronde van Vlaanderen winner Edwin Van Hooydonck is councillor in Flanders, Alexander Vinokourov has been awarded a parliamentary role but didn't take up his seat, Sir Hubert Opperman had a parliamentary career in Australia, Fabio Parra tried to get into the Senate and Colombia, Giro winners Paolo Savoldelli and Gianni Bugno stood for parties on the left and right in Italy but both got dropped by the electorate.
35. Which ex-US Postal rider now runs a dry cleaners? From the dirty team to the cleanest of washes, it's Jean-Cyril Robin.
36. Name an ex-pro who now owns a supermarket? One of the sidestories of the Vinokourov-Kolobnev loan story over the trial of Liège-Bastogne-Liège was Alexandr Kolobnev using the money to acquire a supermarket in Russia. Nick Nuyens, winner of Kuurne-Brussels-Kuurne, the Omloop, Paris-Brussels and the Tour of Flanders has a Carrefour in Flanders too, that's him pictured at the top of the page.
Picture round
37. Name the rider suggested above. Case Bowl > Cees Bol.
38. Name the rider suggested above. Christ Off LA Port > Christophe Laporte.
39. Name the race suggested above. Gran Pie Monte > Gran Piemonte.
40. Name the team suggested above. Mitchell Tons Cat > Mitchelton-Scott. Once you've heard RAI say "Mitchelton's cat" again and again there's no going back.