Several years ago revenue sharing was all the rage with several team managers making public calls for the major race organisers to pay them money. Only even if a race owner felt inclined, when you looked at the data the sums available were small. Now it's time to refresh the numbers and also to see how the teams are doing.
The Tour de France is the pro cycling's biggest event and, like so often in sporting arenas, the winner takes all. It's got the name recognition, the biggest audience, the most valuable TV rights and so on. It makes money from three main channels: selling TV rights; advertising income from jerseys, hoardings, the publicity caravan and other sponsorship; and hosting fees, whether for a stage finish en route or the lucrative grand départs. How much? We don't know, there are no accounts for the Tour de France but it is owned and run by Amaury Sport Organisation (ASO) whose audited accounts state revenue to be €227.1 million for the year ending 2017, the latest available accounts. Here's the screengrab:

As well as the Tour de France, ASO owns other races like the Vuelta a España, Paris-Nice and Critérium du Dauphiné, Paris-Roubaix, Liège-Bastogne-Liège, the Flèche Wallonne and Paris-Tours among others. It is also involved in the Tour of Oman, the Tour de Yorkshire, the Arctic Race of Norway, the Deutschland Tour and the Tour de California. You'll also know the Saitama and Shanghai criterium events. It also runs motorsport rallies like Paris-Dakar, golf tournaments, the Paris marathon and other urban runs as well as the sailing Tour of France. What share of the €227 million revenue is derived from pro cycling isn't public but even if we just assumed it was 100% and then compounded this wrong assumption with the wild idea that ASO would give away half its revenue to the 22 pro teams that race the Tour de France then we'd get to €5.1 million per team. Only these revenues have costs too, ASO has wages and social security to pay, offices to rent, hotels to reserve, police charges are due and more. Trawl the accounts and these costs amounted to €182.6 million, leaving a profit of €44.5 million for 2017.
Now assume again 50% of this profit is shared among the teams 22 teams and it's €1 million per team. Useful but it doesn't change the game and we're still assuming all of ASO's revenue comes from cycling and the Amaury family would somehow donate half of their profits to teams owned by corporations, governments and billionaires.
ASO is only one organiser. RCS Sport is number two and runs the Giro, and owns Tirreno-Adriatico, the UAE Tour, Milan-Sanremo and Il Lombardia. It also promotes marathons and other sports events, like powerboating races in the Middle-East. It's a subsidiary of RCS which is now controlled by Urbano Cairo (pictured) but not yet acquired in full and for now they still publish accounts with details. Here's a screengrab for RCS Sport in 2017: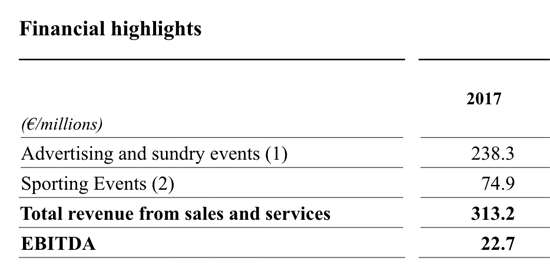 RCS Sport's revenue for 2017 was €74.9 million with EBITDA, a measure of operating profit, reported at €22.7 million (accounts here). So assume it's net profit, assume RCS also makes 100% of its profit from cycling, assume they too would pay away half of this to 22 teams and it's €0.5 million per team. There are other race organisers. Flanders Classics is the third biggest organiser but even using the wild and daft assumptions above we probably can't get to €2 million per team from all the race organisers, a nice sum but one that won't bridge the loss of a title sponsor by itself and again it's built on assumptions that are wrong but picked to illustrate a very generous case.
Note races do share a little money. There is a compulsory participation allowance paid by all World Tour races but it's not much, a few thousand Euros per team for a one day race say the UCI rules. For grand tours the number isn't fixed, The Tour de France used to make the number public and it was around €50,000 with more based on the number of riders who reached Paris. Last year we learned the Giro varies its participation fee to encourage teams to send more star riders.
Why so little money?
It's expensive to run a bike race. It's one thing to mount a camera on a tripod in a football stadium for 90 minutes, another to ensure an unbroken live link as a race progresses across a mountain range. For three weeks. So the TV rights come with a big cost: production is pricey. Also we might like to think cycling is a huge sport and there are claims the Tour de France is the world's third biggest sports event after the FIFA World Cup and the Olympics but this is bogus. Cycling just isn't that big a deal, it doesn't get huge audiences and the advertising sold during a race isn't worth that much, most of a grand tour takes place mid-afternoon, midweek. See for yourself, as coverage of the Giro or Tour features low-rent adverts for funeral plans and calcium-enriched vitamin pills rather than saloon cars and smartphones.
It's also free, cycling teams don't have ticket sales that often go to football or basketball teams. Nobody is going to sell tickets to access to the Stelvio or Galibier. For starters it'd be near-impossible to fence off an open mountain. More importantly the moment you put a price on attending it is the moment people would question whether it's worth it and start to ask for things in return, such as toilets, food, television screens and more. You can do VIP zones in contained areas but can't ticket everyone.
Many races run at a loss. While the Tour and Giro grab the headlines and make profits, the likes of say, Tirreno-Adriatico and the Critérium du Dauphiné can lose money (Tirreno is said to lose money, the Dauphiné's latest accounts show a small loss) and they're big name events yet need the profits made from the Tour and Giro to keep these subsidiary races afloat. Many smaller races outside of ASO and RCS's portfolios struggle, for example the Volta a Catalunya has needed emergency funding to keep it going in recent years. Plenty of races don't have a cent of TV rights income to share because instead of selling the rights, they pay €50-80,000 a day for a production crew to come and film but the race's backers pay because it gives publicity to the region, brings in sponsors.
Prune Juice
You might be familiar with the "prune juice" concept, once described by a British football club owner who saw that as soon as he poured new money into his club it went straight back out. Any extra money poured into a team's topline flows out immediately in the form of athlete wages because this is still the biggest way to gain an advantage over rival teams, to buy in the best talent. If you were in charge of, say, Bardiani-CSF and suddenly have an extra €20 million to spend a year chances are you start recruiting big names rather than building a training centre for your existing roster.
So revenue sharing alone, even if the money existed, would need to be part of a bigger package that incorporates budget caps or salary controls. Otherwise every rider and agent would know each team would have more money to spend on wages and it'd just inflate wages rather than change the structure of the sport.
The state of play
Since we looked at the topic five years ago the sales and profits of ASO and RCS have grown since the but the story is still the same, as you can see via the snapshots posted above there's still not much money to share. If the numbers have gone up since the last time we looked, so have team budgets too, indeed there's never been as much money in pro cycling as there is today, team budgets are bigger than ever. Perhaps this is why there's less debate in public over the size of the slices of the pie everyone should get?
Structurally teams seem to have moved on, rather than focusing on demanding a bigger slice of the cake they're started looking at new recipes. Several teams have clubbed together to create Velon but this has yet to become a moneymaker, its accounts show negative equity and auditors caution the venture can only continue if the teams commit money but new ventures can take time to get going and the negative equity is shrinking, they're earning money from on-bike footage and promoting their Hammer Series races. More than ever the 18 teams in the World Tour are embedded at the top, there's no guarantee they'll stay but as long as they fend off the teams in, say, 20th place, they they've got almost guaranteed access to the top races including the Tour de France, the golden ticket, it's almost a de facto franchise system. It's still brittle, especially if a sponsor pulls out suddenly rather than giving a couple of years' notice. Meanwhile the UCI has created a set of criteria for the World Tour teams compelling them to invest a little for example they need a minimum of three full time coaching staff and a "performance director" when only a few years ago it was oddly acceptable to have key riders on a team coached by an outsider. The public perception of pro cycling rhyming with doping has receded, there are fewer scandals and sponsors aren't so scared.
Conclusion
Revenue sharing is not such a hot topic these days, Oleg Tinkov's retreat from the sport means there's less of a megaphone calling for it. But it's still a zombie issue that stalks conversations, only yesterday a reader raised it in the comments here. After several years of referring people to the old piece it's been due an update with fresh data. The new numbers tell the same old story: even using wild assumptions there's just not much money to share.