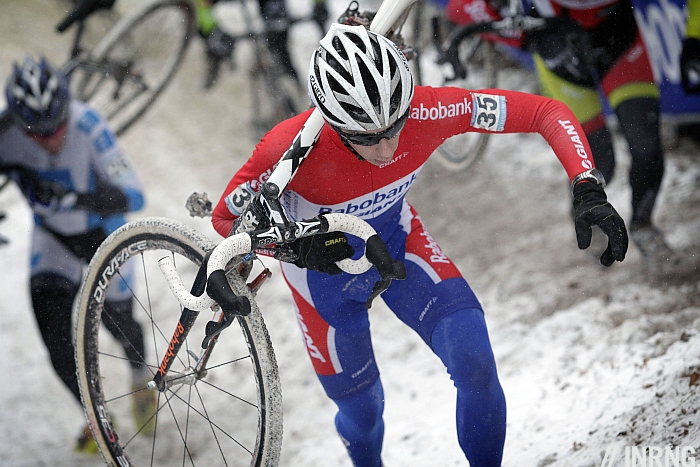 With the 2018 Winter Olympics starting in Pyeongchang there's one fast-growing winter sport that won't be there: cyclo-cross. Why not?

Cyclo-cross is a winter sport. It began as a means for road cyclists to exercise during winter. But it's become a sport in its own right, recognized by cycling's governing body, the UCI, which holds an annual world championship every winter. Last weekend in fact.
The International Olympic Committee has a long list of criteria for sports to be included and cyclo-cross ticks a lot of the boxes. But there's one massive obstacle. It might be practised in winter but cyclo-cross is not a winter sport according to the IOC's Olympic Charter (PDF) which serves as its scripture, its fundamental text. Here's Rule 6: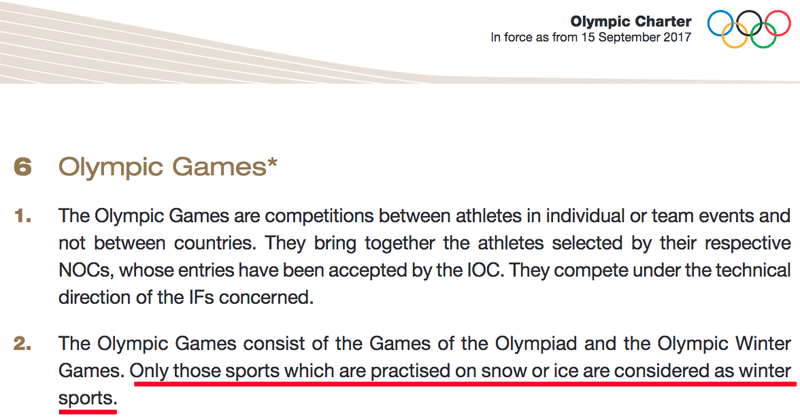 "Only those sports… on snow or ice are considered as winter sports". Nothing's impossible but including cyclo-cross would involve overturning a fundamental element within sport.
But rules can be changed if there's pressure or demand. Cyclo-cross would be a candidate if the IOC and others felt they could gain from including it. Take the arrival of new snowboarding events into the winter games or BMX in the summer games. The IOC looks on with envy at events like the X Games and Red Bull's marketing stunts as they bring in new, younger audiences. The Olympics want to excite younger generations, in part because even sponsors want to reach these audience segments. Skateboarding will be part of the 2020 Tokyo summer games (for a while they looked at including it under the umbrella of the UCI).
So could the IOC exploit cyclo-cross and gain? Probably not. It's a fast-growing sport but remains restricted to a handful of small countries. It's essentially a Belgo-Dutch competition where they took 10 of the 15 medals in last weekend's Worlds and two others came from Britons a short ferry ride across the North Sea and another from France's Yan Gras, a short car drive from his home in Eastern France. It's hardly a big sport with a big following in China or India, the kind of event which could push the IOC into changing their statute. Now you might say "but only the Dutch seem to be into speedskating" or "only a handful of countries care about ski jumping". Yes the Winter Olympics are already massively biased towards the northern hemisphere and then obviously towards those nations that endure icy winters. But ski jumping benefits from inertia, it's inside the games so it gets to stay there and besides it's on ice.
So what?
Ultimately it could be in the Olympics but does cross need to be? There's no need for a sport to seek Olympic validation and cyclo-cross is growing in the UK and US without the Olympics. In fact one reason it's doing so well is because it's so simple to put on a race, it's far from the committees and corridors of the IOC and UCI. As a sport that's growing from the bottom upwards it doesn't need Olympic patronage. Contrast this with track cycling.
But being part of the Olympic Games has its benefits, there is that validation and a global audience who can discover the sport. You might have your views on curling or ski jumping but if they were outside of the Olympics I suspect many would find them even more quirky and minority activities.
It it not just perception, the UCI is flush with cash thanks to the Rio Olympics. Get cyclo-cross onto the winter programme and the UCI would have more cash, a portion of which could be deployed to broaden the sport's appeal around the world.
Summary
It's a winter sport but because cyclo-cross is not run on snow and ice it cannot be part of the Winter Olympics. Changing the Olympic charter looks impossible and the UCI cannot crowbar the sport. Instead the IOC would have to feel an overwhelming need to include the sport but the sport is not there.