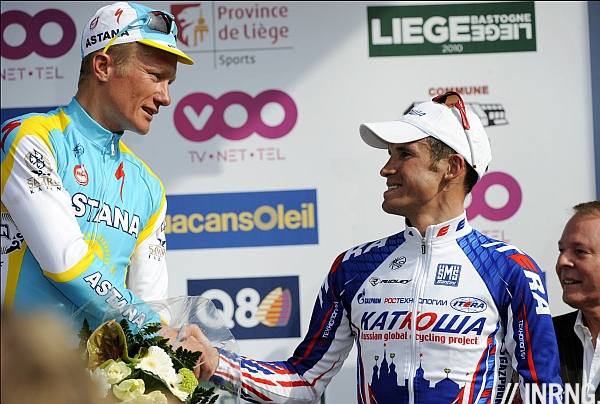 There's news that the trial of Alexandr Vinokourov and Alexandr Kolobnev over the alleged sale of the win Liège-Bastogne-Liège is going ahead next March. This is an old story or rather a slow story that has yet to reach a conclusion but brings some intriguing angles from how the law will deal with race tactics; to helping us explore how much a race is actually worth rather than the prize list and more.
In sport the practice of match-fixing is scandalous, in cycling it can be part of the charm. To explain, there can be shared interests in a race. Imagine a two rider breakaway where one stands to gain the leader's jersey if they pair can stay away so a verbal pact is made where the other rider is promised the stage win, both stand to gain from this collusion. It makes perfect sense, no? Now imagine a tennis tournament where the two finalists agree among themselves that one can win the match as long as they goes easy on the other stands to top the ATP rankings: this sounds fraudulent, no?
The difference is that cooperation is the essence of road cycling. Rival riders will share the work in a breakaway in order to beat everyone else. When Peter Sagan attacked on the Poggio in Milan-Sanremo this year Michał Kwiatkowski gave chase followed by Julian Alaphilippe and the Pole and the Frenchman appeared to share words seconds before they shared the work to chase down Sagan, colluding if you like. Is this allowed?
1.2.081 Riders shall sportingly defend their own chances. Any collusion or behaviour likely to falsify or go against the interests of the competition shall be forbidden.
That's the relevant UCI rule and it's not very well drafted (unless it is meant to be deliberately vague) because by implication any collusion that falsifies the competition is banned but what is falsification? Racers may and do collude in more subtle ways such agreeing to ease up and fool the bunch into think they're tiring only to pick up the pace and stay away for the win; or to carve up the rewards such as letting one rider collect mountains points in return for setting a steady tempo on a mountain pass. So far no money has changed hands but the spoils of victory have been carved up. So far, nothing too heinous and from a pro cycling perspective you're only able to divide up what you've got, that you have to have ridden into a winning position before trading it rather than, say, two football teams agreeing to through a match.
It's old too. We sometimes refer to riders working for their team leaders as domestiques, French for "servants". The term was meant to be a withering insult when Tour boss Henri Desgrange directed it at Maurice Brocco in 1911 after Brocco had given up on his own chances and started to collude to help others.
All this is before the institutionalised component of pro cycling, the criterium circuit, from Aalst to Asia, where we often see noodle-limbed riders "outsprinting" the green jersey winner of the Tour de France and this is all treated as a harmless show, an act of pantomime to please the crowds.
Is a threshold broken when the result is sold? Certainly this turns tactical sophistication into a cold hard cash, a less than sporting outcome especially as the collusion is not obvious: we can spot the shared interests of riders in a breakaway to stay away, we can't tell what to look for if they've sold the outcome in private.
How much is a race worth?
The amounts paid are interesting as they're in excess of the prize money and this informs us how much a race is really worth; or at least tries to make an approximation in the moment. But the price depends on a lot of hidden things, it's not like there's an auction on eBay to discover the price. A rider may have a win bonus in their contract and if they know they stand to gain, say, €200,000 then paying away €100,000 may be corrupt under the law but it could be rational for the participants. Or maybe they are in contract negotiations and winning a monument classic can substantially up their market value? Either scenario can explain why some might pay a six figure sum for a classic. But is it the cash value or an insurance premium? If you were coming to the finish and felt great you might just take your chances. If you felt weak with fading energy levels and cramp starting to tingle then the calculations change.
[musical interlude]
Now let's shift from the theoretical considerations to some specifics about the case that looks to be going to trial in March. Consider the context for a moment. Kolobnev rode for Katusha during its "Russian cycling project" phase with Gazprom's name on the jersey, this was the height of Team Kremlin. Only Katusha was serially under-achieving during this phase, yes it enjoyed wins in 2010 like Pippo Pozzato's stage win in the Giro and Joaquim Rodriguez took a stage in the Tour and Vuelta in his way to topping the rankings that year but it ought to have got more. So here was a chance for the team, with a Russian rider, to win a monument classic: just think of the symbolism and importance for the team. If there was a sale of the race – and for now there's no trial, no verdict and all are innocent – then just imagine the irritation this could cause with the team's Russian ownership if one of their riders gave up the team's glory to bank some cash for themselves. The emails reportedly coming from Kolobnev include the memorable line "Here is a copy of all my bank information and clear it from your mail box, or my balls may be cut off".
Joking aside there's another angle worth considering here: the genesis of the story and the court case. It is based on claimed leaked emails originally published in L'Illustré, a Swiss magazine. It claimed the two riders were emailing after the race and discussing payment of a sum of €100,000 and the magazine followed with the email exchange in greater detail. Was a journalist at a Swiss magazine into hacking into email accounts? It is possible. So is the idea that there was some kind of background investigation by international police and these emails came out as a nice anecdote.
Lastly this case has taken its time, in part because Vinokourov and his legal team, as is their right, has been taking their time and raising objections and procedural queries. But there's a lot at stake. A classic for starters and were Vinokourov to be stripped of the result then note third placed Alejandro Valverde was given a retrospective ban for this period so theoretically Philippe Gilbert gains his home classic. A criminal sanction could be a step too far for the UCI's Licence Commission and the Astana team as whole could be in trouble. In recent years the team has become less Vinokourov's fiefdom with more supervision from Kazakh sporting officials.
Summary
An old case? Yes but still an unsettled topic and it'll be interesting to see any evidence presented in court and to read the verdict as the judges try to apply pesky laws to the peloton. Trading races may happen in cycling and sometimes it's part of the sport's charm, other times it's outrageous but always handled in private. We might see strange outcomes, rider autobiographies allude to deals but never the specifics. This time the case going to court claims to involve email exchanges and bank records which probably explains why prosecutors are interested. It'll take place in Belgium so we can almost expect a livestream from Sporza and more realistically comprehensive press coverage. As well as the legal and theoretical concepts involved the specifics relate to an active team manager so as old as this might be it could have fresh consequences.