The UCI has announced that Chris Froome has given an Adverse Analytical Finding for Salbutamol following a test during the Vuelta a España. The announcement alone is curious given two newspapers seem got a scoop to have got hold of the story but add in that it's Froome, that he could be stripped of the Vuelta title, serve a ban and that the substance in question has particular rules make this a complex topic and Twitter today has seen more speculation than a Bitcoin chatroom. Let's try to explore the matter at hand…
Timing
A quick chronology synthesised from today's UCI press statement, Team Sky's response and the scoops by Le Monde (€) and The Guardian all of which appeared appeared this morning:
Team Sky say Froome "used an increased dosage of Salbutamol (still within the permissible doses) in the run-up to the 7 September urine test"
The sample was collected on 7 September. This was Stage 18 to Santo Toribio de Liébana won by Sander Armée; the day after the rainy summit finish where Vincenzo Nibali gained 42 seconds the final climb of Los Machucos
Le Monde says Froome was informed of the news on 20 September, the day of the men's TT in the Bergen worlds which shows some chutzpah in his announcement to ride next year's Giro but he could hardly say otherwise
This morning Le Monde breaks the story closely followed by The Guardian, they're working in tandem. Why now? It looks to have leaked.
Salbutamol?
It is a brochodilator and used in common anti-asthma treatments like Ventolin puffers. No Therapeutic Use Exemption (TUE) is required for small inhaled doses but the UCI requires one for larger doses or if it is to be consumed by other means, like tablet form. It is considered a stimulant in small doses and can have an anabolic, muscle-building effect in larger doses (an online search will bring up stories of bodybuilders injecting it) and can be a masking agent too. It is a "specified substance" under the WADA Code, essentially a category which allows for thresholds and reduced bans rather than the automatic imposition of a four year ban.
The World Anti-Doping Agency sets a threshold for inhaled doses of salbutamol and the test results in urine and this is important to note. Here are WADA's words
Inhaled salbutamol: maximum 1600 micrograms over 24 hours, not to exceed 800 micrograms every 12 hours;
The presence in urine of salbutamol in excess of 1000 ng/mL… …is presumed not to be an intended therapeutic use of the substance and will be considered as an Adverse Analytical Finding (AAF) unless the Athlete proves, through a controlled pharmacokinetic study, that the abnormal result was the consequence of the use of the therapeutic dose (by inhalation) up to the maximum dose indicated above.
– WADA banned list
Let's parse this again. Anything in excess of 1000 ng/mL "is presumed not to be an intended therapeutic use of the substance": a positive test. Then it is up to the rider in a pharmacokinetic (PK) study to prove – prove – that they took less than the maximum permitted dose and that this dosage still generated the high score. A PK test sees Froome administered permitted doses of salbutamol and his urine samples analysed to measure the quantity excreted.
This aspect of proof is interesting. Loyal readers might remember the case of Diego Ulissi who was suspended following the 2014 Giro d'Italia. I'll confess to a reflex thought of "dodgy Lampre rider" but luckily justice is not based on the first thoughts of bloggers and reading more about the topic some studies suggest an athlete can take a fixed quantity of salbutamol only for their urine tests to contain fluctuating quantities. This chart shows the effects of taking three inhalations of Ventolin – the black arrows – over time.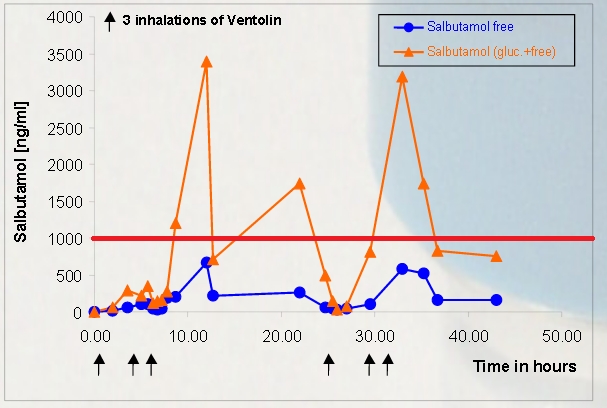 This research is from the Swiss anti-doping research laboratory and shows spikes in salbutamol levels following administration of a therapeutic dosage but the case it cites shows the athlete could not reproduce the high score detected in competition, even if the lab tests still rate high: I've added the horizontal red line at 1000 ng/ml to show the WADA limit. Another test took 32 athletes, administered permitted doses, made them exercise until dehydration and 20 exceeded the limit. The takeaway here is that Salbutamol is not a binary matter like, say, a speed limit for motorists where you are either travelling above the limit for the road or below it. Interestingly studies warn using salbutamol is playing with fire because even permitted doses can fall foul and therefore given this is known the use needs to be minimised. This is also implicit in WADA's own rules which allow a limit.
None of this exonerates Froome, indeed quite how Froome scored double the permitted level . That studies show it is possible to do X and get Y doesn't mean this applies to Froome, of the 32 athletes cited above 12 stayed within the margin and it's not about them or the particular test protocol. Instead to paraphrase the WADA Code Froome's route out of this is going to be based on submitting himself to PK tests proving, through a controlled PK study, that the abnormal result was the consequence of the use of the therapeutic dose by inhalation. This requires:
documentary proof it was inhaled and that the quantity was within the permitted therapeutic limit
a lab test to analyse urine samples that demonstrates inhaling a permitted amount generates concentrations in the urine samples above the permitted limits
Several athletes have returned a positive test for salbutamol and avoided a two year ban but have had faced sanctions:
Alessandro Petacchi scored 1352ng/mL and was initially cleared by the Italian federation following a test from the 2007 Giro d'Italia. WADA appealed and he was banned for a year because if was over the permitted limit he could not prove how much he had inhaled
Diego Ulissi scored 1900ng/mL during the 2014 Giro d'Italia and underwent PK tests but these did not replicate the results. His lawyer argued a crash on Stage 11 had caused his levels to jump up and he got a nine month ban, down from the two year tariff
Alexandr Pliuschin got a nine month ban in 2015
Norwegian cross country skier Martin Johnsrud Sundby was cleared by skiing governing body but WADA appealed and he got a two month ban. He was taking this for therapeutic reasons but the excess dose still meant a ban and he was stripped of his 2015 World Cup title
Note that these are the "known known" cases that went public because of hearings, appeals and bans. We don't know the "unknown known" of how many test results see enquiries made and then met with satisfactory explanations. Based on the the public precedents there is a trend where even if athletes are deemed not to have committed a fault they still have a price to pay here; in part to prevent egregious cases of salbutamol abuse. Precedent is helpful but to stress again this in an individual matter depending on the circumstances in the Vuelta and Froome's metabolism so beware of translating other cases across to this one.
There's also the precedent of Chris Froome who has used asthma medication in races over the years too, seemingly without tripping a red alert but we don't know this as cases that trip the tests but can be explained are not made public. But in the event of today's news it would have probably come out if it had happened before, a statement along the lines of "Froome has actually explained this before".  Assuming Team Sky have the medical records and the UCI could revisit urine samples for salbutamol concentration.
Why wasn't Froome suspended following the A-sample?
Because salbutamol is a Specified Substance. The UCI doesn't normally suspend riders following A sample findings for this category. Something has happened to make it leak out now perhaps simply because the circle of people involved grew large. Le Monde says UCI President David Lappartient was informed upon his election in Bergen, which makes us wonder about the independence of the Cycling Anti-Doping Foundation if it reports news to the UCI President.
What's next?
Looking ahead the UCI is going to be handling this case very carefully given Froome's high profile and wealth: his reputation is on the line and he will have hired the best lawyers. The open nature of the specific rules on salbutamol mean this is not an open and shut case. We're 84 days into Froome being notified and it could easily take as long to resolve. Dave Brailsford's response today that "we're committed to establishing the facts and understanding exactly what happened on this occasion" suggests, because of the present tense, that they're still trying to work out what happened three months ago and implies this will run for some time.
Amalgamating the precedent cases it does look like athletes have been exonerated of deliberate doping but exceeding the threshold still results in a ban. If this applies to Froome then he'd be stripped of the Vuelta win (Nibali would "win" and joined by Ilnur Zakarin and Wilco Kelderman on the ex post podium) and Quick Step and Nelson Oliveira would get bumped up to bronze medals for the TTT and ITT at Bergen. But if Team Sky can come up with convincing notes from the Vuelta detailing his treatment and if a PK test can prove Froome has an unusual metabolism then he could be cleared in full.
This maybe one case but it will be hard to extract from the still murky saga courtesy of Fancy Bears and the "Jiffy Bag" where it appeared that Team Sky were arbitraging the rules on TUEs in order to administer a powerful anti-asthmatic drug ahead of Bradley Wiggins major target races and already reductive headlines like "Tour de France winner Chris Froome positive" are on TV and radio news bulletins. Certainly here is another substance that can be used and even exploited up to a certain amount and Sky's medical team may not get too much benefit of the doubt here.
Conclusion
The leak is unusual and remember this is an ongoing case rather than a verdict. Because salbutamol is involved this is not a binary matter of toxicology, where the discovery of a banned substance in a urine sample equates to an automatic ban. Instead the rules allow therapeutic doses and the subsequent the test allows for a certain amount in the samples. Even in the event of the Adverse Analytical Finding there's a route to get cleared. Precedents suggest ban lengths can be reduced but these are based on public cases rather than the leaked reviews which is where the UCI's case is still at. Unlike Contador's case where the rules always pointed to an inevitable ban despite the lengthy legal saga whether Froome is sanctioned or not remains to be seen, this is a harder case to call. Studies show that Salbutamol to spike in urine samples beyond the WADA threshold but these relate to others not Froome and merely suggest possibility rather than probability. Instead his defence team cannot merely say because it can happen it's possible it happened to him, instead they must point to the detailed accounts of how much was used and then rely on the outcome of PK testing. If they cannot satisfy the UCI then Froome will be stripped of his Vuelta title and face a suspension and Team Sky could be engulfed.