Believe in Team Sky? Have faith in Dave Brailsford? Pro cycling ought to be as simple as riding a bike, of 200 riders trying to cross a white line first. Only it's more complicated. This sophistication can satisfy as we learn about aerodynamics or geography, sometimes it's tiresome as we trawl the UCI rulebook or WADA Code. As Team Sky's TUE saga goes on, it's not so much learning about new subjects, it's more an exploration of the frontier of what we know and what we don't.
Unwittingly we're mired in epistemology, the study of knowledge itself and the debate what we know to be true. When Isaac Newton saw an apple fall from a tree he tried to explain it and his answer was the law of gravity, only his hypothesis was flawed and science still hasn't resolved Newton, Einstein and gravitation. What's this got to with cycling? Well there are many hypotheses doing the rounds at the moment but no definitive proof to either condemn or save Team Sky and this is creating a never-ending story that leaves everyone to judge for themselves.
Let's look at the "mystery delivery". Which one you might ask? First the delivery of testosterone patches to Doctor Richard Freeman at British Cycling's HQ, sent in error from a supplier. Now things go wrong from time to time but of all the substances dispatched by accident it's a banned one that's long been used by dopers in parallel with cortisone. Another mystery is the reported 60-70 ampoules of Triamcinolone delivered to British Cycling, apparently 55 in quantity but still a oddity because if "the majority" were used to treat staff, that's a lot of people requiring this potent drug and still leaves a sizeable quantity being injected into riders. There's also the pattern of Bradley Wiggins and his entourage demanding a TUE prior to big targets, be it the Tour de France or the 2013 Tour of Britain and how this got to a point where it's claimed Sky staff withholded a WADA password to prevent the TUE application. It's OK under WADA rules to use Triamcinolone out of competition but since 2011 the UCI has had a "no needles" policy where injections are banned unless there's no alternative. Even if used legally up to the edge of the rules it's not great to admit and see how Team Sky get embarrassed by Michael Barry saying the powerful painkiller Tramadol was used in competition. Legal under WADA too but the image of riders racing while zorched on opiates isn't good. Onto the most famous mystery delivery, the "Jiffy Bag" that was couriered planes, trains and automobiles to Wiggins: surely pro cycling's biggest MacGuffin? It's claimed it contained Fluimucil but there's no paperwork proof. As revealed in the British parliamentary hearings, the UK authorities are investigating an allegation it could have contained Triamcinolone which if true would be the end of Team Sky (using it on the same day of a race is not permitted, ergo Wiggins is banned and stripped of the 2012 Tour de France and Olympic gold) but like the Fluimucil there are no records for the Triamcinolone use and the only notes have vanished on a stolen laptop.
Like it or not we're stuck on questions of image, faith and trust. If you think the Jiffy Bag contained a banned substance then there's currently no evidence to make you change your mind. If you think the Jiffy Bag contained a legal substance then there's currently no evidence to make you change your mind. The absence of conclusive proof leaves people to judge for themselves and argue the toss. This alone is problematic for Sky, both the team entity and the corporate sponsor, as they've lost control of the story. Even they, as Brailsford's letter reads, are left to "believe" there was no "anti-doping rule violation by Team Sky at the 2011 Dauphiné" linguistic grey amid the black and white letter text:
Sky are under siege and to compound their woes face trouble on the inside with a report of a rider mutiny. Some riders have been tweeting supportive messages for Brailsford but this is a sideshow, it's not about them. While the messages dispel the impression of a total loss of confidence some are keeping a tally of who has expressed support and who hasn't which simply embeds the splits and presumably no Sky rider is going to chat about this subject. But the point isn't whether Brailsford has the support of the team bus, it's whether the media, fans and media believe him and by extension them. Many don't and last weekend saw the proverbial camel sustain a serious spinal injury and a chorus of journalists calling for Brailsford's resignation.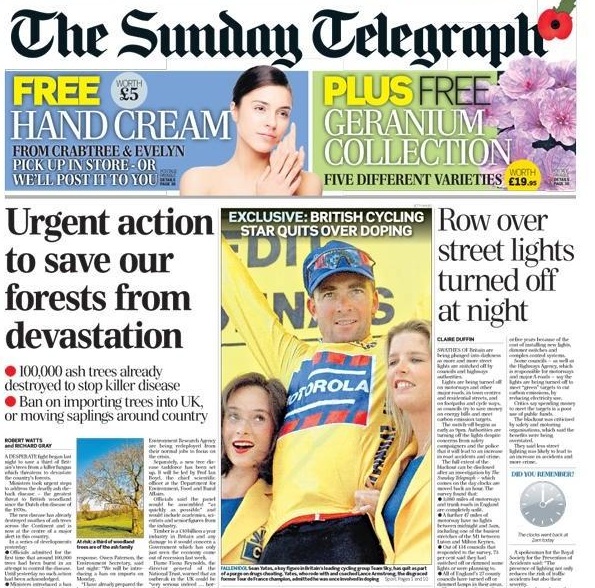 How many straws have been loaded on our camel? The current woes are part of a continuum. See the questions and contradictions over the "Jiffy Bag" story such as Simon Cope was there for Emma Pooley or he wasn't and he was bringing back bikes or he wasn't. There are other cases such the explanations given regarding the departure of some riders and staff when Team Sky implemented its "zero tolerance" which stretched credibility and were not universally believed by the UK press as the screengrab above hints. The refusal to join the MPCC. Hiring Geert Leinders.
In the end we're no wiser. There are some with great certainty who assert Sky are "UK Postal" while others believe they're as clean as the driven snow atop the Stelvio. Both assertions are surely an act of faith, people may believe they're right but like Newton it's a hypothesis rather than a proof.
Conclusion
The saga had been going in circles. Readers have been asking for thoughts on Sky's troubles and it felt like the last piece on this topic could be copy-pasted each time Sky have tripped up following the Fancy Bears TUE hack. The team pledged "to try and demonstrate that it is possible to cycle clean and compete at the highest level" only these demonstrations keep appearing ex post: a reaction to events rather than a pre-emptive statement of principles. The latest round of revelations, be they parliamentary or press, is quickly eroding public trust because the story's broken out of cycling forums and gone front page but if the noise is growing as we're still stuck exploring what we know and what we think we know. Maybe the UK authorities, parliamentary or anti-doping, will pin things down and maybe next Sunday's newspapers will have more? This story will roll on.