Movistar announced a men's squad of 25 riders for 2018, down from the 28 rider squad they had this year. BMC Racing go from 28 riders down to 24. The peloton is getting smaller and the men's World Tour peloton will shrink by 16 riders, not as much as initially feared but still a trend across most teams.
This is the post from 3 November updated now that all the 18 teams have confirmed their rosters for 2018.
All teams have confirmed their rosters for 2018 with Cannondale-Drapac on 25, Dimension Data on 27 and Orica-Scott on 25 too. The UCI stipulates a minimum team size of 23 riders in the World Tour. Here's the rule:
2.15.110 Riders The number of riders in each UCI WorldTeam may not be fewer than twenty-three (23).
Here is a chart of the team sizes for 2017 and 2018 for all the 18 World Tour teams: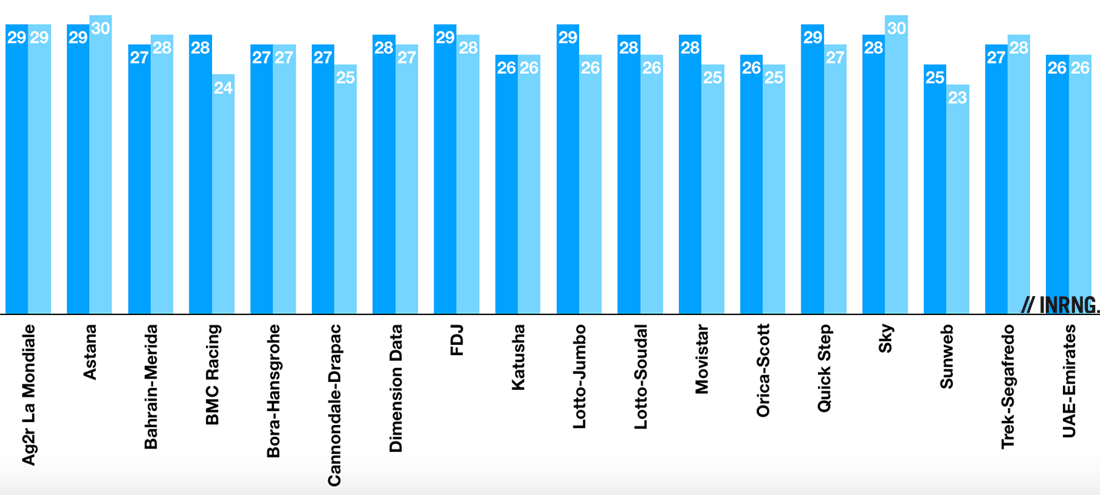 As you can see a team's headcount of racers for 2018, the right column, is often down when compared to 2017, the left column. These numbers say 16 fewer riders in the World Tour, the mean average team size shrinks by 0.9 riders.
It seems there is a trend down with 14 of the 18 rosters shrinking. Bora-Hansgrohe and Katusha stay the same, Astana, Bahrain-Merida and Trek-Segafredo increase by one rider and Team Sky go up by two.
This is all based on teams on 1 January and trainee stagiaires are excluded, as are riders hired during the course of the year, for example U23 World Champion Benoît Cosnefroy turned pro with Ag2r La Mondiale on 1 August 2017 so he's not part of Ag2r La Mondiale's 2017 roster while Tom Boonen was part of Quick Step's count for 2017 even if he packed up. The idea is to make a like-for-like comparison on 1 January.
Don't count the stagiaires like Velonews have. They present a worse story with 63 riders less in the pro peloton but that's because they appear to be counting stagiaires riding with teams in the late season, eg "Ag2r-La Mondiale could drop from 33 to 27, with FDJ dipping from 32 to 28"
Why fewer riders? Because of the new rule change for 2018 that shrinks squads for grand tours from nine riders to eight and the max team size from eight to seven in other races. You might remember race owners ASO, RCS and Flanders Classics suddenly insisted on this, the UCI said "no" and the result was that the organisers duly got what they wanted once due process was followed. In short teams need fewer riders but this is one factor rather than the sole cause.
But there are specific reasons in addition to the rule change. Take BMC Racing which only has its funding in place for one more year and therefore so signing neo-pros on compulsory two year deals is a potential liability. Movistar shrink but perhaps the story there is more of a shuffle as Mikel Landa comes in on a presumed seven-figure salary and so several lieutenants (the Herrada bros, Sutherland, Castroviejo et al) exit to free up the budget and they're starting a women's team too. Meanwhile Alberto Contador's retirement leaves a space at Trek-Segafredo that they have not filled in the recruitment market, they looked for a big GC contender but it was late so they don't have one nor the entourage that usually accompanies them either.

Also on a matter of nuance losing your ninth man in a grand tour isn't automatically reason to trim the team size by one because to simplify, management are forced to cut the ninth best rider not the 30th best. In the whole it does mean less need for riders but nine to eight can contributes to the idea of a smaller team rather than imposing a direct reduction.
Quality vs quantity: it's not always about the numbers. Take Astana who lose Fabio Aru as he has signed with UAE Emirates. Presumably the Kazakh squad aren't interested in hiring a couple of neo-pros to make up the numbers, they're sore about losing one of their team leaders to the point of making noises about suing Aru.
In or out? At the present count there will be 22 first year neo-pros in 2018 which is relatively few compared to previous seasons so it seems that the reduction in team size is not necessarily putting existing pros out of work, it is stalling opportunities for some newcomers.
Backstage: There's also the unseen aspect where we can count squad sizes but not the full staff count. If team sizes shrink then there is less need for the same number of support staff from mechanics to soigneurs. Now going from nine to eight in a grand tour doesn't shrink the work of the mechanics by much but there could be others beyond the peloton who go. So the riders are the visible side of the employment market but spare a thought for all the rest.
Conclusion
The World Tour peloton will shrink for 2018 and the regulatory move to shrink squad sizes in races by one rider seems a prime factor as teams trim their rosters by 1-2 riders on average for the coming year as the chart above shows. But there's possibly more to this than one change, there might be particular budget issues at some teams or they lost out in the game of musical chairs that is trying to recruit or retain a grand tour leader. For all the shrinking teams note that the smallest squad this year was Team Sunweb with 25 riders and by some measures they've been the team of the year and begin 2018 with 23.