A duel between Tom Dumoulin and Chris Froome, this season's grand tour winners? Wednesday's course features the tricky climb of Mount Fløyen with steep slopes and tight hairpin bends.

The Course: just 31km. A start in Bergen and then a lap of the shorter circuit used so far by other races and then another lap again but just before the Bryggen tourist/wharf area there's the mountain railway to Mount Fløyen, a clue of what comes. They flick right and start climbing up Mount Fløyen.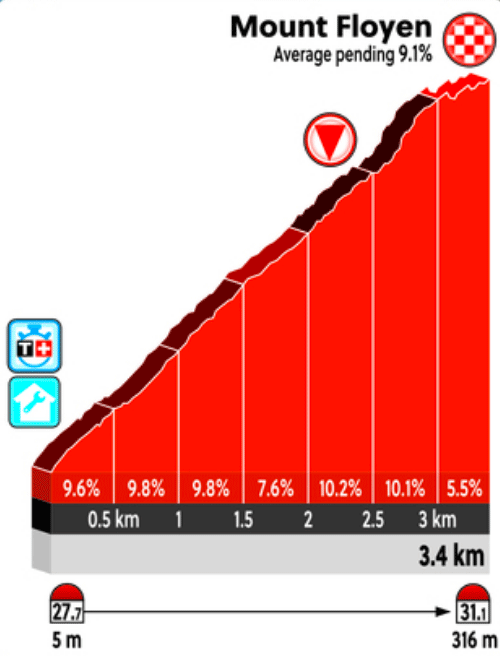 It's 3.4km at 9.1% which is plenty enough already but to make it harder still it has 19 hairpin bends and some of these are very tight which makes it harder to climb at a level pace.
The Contenders
Tom Dumoulin (Netherlands) is the prime pick. He's become a time trial specialist who can climb fast and this is his big goal after winning the Giro, he's structured his season around this race. The form looks good too following his performance in the team time trial. He gets the nod ahead of Chris Froome. Note when they've gone head to head recently on comparable courses the Dutchman has the advantage like the Pont d'Arc time trial or the Rio Olympics, both in 2016. They've not raced against each other this year.
Chris Froome (Great Britain) is the big rival. He might be running on fumes by now having done the Tour-Vuelta double but still looks strong, he was calling the shots for Team Sky in the time trial. A rainbow jersey would be a fine addition to his palmarès and if this won't make him pedal harder it does add to his interest to collect this title which is within reach given his Vuelta form.
Rohan Dennis (Australia) quit the Vuelta to focus on this event. This hasn't been his season after crashing out of the Giro and a discreet Vuelta, at least when measured against higher expectations than being part of the winning team on the opening stage. His problem is the final climb, if it was a steady ascent he'd have a better chance but the irregular climb isn't his natural, powerful style.
Primož Roglič (Slovenia) is excellent in hilly time trials too but still far from a strong pick. Lotto-Jumbo had a good team time trial with seventh place but otherwise there are no visible signs of form, 12th in the Tour of Britain's flat time trial stage doesn't tell us too much.
Two outsiders for a medal are Wilco Kelderman (Netherlands) and Vasil Kiryienka (Belarus) as both are powerful and agile enough for the final climb and maybe we can add a third in Tobias Ludvigsson (Sweden) who has thrived on time trials ending up a hill but a top-5 would be a surprise. Stefan Küng is powerful but like the other specialists such as Tony Martin or Maciej Bodnar surely Fløyen is too much?
| | |
| --- | --- |
| | Tom Dumoulin |
| | Chris Froome |
| | Rohan Dennis |
| | – |
| | Kiryienka, Roglič, Kelderman, Küng |
Bike changes: there's a pit zone and riders can change bikes for the final climb. The idea is to adopt a lighter road bike for the final ascent, the hope being that the weight saving helps for gravity and cornering through the hairpins enough to save time lost during a bike change. Will they? Some have been testing it but I wonder. For starters bike sponsors may not like the imagery of riders abandoning their time trial bikes the moment a hill appears. We've seen riders change bikes, for example in the TT stage of the Tour of the Basque Country this year and last. Equally Chris Froome didn't change bikes when he won the Sallanches-Megève time trial in the Tour de France last year and that had some long climbs and very steep parts, in fact he hardly got out of his aero tuck.
Weather: showers and cool conditions with a top temperature of 13°C.
TV: it's live from 1.05pm to 5.25pm CEST. You'll find it either live via the UCI Youtube channel or if that's geo-blocked then supposedly on TV where you live and the likes of cyclingfans and steephill can point you in the right direction.