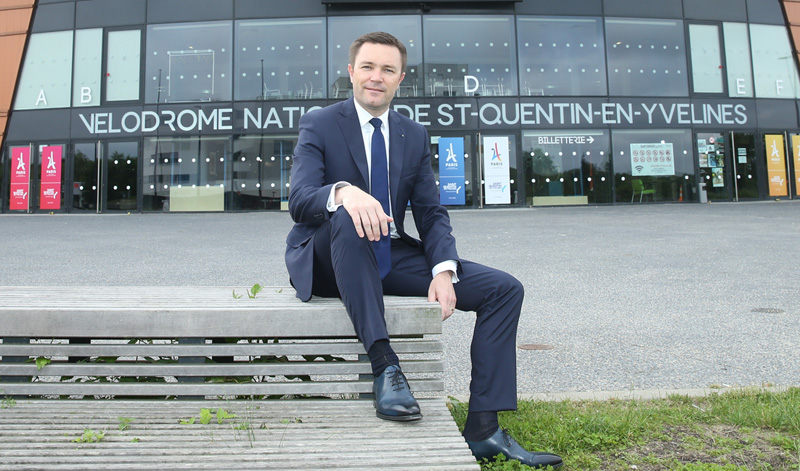 We have a contest. David Lappartient has announced he will stand for election as UCI President, challenging the incumbent Brian Cookson. There's now three months of campaigning before the UCI Congress in late September.
Lappartient? He's from Brittany, aged 44 and a trained surveyor before going into politics and sports admin, leading to his roles as President of the French federation, a member of the UCI's Management Committee and President of the European Cycling Union (the regional grouping of UCI federations in Europe) as well as mayor of Sarzeau, population 7,802 and has held other positions amid the layercake that is French regional government. He faces five challenges:
Incumbency : it's hard to topple the standing President. Cookson has been on a UCI world tour meeting cycling officials around the world. His twitter account is a parade of photos and handshakes with friends from far-away federations and, for this blogger at least, the subtext of "another vote in the bag". Cynicism aside it is Cookson's job to sound out what matters for national federations and regional groupings so this gives him a head start
Cookson himself:  Cookson's record is uninspiring rather than outrageous or disastrous so there's no urgency to change him or try anything different. Cookson was arguably elected to be boring, the "safe pair of hands" pick after his accident-prone predecessor and if there have been some failures and controversies during his spell there's been nothing disastrous
Lappartient's record: he's been the President of the French federation with some good and bad times, a healthy expansion in membership and the creation of a new HQ and velodrome outside Paris. As President of the ECU he launched the European championships last year (you might remember Peter Sagan and Kasia Niewiadoma won). But there have been hiccups and headaches along the way the record seems at best steady rather than transformational or radical
Differentiation: Lappartient is no new broom. Instead he's been a UCI insider, sitting on the Management Committee, the governing body's executive. So anything Cookson has done has been achieved with the consent and support of Lappartient, unless Lappartient can demonstrate otherwise. Lappartient can't paint the Cookson rein as a disaster because he's been party to it, he can only try and say what makes him better and as such this is harder argument to fight
His manifesto is beaucoup bland especially if we take statements in isolation, for example "placing UCI at the service of national federations" doesn't mean much but if the message communicated to the federations that the UCI's substantial financial reserves could serve national federations then you can see why officials around the world could become interested of funding for their plans could be secured.
Who will win? That's hard to call. Brian Cookson has plenty of advantages as the incumbent and his record is not as accident-prone as his predecessor so it's quite possible the select electorate sees no need to change. But today's L'Equipe (print or paywall) says the European delegation, including British Cycling, will vote en bloc for Lappartient which delivers one third of the votes, leaving him with just eight more delegates needed to win. The paper also quotes a source saying Lappartient is an experienced politician who won't have declared his candidacy unless he has sounded out enough support to think he can win. But a lot can happen in the coming months and the votes are cast in secret. Thinking aloud it is also possible Lappartient runs this time in order to build momentum for a presidential bid in 2021 whereupon he's the certain pick.
The campaign pits two opponents but working out their differences is a game of amplification, a Briton versus a Breton; a man who worked in local government and chaired his national governing body against a man who worked in local government and chaired his national governing body. Both pledge to make the UCI better. We'll learn more during the coming weeks.
What's more certain is that a contest is a good thing. Not the boxing match or sprint contest between two men racing for an electoral finish line, instead the brief three month window to debate ideas, to explore how the UCI is run and by extension the sport in general. The campaign will allow for debate, test arguments and compare Cookson's record as President to his 2013 manifesto and explore Lappartient's record in office. How profound this gets remains to be seen, the fear is media tennis where quotes are lobbed and forth. Better a contest than a coronation.
| | |
| --- | --- |
| | – |
| | Brian Cookson |
| | – |
| | David Lappartient |
| | – |