The World Economic Forum takes place in Davos, Switzerland this week. What's it got to do with pro cycling? Well some people in and around the sport are the very plutocrats and oligarchs who hold court in these kind of events. So here's a look at the wealthiest people in pro cycling. Forget Peter Sagan and his reported €6 million a year salary, this is about the people who are so wealthy they're not salaried. The list has changed for 2017 with the exit of Oleg Tinkov and the arrival of new money.
The point isn't to gawk at yachts, villas or jets nor nor fawn at wealth but to offer an introductory "follow the money" piece so you know who pulls the strings and where the money comes from.
Name a billionaire Russian team owner? Harder now that the publicity-seeking Oleg Tinkov has quit the scene. Instead the answer is the discreet Igor Makarov (pictured), the owner of the Katusha team. Not for him provocative tweets and a team bearing his name, he's discreet to the point where photos are hard to come by. Still he buys superyachts like you might buy bikes or cars but his is a story of power as much as of wealth. A keen cyclist he started Russia's first independent gas company in the 1990s and quickly became a key player in the country's energy market which made him an important political figure too, not only because energy means power in Russian in more ways than one but because his particular line of work saw him trading gas between various outposts of the old Soviet empire, for example buying from Turkmenistan to sell to Ukraine. Forbes reckons he's among the richest 1000 people in the world. He's long been chairman of Russian cycling but has stepped down from that role and had mulled an exit from the Katusha team but Alpecin and Canyon are on board to share the load. He continues to occupy a senior role on the UCI's Management Committee, effectively its executive board. He was instrumental in ejecting Pat McQuaid and Brian Cookson's continuation or otherwise depends on Mr Makarov who is said to be closer to the presidential challenger Davide Lappartient. If you want more on his story, see Tinker, Tailor, Cyclist, Spy. In short he's wealthy, powerful and discreet.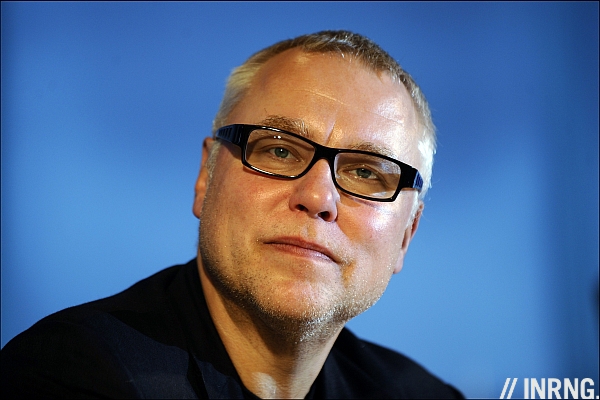 Next up is the billionaire cycling team owner who is even more discreet in the cycling world. Zdeněk Bakala owns the Quick Step team. The Czech billionaire bought the team with Dutch sidekick Bessel Kok and is a textbook capitalist who left his country with little more than a sandwich in his pocket for the USA. He went to business school and then Wall Street until the Iron Curtain fell and he opened the offices of an investment bank in Prague before going solo. According to Business New Europe, a magazine, he bought a coal mining business for €400 million, sold some its assets for €2.5 billion and then floated the remaining business on the stock market for €4.5 billion. Among other things he owns a large stake iron ore producer Ferrexpo and mining firm called New World Resources. Ferrexpo's suffered from the volatile commodity markets and most of its operations are in Ukraine while New World Resources is being liquidated. This means he's fallen off Forbe's billionaire list but is investing in media in his native Czech Republic and beyond. He remains prodigiously wealthy and is part of the Czech establishment. He owns the scenic Klein Constantia vineyard in South Africa which explains why this otherwise unusual sponsorship is the name of Quickstep's U23 team. Bakala did get excited about the reform of the sport a while back with proposals for a total overhaul of the sport, a joint venture with the UCI where the governing body would set the rules and calendar… and Bakala would take care of the rest, funding a breakaway league in conjunction with the modestly-named Gifted Group. Has this gone away or has Bakala's idea been rebranded as Velon? He's a figure in Czech politics because of his wealth and influence and media empire but lives in Geneva and is a keen cyclist who'll ride the Cape Argus in South Africa when he's visiting the winery and cuts a quiet figure in the world of pro cycling.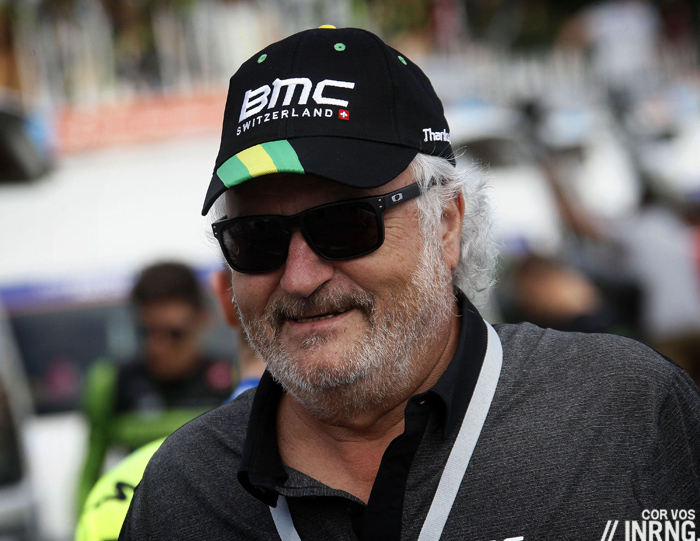 Andy Rihs owns BMC bikes and its BMC Racing team and you can often spot him at a big race. Don't look for a man in a suit holding a cigar or other "fat cat" stereotypes, he'll wear the same team-issue leisurewear as the rest of the squad. His father Ernst started a hearing aid business that went from the garage to a global consumer healthcare giant called Sonova and at the time of writing it is worth about US$8.3 billion. Rihs's has been selling down his stake to free up millions in cash and his remaining 3.5% holding is worth $300 million. He's worth much more as he owns BMC and has financial stakes in wineries, hotels and watch making, normal since the BMC factory in Grenchen is near the Breitling HQ in an area famous for its luxury timepieces. He's obviously cycling-crazy, the budget for BMC Racing is greater than the profits of the BMC bicycle company meaning the team is a personal investment. He's committed to funding the team until 2018.
At last Orica-Greenedge has become Orica-Scott and the valuable verbal real estate has been sold off by sports fan Gerry Ryan (pictured right). He can still afford to bankroll the team for years, reports say he's worth AU$340 million (US$280 million). The only worry is for his son as he once quipped it was his inheritance that was being spent. Ryan started out building camper vans and caravans and forty years on Jayco has been a big success and, as the auto industry pulls out of Australia, can be counted as Australia's biggest vehicle manufacturer. But there are only so many caravans to sell and he's become superrich with the Walking With Dinosaurs show to which he owns the rights, and his media and entertainment business also stages other shows although he's multi-millionaire among some of the the billionaires here. He's involved in more business and he's been a generous donor to other sports too as well as owning race horses.
New to the list are the Biver brothers. Marc (pictured, right) is a career sports manager who has been in and out of cycling over the years, notably as the man behind the Astana team and also as a figure at IMG, the sports marketing agency. He's got the sporting connections while his brother Jean-Claude has the wealth, being CEO of Tag Heuer, a watchmaker and subsidiary of luxury goods conglomerate LVMH and one of those celebrity CEOs, the kind who doesn't just attend the Davos forum, he gives speeches there. The brothers were born in Luxembourg but have lived and worked in Switzerland most of their lives and the connection helps explains the links to BMC Racing but the sponsorship is also a reflection of cycling's tentative steps to landing blue-chip corporate sponsors, a rare global brand on a cycling jersey.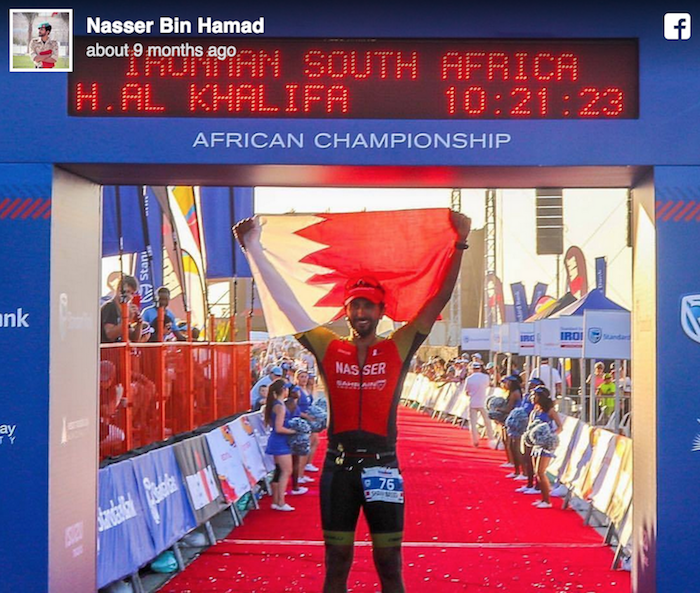 Another novelty for 2017 is Sheikh Nasser bin Hamad Al Khalifa of Bahrain, or "Prince Nasser" in short, the man behind the Bahrain-Merida team. He's 29 and went to Sandhurst, the British military school and loves nothing better than to spend hours in the saddle… with his feet in the stirrups as he's a keen equestrian and has a stable of endurance horses. He's also into other sports, including triathlon (pictured) and should be visible at high profile races in Europe later this season. Bahrain is an island in between Qatar and Saudia Arabia and sits atop substantial oil reserves and like other nearby nations has spent the income from these resources on ways to diversify its economy. The country is a monarchy where the king appoints the government and chairs the judiciary and Prince Nasser, as one of the king's seven sons, holds a certain authority some of which he's used to condemn dissent within the kingdom. The state has seen uprisings and crackdowns and has the kind of human rights record that makes cheering on Katusha and Astana feel that bit easier and there are allegations of torture levelled at Prince Nasser himself. The cycling team is supposed to make people take a fresh look at Bahrain but even if you try to ignore Bahraini politics it's not easy. Flashback to 2012 when doping doctor Alberto Beltrán was arrested as part of Operación Skype. At the time most of the reports focussed on the substances involved and Beltrán's suspected links to cyclists in Colombia. According to a report Beltrán said he was a vet and the substances were destined for horses. A footnote to some pieces mentioned that he was living in Bahrain at the time. Reports (eg here) said he was working as as a veterinarian for the royal stables. One website, intervieu.es quotes him direct (my translation):
"I'm working for the royal family of Bahrein. I'm the personal doctor of a son of the king and advise him on the 300 horses that he owns"
Bahrain? Royal Family? Horses. It turns out the head of the Bahrain stables for endurance horses is Prince Nasser. Could it be that Prince Nasser hired a doping doctor before even starting a cycling team or are Beltran's quotes the deluded fantasies of a jailbird?
Finally among the team owners is Matar Suhail al Yabhouni al Dhaheri of the United Arab Emirates (UAE) (pictured, left) and the man behind the UAE Abu Dhabi team that's taken over from Lampre-Merida. It's hard to find much information on Mr al Yabhouni, he's been president of the Abu Dhabi Horse Racing Committee and a member of the board of Abu Dhabi Sports Council. Local paper The National describes him as an Emirati businessman. He's a member of Abu Dhabi's ruling elite and his name pops up in the Panama Papers leaks too. He too wants a cycling team to show a new, energetic side for his country and like Prince Nasser seems set to be content with owning a team rather than shaping the sport.
Conclusion
Hopefully these profiles shed some light on the owners of the big teams, their motivations and connections. Each story is different. Some notes:
Gone are keen cyclists Oleg Tinkov, Michel Thétaz
In come two team owners from the Middle-East who aren't such passionate riders even if Prince Nasser rides a bike. Behind them is prodigous wealth and it'll be interesting to see if they're willing to spend more. The UAE team has the lowest budget in the World Tour and surely the Emirate won't settle for this lowly status?
Marc Coucke, long the stalwart sponsor of Quickstep via his Etixx, Davitamon and other brands, has gone and now far more interested in football than cycling