With the new road season a week away here are ten riders to follow this year. This isn't a top-10 list of the world's best, more a collection of riders with interesting aims and stories whether trying to beat a stellar 2016 season, finding new challenges, or trying to revive a career that's gone quiet.
Question: What do you do for an encore? Greg Van Avermaet took spring classics, wore the yellow jersey in July and then won Olympic gold. Bettering 2016 is going to be very difficult, especially as "golden Greg" is public property in the Belgian media. GVA's problem, if we can label it as such, is that he doesn't have a world-beating speciality. He's good in the sprint but not the fastest; he's explosive on the climbs but others pack more TNT; he can solo away but others have more horsepower; BMC Racing are strong but far from invincible. So how does he win De Ronde? With luck we'll get a good rivalry with Peter Sagan throughout the season and after Rio the Worlds course in Bergen, Norway suits him perfectly.
Fabio Aru is 26 and has won a Vuelta and stood on the Giro podium twice. So far so good only his progress turned to regress last year. 2016 was a season where he was forever playing catch-up: a blank spring campaign, he emerged at the Dauphiné for a stage win but his downhill triumph was proof of his woes, he could not win in the mountains so had to poach a stage. He was a surprise third in the Tour's hilly second time trial, the kind of result that wasn't down to luck or tactics. Now Vincenzo Nibali's moved on, Aru is Astana's top rider as Miguel Ángel López is still a work-in-progress. This means molto pressure, especially as the Giro has a start in his native Sardinia where he'll be public property. Surely a podium finish and some crowd-pleasing stage wins are the minimum requirement.
Thibaut Pinot had a great season in 2016 until the wheels came off mid-summer. His stage win in the Dauphiné marked the start of his slide, a win au forceps as they say in French. The Tour de France overshadows so much that all of his early season success gets forgotten because his summer flopped but until then he was knocking on the door as one of the world's best stage racers, a proven climber who was even beating Tom Dumoulin in the time trials. Now he's had a giant break from racing and taking aim at the Giro, not an easy move for a French rider on a French team but proof of his stature at FDJ, they have to keep him happy to keep him. The Giro is new and a crowded contest with many others also announcing they'll ride but he enjoys racing in Italy and prefers cold weather.
Sprinters are fast and fearless and they used to be young too. Only Mark Cavendish and André Greipel are thirty-somethings musing their legacies and Alexander Kristoff will join this cohort later this year while Marcel Kittel will turn 29 too. So where are the young up and comers? Nacer Bouhanni is fearless but struggling to break through, Moreno Hofland was promising but didn't win a single race last year while Andrea Guardini doesn't get to sprint in big races because his Astana team are all about GC. So what about Dylan Groenewegen, still 23 and improving but a lower media profile than Caleb Ewan. While Ewan has to fit around his team's increasing GC ambitions Groenewegen is central to Lotto-Jumbo's plans.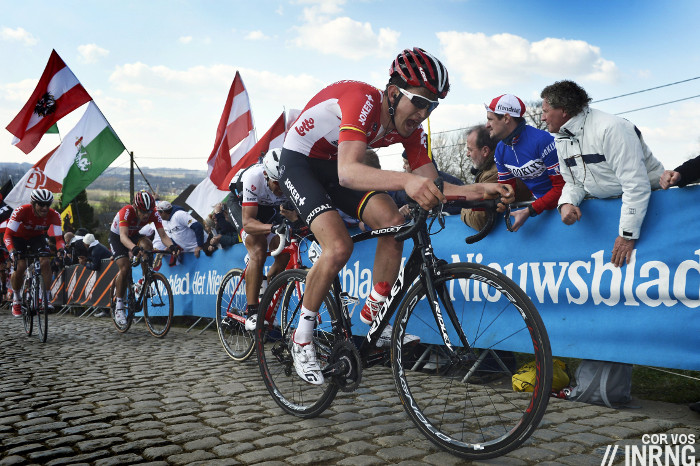 What can Tiesj Benoot do? He's Belgian and been prominent in the spring classics and looked set for the spring classics last season when he made the winning move in the Omloop Het Nieuwsblad but that was probably his most prominent moment of the season. He should be back for the classics but has a big engine and has shown he can climb too. Being the "best climber among classics contenders" may sound like a pointless label, like "low calorie frites" but he's got the promise to be active all season rather than one of many Belgians who seem to disappear from the results sheets once the classics are done by April. If all goes well he can bag the classic that Lotto-Soudal crave – their biggest spring win since Gilbert's 2011 glory has been the Nokere Koerse – and then deliver a stage win here or there in the summer too.
Rohan Dennis is a hot prospect that's cooling down. He's long been tipped for the top and proved his talent way back in 2013 when he wore yellow in the Dauphiné as a neo-pro and finished in the top-10 overall, a sizzling result. Since then he's delivered some big wins but seemingly with a narrower range thanks to a focus on the time trials. Now he's aiming for stage race glory again. It'll be fascinating to see how he approaches this, for example will he spend June staying sharp for the short time trials given the Tour de France begins with a 13km course that's made for him or will he try to get his climbing legs again? His role within the BMC Racing team is interesting, can Dennis hang in the front group in the mountains to help Porte? It's a test of legs but also the head, he's determined and playing second figure to Porte's podium ambitions isn't where his ambitions are.
Everything is going swimmingly for Marianne Vos right now as she's back winning ways in cyclo-cross and has hooked a team sponsor WM3 Energie for the long haul too. She resumed racing last year after a long injury break and picked up some wins but this wasn't La Cannibale of old so it'll be interesting to see whether she extends her current cyclo-cross form onto the road and wins and wins. Even if she recovers her old powers it may be that women's cycling has progressed, that she's likely to find a deeper field and better teams rivalling her. Indeed the growth of women's cycling probably will be boosted by her return as long as there's space for plenty of challengers to rival her throughout the year and aged 29 she's got years to add more lines to her packed palmarès.
Michał Kwiatkowski made it to the finish of a race with Peter Sagan and duly beat him last year, one of those results that now stands out for its oddity given Kwiatek wilted and Sagan bloomed. Indeed the E3 Harelbeke was the highpoint of Kwiatkowski's season, a Icarus-like tale of lofty ambitions that ranged from the classics to stage races and the Olympics, then he could have been Froome's most valuable helper at the Vuelta before leaving with a saddle-sore. All those ambitions were legitimate, on his day he's a lively and versatile rider who can win spring classics and match most on 10-20 minute climbs. But he's prone to a jour sans and it wasn't just last year that went wrong, in the 2015 Tour de France he was a rainbow-striped water carrier for Etixx-Quickstep too. So what will he do in 2017 and where can he find the opportunities on an crowded team?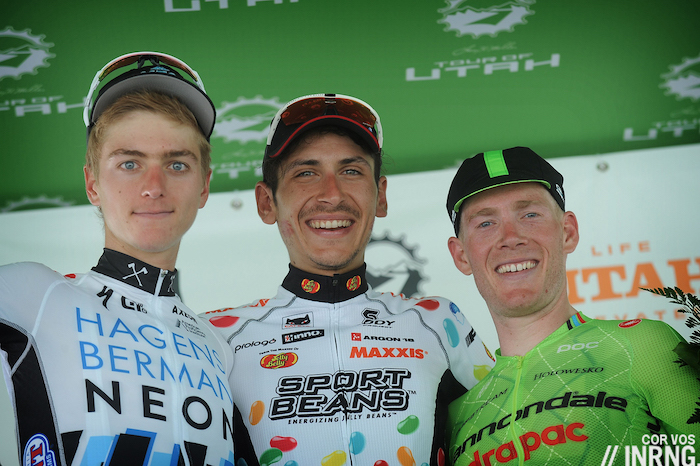 Lachlan Morton was tipped here as as a neo-pro to watch in 2014. Only his career went on hold as he asked himself a lot of personal questions. It's easy to see pro cycling as a dream gig – paid to ride a bicycle! – but it's a job like any other sometimes and at other times it's worse because of the constraints imposed. You can't eat or drink what you want for most of the year, you have to log your Whereabouts into a system that in theory runs contrary to some basic human rights and then there are all the small details: wear team-issue shoes when you travel to a race; tag your sponsors N times per month via social media postings. If anything it's a wonder more U23 men and women don't ditch the sport for a regular life. Morton did step away but returned knowing that whatever the strictures there's freedom too and and he showed last summer just what he can do and is still just 25. Dimension Data should be a good place for him to grow and they'll count on him to deliver in the US stage races and he could be good value in the Vuelta too. For similar reasons it'll be interesting to see how Taylor Phinney fares after swapping the corporate confines of BMC Racing for Cannondale's argyle eccentricity.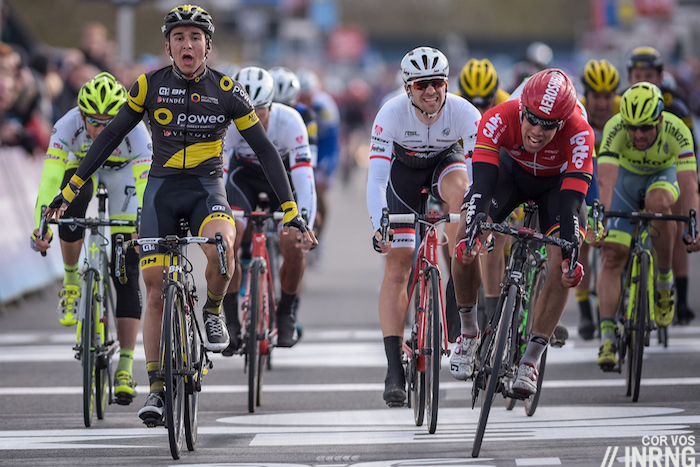 Finally who is the best rider outside of the World Tour? Looking at the top-100 in the CQ rankings there are only six riders from Pro Conti team and Bryan Coquard sits tenth, by the far the best of them. Coquard, the tenth best rider in the World? Pas possible but still he's got to be a prime pick for World Tour squads, he sprints fast and he's versatile as results in the spring classics show. All this and he's still 24 years old and on a team that can't offer him big support but will rely on him as their entry ticket to the big races.
That's ten already riders but as ever there are so many more. Steven Kruijswijk was so in control at the Giro that it would have been reasonable if he spent time during the third week pondering whether his Trofeo Senza Fine would make a good umbrella stand so if he can replicate that form then he's going to be hard to dislodge again. Chris Froome is the obvious pick to win the Tour de France but certainty can often be a brittle commodity and we'll see if he can finally land the Vuelta win he's been trying for as well as observing his attempts to establish "brand Froome" as a distinct entity from Team Sky. How will Kenny Elissonde fair at Team Sky, as we've seen in two editions of the Vuelta he's a good rider but you wonder if he's been signed as a means for Team Sky to better their communications with French fans. Certainly his tiny build means he's not the usual windbreak for Chris Froome on a mountain pass either so making Sky's nine for July is a tall order. Alberto Contador was supposed to have retired but has signed for two more seasons… even if he was Trek-Segafredo's second choice after they failed to land Nibali and what will Bauke Mollema do now, remember he was hanging with Froome and Porte on Mont Ventoux but can he deliver consistency across three weeks in the Giro and if he has ambitions for the 2018 Tour de France does he have to sign elsewhere? Quick Step have so many good riders and it'll be interesting to see how Gianluca Brambilla and Bob Jungels fare especially as the team's sponsorship isn't secured and by April rival teams will be bidding for talent. Jasper Stuyven is no longer the apprentice in Cancellara's shadow, how will he cope in the 250km monuments? Can Ion Izagirre continue the progress he showed at Movistar or has his sudden transfer to Bahrain-Merida changed things? How does Cannondale-Drapac's Michael Woods convert his huge cardiovascular talent into silverware?
Another ten riders with stories and there are hundreds more stories in the peloton. Sometimes this variety and complexity means pro cycling can be difficult to get into or to keep up with but this variety is also what makes it so rewarding to follow, there are countless stories and sub-plots rather than a single plain "narrative". The Tour Down Under starts in week.