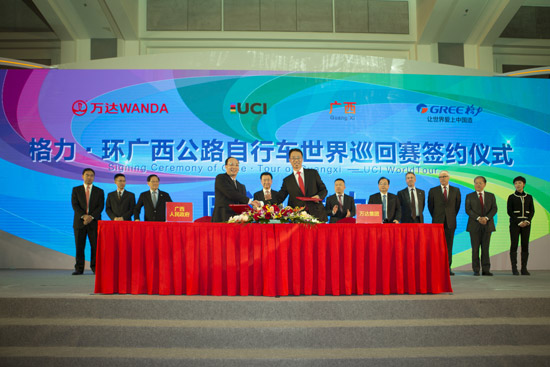 The UCI has announced a sweeping deal "to transform cycling in China". In more practical and grounded terms this means a new men's World Tour race, a women's race, mass participation events and the creation of a new satellite of the UCI's World Cycling Centre. There's lots to cheer and some concern too.
Background: sports are increasingly a big deal in China. Xi Jinping, China's "Paramount Leader" and General Secretary of the Communist Party of China, President of the People's Republic of China and Chairman of the Central Military Commission doesn't just like his job titles, he's a sports fan, especially soccer. Xi has expressed a dream for China to become a world force in football. One policy is co-opting China's billionaires into paying for this, a pact where such prodigious wealth is accepted and directed towards politically-approved aims (similar to Russia where patriotic Kremlin insiders bankroll pro cycling teams). Jack Ma, the founder of Alibaba, a website, backs China's top football team and also funds the development of other sports in China like rugby. This brings us to Wang Jianlin, reputedly China's richest man and the founder and owner of Wanda Group – sometimes called Dalian Wanda – a real estate venture that's mushroomed into a media, entertainment and sports conglomerate. Mr Jianlin has already bought a stake in Spanish football team Athletico Madrid and Wanda sponsors the Chinese football league and funds a programme called "China's Future Football Stars" which coaches China's best young players and takes then to Spain for more development. Wanda is busy in other sports too, it bought the World Triathlon Corporation, owners of the Ironman brand. It's in cycling in several ways too and you may remember it acquired Swiss sports agency Infront which part0owns the Tour de Suisse. Now it gets its second World Tour stage race meaning it's third after ASO and RCS in terms of World Tour race days.
Today's news: The headline news in the press release is a new World Tour race in Guangxi, a southern region near the Vietnamese border that's scenic and should be pleasant to visit in October: warm but the typhoon season has passed. The smog horror of the now defunct Tour of Beijing is long gone. Comparisons with the Beijing race are inevitable and this should be a better event, for starters it takes place in a scenic region during the high tourist season compared to Beijing with its regular pollution alerts. There are no firm dates yet, just October is cited, but presumably and hopefully it will come soon after the Tour of Lombardy and before the Tour de France route announcement and not clash with the crowd spectacular that is the Japan Cup so as not to tread on toes. Still an October slot means it'll be hard to drum up interest. In January many of us will get out of bed at 4am to watch the Tour Down Under or watch a low-fi livestream of a race from Argentina just because of the promise of the new year; come October season fatigue has set in. However it could get the locals excited which matters – see Qatar or Abu Dhabi – and there will be a mass participation event open to all – gran fondos are taking off in China too – and even an educational programme to get schools interested.
There will also be a women's race but this won't be on the World Tour yet and it's not clear if it's a one day event or a stage race. After the race there will be the UCI Gala, cycling's end of season awards show that has yet to get in its stride (it could do with a livestream padded with a Sporza-quality season review in video and for more riders to attend in order to draw in the public but that's for another day).
There will also be a new Urban Cycling world championships which means eliminator XC MTB, BMX and trials, a sort of extreme games held in an as yet undetermined Chinese city and it'll remain in China for three years, implying the UCI has granted the concession to Wanda for this period.
The World Cycling Centre (WCC) is the UCI's development programme where it uses its HQ in Switzerland with its velodrome and nearby roads to bring over riders from all corners of the world in order to race in Europe, they even have a team in the Tour de l'Avenir as well as offering other courses to help budding mechanics and more. There are already existing WCC satellites in Japan, South Korea, India and South Africa. Now there will be one in China and about time, Chinese cycling is large and growing but the top of the pyramid has little to show: Ji Cheng has been the country's most visible pro but his success is that of a pioneer rather than a champion, the "first Chinese rider" to start a classic or to finish a grand tour. One difference is the role of Wanda. The press release says "Wanda Sports will build a cycling centre" and "promising athletes will be supported and funded by Wanda Sports" which suggests development is being handled by Wanda company rather than the local federation, the Chinese Cycling Association. It's ironic for communist China to see a role normally done by the state-backed federations outsourced to a private corporation.
Wanda rings stars: a new World Tour race in October? At first glance an unknown event and a lacklustre calendar slot doesn't bode well, it can take years for a new event to establish itself. But this race is ambitious and will have to do something to grab attention. Already Wanda is close to the Velon teams and they will surely commit to this race and supply some of their best riders. Now Velon's already got a deal with the Abu Dhabi Tour but this alone hasn't been enough to get anyone excited. So we can expect more, perhaps much bigger appearance fees to the star riders to tilt them away from going on holiday. Put simply if the Chinese public are expected to cheer on a peloton of foreigners they'll surely demand the reigning world champion, the Tour de France winner and other cycling celebrities and figureheads are there. Mr Jianlin probably won't settle for less. We can imagine other incentives and headline grabbers. Think of a prize list that is bigger than the Tour de France for example.
So far so good: the deal is so big that there's complexity and risk. There are obvious conflicts of interest, for starters the men's World Tour race is going to appear on the calendar for 2017, another example of the pro cycling's DIY tendency where a significant stage race is added after teams complete their recruitment (although the race has on the grapevine for a while now). More fundamentally we see an untested race fast-tracked into the World Tour, presumably quid pro quo for all the money Wanda is spending on UCI initiatives and with pledges that it'll meet the minimum standards, the cahier des charges. The point here is that the UCI has entered into a very close relationship with Wanda to fund world championships, awards ceremonies and rider development – the sums are unknown, we'll wait for the UCI's annual report – so that if the World Tour race had issues and wasn't up to technical standards could the UCI demote it?
Similarly the women's race won't be World Tour yet. What ever the reason it signals that it's not a priority: the men's race is fast-tracked, the women's race is isn't despite being. It's good there's a women's race but loyal readers will remember that it's a UCI rule that all men's World Tour races have an associate event that contributes to the sport, for example a women's or junior event be in La Course or the U23 Tour of Flanders and so on.
Finally this dips the UCI deeper into the perpetual conflict and Kremlinology in the sport as it's now announcing deals with Wanda Sports in a way which it isn't to the likes of ASO and RCS. Also Wanda is contractually-linked to the Velon consortium of teams too.
Conclusion
Cycling's goes up a gear in China with this news. Some comparisons will be made to the Tour of Beijing but that saw the UCI as the race promoter, today's announcement has the governing body working with a Chinese firm, linked but owning the race. Beijing had smog and this won't and today's news comes with a broad base of measures from mass rides to development programmes rather than just a World Tour race crowbarred into the calendar all of a sudden. If the substance of the news is welcome, the manner of some of the deal raises questions. Again we have an event awarded a premium World Tour label only it's untested, only ten months away. Similarly the governing body that says yes to the men but no to the women. More broadly the fate of development cycling's development in China is now intrinsically-linked to the fortunes of a company and its high profile owner rather than a national federation.