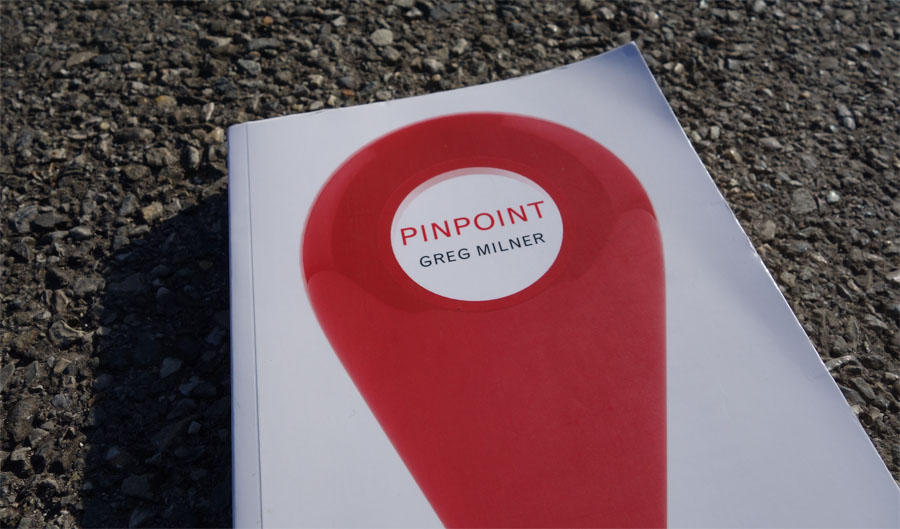 Pinpoint, How GPS is Changing Our World by Greg Milner
Do you use GPS for your cycling? The short answer is yes because even if you don't have a bike computer on your bars or a smartphone in your pocket the satellite technology would have contributed to your ride in other ways from making that paper map to guiding the deliver truck that brought the spare parts for your bike to your home or local bike shop. GPS is everywhere and it's free. How did this happen? Pinpoint tells the history of its creation and explores the use today.
What is GPS? For many it's a navigation system but the Global Positioning System is really a timing network. A constellation of 31 satellites orbit some 20,000km, each has an atomic clock and constantly broadcasts the time. A device on your handlebars collects the faint time signals and, knowing which satellite they came from, derives your position. Actually there's a lot more to it which is half the purpose of the book.
Like many inventions GPS was born out of war and the space race. The Vietnam conflict saw the US persist with the carpet-bombing used in the Second World War, an ineffective, wasteful and sometimes counter-effective technique. This led to a programme to develop a weapons guidance system with plan to "drop five bombs in the same hole". For the cyclist peacefully navigating along a canal path or sprinting up a hill this may not be what you wanted to learn. Milner explains the bureaucracy and committee procedures and inter-force rivalries in the US that eventually brought about the constellation of GPS satellites and then the events that led to it becoming available for civilian use. Along the way a chain of unintended consequences, for example the downing of flight KAL007 led the US to make GPS free and available for civilian use, first so that aviation could navigate better but soon it became a commercial product for shipping, yachting and eventually trickled down to your bike. The book never touches on cycling but it does mention Garmin and how GPS has made fortunes for company's founders Gary Burrell and Min Kao.
It remains a military property and over the years the accuracy of GPS has suddenly altered because of a military event here or there, becoming pinpoint accurate when the US military needed it and vague when it suited blurring things for a rival threat. Russia already has its GLONASS network, the European Union is launching Galileo, China BeiDou and so on. But civilian use is so dependent on GPS that it's hard to imagine the US ever pulling the plug because of the economic self-harm it would impose, from delivery trucks to aviation to seismic monitoring. Milner covers the scope of GPS applications but can still only touch on a few examples, for example an in-depth look at beet farming as an illustration of how our food chains now rely on satellite technology.
Back to cycling and consider Strava alone, labelled a social network but really a data gathering exercise to plot location points and the corresponding time of day via a GPS device. GPS is free but has enabled a business with over a million active users. How many cyclists and runners have purchased devices to join in? How many pay for premium subscriptions? How many have upgraded their bikes or shoes in order to be more competitive? The retail spend in this tiny corner is significant and all thanks to a military spin-off.
It's not all wondrous, a theme running through the book is the way society and perhaps even our neurology could be changing as a result of GPS. This is relevant for the cyclist and traveller because entrusting our navigation to screen means we risk lose sight of the real waypoints as we move across the land. Our willing exclusion of the reality of the landscape by surrendering to the electronic screen and turn-by-turn instructions has multiple consequences. Far from being free to enjoy the scenery one suggestion is you could be less cognisant of it. Studies suggest GPS may allow travellers to reach their destination more efficiently but this comes with the price of being less aware of the surroundings; others say the brain can even change. But this subtle and tentative, it's hard to untangle scientific analysis with jarring and graphic stories of truck drivers getting stuck on a twisting mountain road.
The book convincingly argues GPS is a valuable public utility, as useful as the internet even. Cycling has only just begun to grasp this. Many will use a Garmin for route mapping, plenty will use Strava for training for kicks but this is only the start. The Transcontinental relies on it Telemetry is coming to TV broadcasts of races, although painfully slowly and too often shares the irrelevant – such as heart rate – instead of the essential: who is in the front group? Think of all the other uses: enhanced timing chips? Settling WADA Whereabouts disputes? A new form of race where participants don't know how long the course is, only where the next checkpoint is? An enhanced reality game created by, say, a Flanders tourism agency where you collect bergs and cobbled sectors? If it's got anything to do with location or timing then let the imagination run wild.
The Verdict
The book has no mention of cycling so why review it on a cycling blog? This is a handy primer if you've ever looked at your Garmin or smartphone and wondered how it it can place you on the planet. Think for a second and you might wonder who paid for an entire satellite system that enables you to brag about riding down a road faster than a friend or stranger? Pinpoint gives a good look at the background to the technology and to all its applications. It's an easy read, blending popular science and history into the kind of prose you'd find in a magazine. Each chapter could stand up by itself in a magazine or newspaper, it's not the kind of science book where you have to grasp the early material in order to understand what follows.
GPS is everywhere in cycling whether touring, training or racing. Even if you appreciate the bicycle for its simplicity and eschew electronic gadgetry then you might find validation in the sections on how GPS devices could be undermining our instinctive navigational abilities. It is so powerful an application that it lets us know exactly where we are, a feat we've quickly taken for granted but for millennia a matter of survival. But it still won't tell us where we're going and why.