Thomas Voeckler, la langue francaise, has announced he'll retire at the end of the Tour de France next year. He's not got the force he used to enjoy and the peloton are wise to his breakaway antics.
Spanish riders have called him "Hollywood" for his theatrical faking of cramp or excessive displays of fatigue only to see him recover and zip off for the win. A show but he was someone trying to tilt the odds with tactics. His team mates called him Francis after character from the Trainspotting novel/film, a fuller explainer here from July 2012.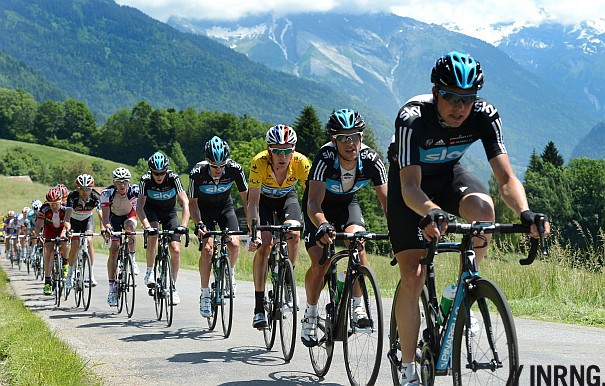 From Voeckler to allegations of cortisone abuse. Several people have asked where's the piece on Wiggins and the leaked TUE. Having been away for a couple of days there are good pieces online already from others (here, here, here among others) and there's not much more to add. However two small points:
First is the case of Tramadol use at Team Sky after Michael Barry said he and others used it; Sky came back saying "current" riders did not use it but didn't deny it had been used in the past. It was legal as it's still not banned but is it right to use a powerful opiate to help you pedal? You can argue both ways but the purpose is illustrative and leads us to ask whether it's right or not to use a powerful anti-inflammatory corticosteroid
The MPCC group isn't fashionable but their cortisol testing program is a good guard against cortisone abuse and if the UCI can't act then more teams ought to be supporting the MPCC rather than leaving it. The group is only as strong as its members and many have walked out but riders ought to be asking why their team won't sign up; if all do then the incentive to abuse cortisone drops away, think of it as a classic Game Theory move where all can cooperate to enhance their health
Shy but not retiring: Wiggins  had announced his road cycling retirement after concluding the Tour of Britain only this came as news to the Abu Dhabi Tour who have booked him and presumably paid plenty of Dirhams for the privilege so he'll do this.
Staying in the Middle-East the World Tour team boycott of the Worlds is over. Or rather partially as some have decided to go to Doha but others will stay behind. So the event goes ahead but the real issues behind this are not settled, namely the frustration with the sudden expansion of the calendar for 2017.
A last mention of the Middle-East as it's currently 39°C (102°F for US readers) in Doha and the temperature needs to fall in order to stage the World Championships with their long distance events. Things will cool into October but the events are only weeks away.
2017 Tour de France: the route will be announced in a month's time. We know the start is in Düsseldorf with a 13km time trial. This week the Belgian media is saying the race will head to Liège soon after and the Luxembourg press says the race will visit their country too. As ever you can piece together these local sources to sketch much of the route. It seems the eastern Franche Comté region will get an early visit with the Planche des Belles Filles climb meaning a stage in Thibaut Pinot's back yard and then the first week will end with a air transfer to the Périgord region and then stages heading south to the Pyrenees. If Pinot gets a tribute, after the race leaves the Pyrenees there'll be a stage heading to Brioude, where Romain Bardet grew up. The papers say the Col du Béal is possible, the scene of the Contador-Froome duel in 2014. Then come the Alps and a mooted summit finish on the Col d'Izoard. All will be revealed on 18 October.
Race director Thierry Gouvenou has lamented the way some try to publish the route ahead of the day but it's a compliment that people care enough to be curious. This year's route does seem to be more secret than usual, ASO has asked mayors and hotel owners to try and keep a lid on the leaks and so far it seems to be working.
The Tour's route reveal is one of those moments that marks the end of the season. There are still several races left including the underrated Eneco Tour, Paris-Tours and some excellent races in Italy, notably the Giro dell'Emilia this Saturday with its hilltop finish above Bologna. One rider who won't be thriving on the hilltop is Carlos Betancur, he won this race in 2011 but his switch to Movistar hasn't seen him racing much more. There's also Il Lombardia but one rider who won't be going is last year's winner Vincenzo Nibali. Sacrilege? Maybe but he could just be off form and preferring an easier race. Above all he rides for Astana and the same weekend has pro races in Kazakhstan so he has to show up.
Another rider who won't be present is Thibaut Pinot who has stopped for the year. He's making plans for 2017 but like Nibali is being pulled in different directions, he wants to race the Giro because he's got a good shot at the podium or better, he'll have less pressure on him, he prefers cooler weather and he's long enjoyed racing in Italy. Only he's a Frenchman riding for a team sponsored by the French national lottery so skipping the Tour de France is a big deal but probably the price to pay in order to develop a rider who will still be 26 for the next Giro and constantly improving.
Finally back to Voeckler, sort of: if Pinot's cut short his season, Voeckler goes on and on. He's someone who often racks up the most race days a year. He's currently on 91 and looks set to surpass Alejandro Valverde's count of 92 given the Frenchman still has an eye on a few more races this season. He must be sick of energy gels and race food given all this so news from Britain of a beer energy gel, made from real ale and it's 24% beer. Yes this reeks of a marketing stunt but it's real rather than an April fool's prank. It works as an attention-grabber because it's beer and because a lot of energy gels have the same sickly taste so this could work. Some other brands offer sour tasting gels.