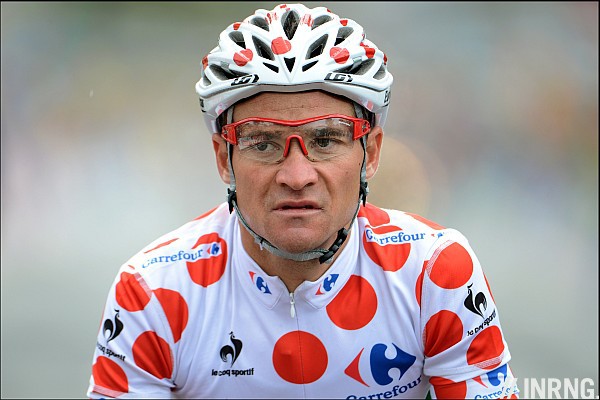 In the Tour de France podium ceremonies Thomas Voeckler stood out. Bradley Wiggins and Peter Sagan were futuristic riders, one with scientific approach, the other with the future before him. Voeckler by contrast seems a rider from the old school, you can imagine him with goggles and a tub wrapped across his chest like the early days.
But he's really not so old-fashioned. He's a rider for the age of television. And everyone who knows him calls him "Francis", a reference to a violent character from the 1990s film Trainspotting by Danny Boyle. Why? All is revealed below.
It's true Voeckler is of another era at times. He rides without a power meter, he doesn't even have a heart rate monitor to measure his effort and if sponsorship means a small bike computer sits on his stem, you wonder if he cares about using it. Ideas of riding at a pre-set threshold dictated by the team coach don't exist, his face alone suggests he's crossing the pain threshold all the time.
He once said in an interview that he'll base his training on the wind direction, heading out to ensure a tailwind home if he wants an easy ride, or in search of crosswinds and headwinds if he wants more of a workout.
But he's a showman too. The ever-changing face, the constant fidgeting on the bike, a lot of it is for TV, he could try this routine in days of old. After he won the mountains jersey he started the stage to Brive – won by Cavendish – in full polka-dot kit, from his helmet to his socks not to mention the bike. He looked like a cartoon character with measles but it's all good publicity. As they approached the finish he sat up and let himself cross the finish line behind the bunch in order to let the crowd spot him and hopefully get speaker Daniel Mangeas to call his name.
He's popular with the French – two stage wins and a jersey, no wonder – but has fewer friends in the peloton. He's a showboat and if you imagine the peloton as a community, this peacock-like activity frequently annoys man. His constant attempts to look tired, minutes before he rides away for the win frustrate other riders. Some Spanish riders call him "Hollywood" because he acts so much. But if the act doesn't fool people that often, it still seems to frustrate and perhaps disturbing his rivals plays a part here, it saps their mental strength.
Francis Begbie Voeckler
Voeckler is not Thomas to his team mates and friends. Instead everyone calls him "Francis". If he's known in public by his real name, when the race radio is crackling, when the team briefing is on, it's Francis for everyone.
Why? Well if he attacks on the road today, in times past he could try more conventional means of violence, a night out could end in him getting involved in a fight, although he says it was to defend his friends. At the same time the film Trainspotting, by Danny Boyle, was out in the cinemas and in no time they started calling him "Francis" in tribute to a psychopath character Francis Begbie.
Warning: the clip has language to make Bradley Wiggins blush.