The team's accounts are available and as well as the dry numbers here's a closer look at a team that's been quietly changing its ways in recent years with success to match.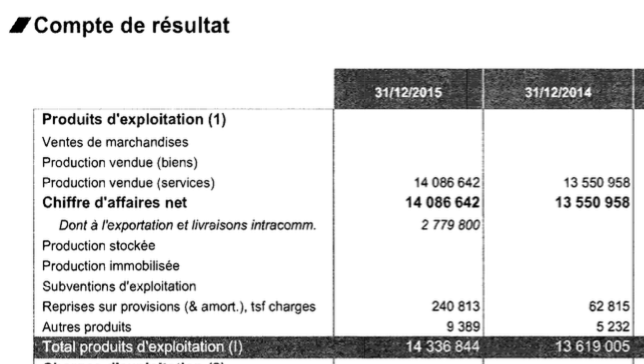 Ag2r La Mondiale's gross budget for 2015 was €14,336,844, up 5.3% on the previous year's budget.
As the team publishes its accounts annually we can trace the budget over recent years and the chart above shows a compound growth rate of 11%. How are these millions spent? Here's the screengrab from the accounts:
The biggest item is wages which is highlighted in red. Loyal readers will remember last July's look at Team Sky's accounts and for comparison Sky's wage bill for the same period was over three times bigger at €24.1 million. In addition the wage bill is compounded by charges sociales, payroll taxes, where the high rates put French teams at a disadvantage to foreign rivals.
The other items are noted but not so clear, Team Sky's accounts give a line by line breakdown and offer accompanying notes but here we don't know what the €3 million on autre achats or "other purchases" means. Similarly the various sources of income are not given so we can't see how much the team gets from Ag2r La Mondiale versus other sponsors, participation fees from races and so on.

One big item sitting in the accounts is the bank guarantee of €2 million. All pro teams have to have one of these as a condition of their UCI licence and it's effectively a pot of money held in escrow in case the team vanishes leaving riders with unpaid wages. It's a good idea but it represents a lot of capital tied up. If Ag2r La Mondiale was a new team starting today it would have to add the €2 million UCI guarantee on top of its €14.3 million annual budget, a notable hurdle to clear.
The Bardet Effect: A lot of this change is down to Romain Bardet. Watch the sport on TV and you might know him for his wild attacks downhill, a racer and a raider. All true but off the bike he's a thinker. It's difficult to pin a person down with a few adjectives and Bardet apparently dislikes being labelled as an intello or intellectual merely because he's completed a business degree but his perfectionist attitude has seen him become a lot more demanding of his entourage and team. It was only a couple of years ago that Bardet was buying his own powermeters – plural – and driving down to the Sierre Nevada with his father and a sheaf of sports science journals on altitude training. Now he expects the team to work with him on this. They've gone from having no coaching staff to three in the space of a couple of years. They picked up Jean-Baptiste Quiclet who used to coach the Sojasun team and Quiclet now manages the coaching staff, nutritionists and others. Like Sky? Yes but on a much smaller scale but even tiny changes can have a big effect, for example they changed tyre sponsors in search of better performance rather than chasing the highest bidder.
There's still some way to go and there are massive gains rather than marginal ones to go and get. Last winter Bardet went to a windtunnel, an initiative that he and his agent Joona Laukka paid for themselves even if the team's been for sessions before. According an article in the print version of L'Equipe Bardet saw that his power in the Stage 20 time trial of the Tour de France was similar to Tejay van Garderen but they were separated by over two minutes on the day so if Bardet can work on his position then he can get much faster. Having seen his upright position in this year's Tour de France there's some more work to be done.
The link to the finances is that all this spend on backroom staff costs money so the team's budget has risen consequentially. Bardet isn't behind everything, the team management themselves seem concious of the need to adjust. Lloyd Mondory's EPO bust in 2015 made him the first rider ever to get a four year ban but also jolted the team. They hired ex-pro and former UCI official Philippe Chevallier as the team's manager to provide more operational oversight and allow long time manager Vincent Lavenu to take a step back. Sponsor Ag2r La Mondiale, a health and social insurance mutual, seems only too willing to support all of these changes.
It has now backed the team since 1999 and has committed to fund the team until 2020 which allows the team to sign riders on a long term basis, Bardet for example is on a four contract, otherwise unheard of in pro cycling and the team signed Pierre Latour as a neo-pro on a three year deal when two is the norm. The sponsor seems delighted and every year puts out a press release proclaiming the vast value they derive in sponsoring a team. This is good for them but applies because they're a French team in a sport dominated by a giant French race, the mouthwatering numbers don't translate directly for other corporate sponsors. Bardet himself is part of this value:
"The hegemonic train of Sky annihilated all attempts at a breakaway"
That's the team leader describing how hard it was to breakaway during the Tour de France. As Liberation, a French newspaper, remarked he could just have said "We can't do anything as Sky are so strong" but his linguistic register appeals to sections of the media looking for original quotes.
So far so Bardet but the team isn't built around him in the same way Cofidis surrounds Nacer Bouhanni or even FDJ pin their hopes on Thibaut Pinot. Alexis Vuillermoz and Pierre Latour are being nurtured. If Jean-Christophe Péraud has just retired then in come Mathias Frank, Alexandre Geniez and Stijn Vandenbergh. There's a pipeline too from Chambéry Cyclisme Formation, literally "Chambéry Cycling Training", an U23 development squad based in the Alpine town of Chambéry. It is closely linked to the pro team and this allow it to attract talent from France and beyond. There's now a conveyor belt of riders that's gone from Bardet to Latour and several others. A requirement of the team is that the rider must continue their studies, up to them whether they want to pursue management or plumbing but they have to attend classes regularly to have a place on the team.
Conclusion
€14 million Euros and only eight wins this year. The team struck gold in the Tour de France with Romain Bardet's audacious attack and podium finish and this is a team made for July; even the classics contenders are presumably hired for their ability to double as bodyguards for the flat stages of the Tour or locomotives for a team time trial. Money matters and the increased budget at Ag2r La Mondiale accompanies their transformation from breakaway cannon-fodder to Tour de France podium residents. Is the spending worth it? Yes says the sponsor but the team are still mid to low spenders in the World Tour and have to allocate resources accordingly but that's fine for them, the title sponsor's market is France. Slowly the foundations are going in to underpin this kind of result and deliver more.
Exchange rates at 31 December 2015: €1.00 = US$ 1.11 = £0.84
Thanks to reader Nicolas for sending a scanned copy of the accounts.