Triumphs and Turbulence by Chris Boardman
Confession time. There's a conveyor belt of books about British cycling and when this came out during the summer it wasn't a pressing read. Boardman's enjoyed an impressive career but the story of a track and time trial rider famous for his calculating ways didn't appeal at first. Surely rival Graeme Obree's story is the more interesting? Add to this the fact that Boardman comes across as dryer than an indoor velodrome and this wasn't something to rush into. Was it worth waiting for?
The first thing that comes out is Chris Boardman's voice. He actually wrote the book and this helps, many others use the services of a ghostwriter and it often shows. This feels like Boardman, to read the book is like listening to an audiobook, especially with the sardonic jokes and self-deprecation.
A common criticism of sporting autobiographies is their shared pattern, the linear tale of junior talent leading to adult success, glory, possibly a setback and the story of the comeback then the book ends, often on a note of reflection or satisfaction. This book has that too but Boardman's early life, his start in cycling, career on the road, his role in British Cycling's Olympic success, launching a bike brand and working on television more mean the scope is larger, there's plenty about his life off the bike and this allows more room for reflection.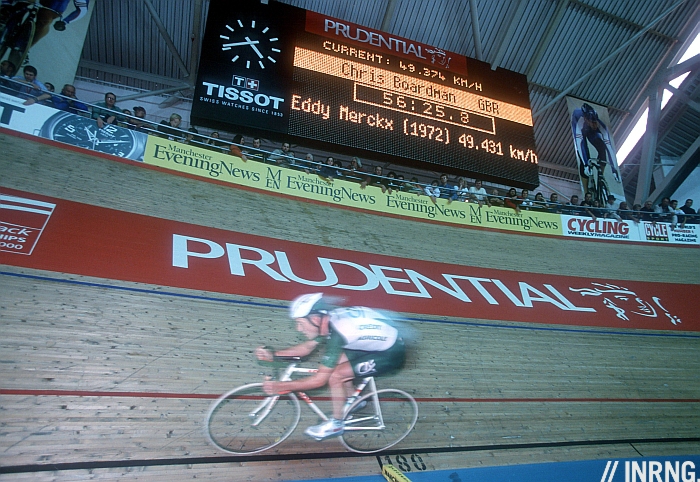 There are many of insights into all these topics and more. Some are fascinating, for example Boardman's attack on Merckx's Hour Record was almost accidental, seven years before the attempt he'd done some track testing and, for heck of it, decided at his coach Peter Keen's wish, to try some 1970s equipment just to see how hard it would be to match Merckx's hour. This test stuck in the mind of Boardman's pro team manager Roger Legeay who suggested a record attempt as Boardman's road career was coming to an end. This itself leads to a lot of product testing within the newly-created UCI rules and the story of this is interesting; as is the revelation that using a hypoxic chamber – his son's bedroom with the windows sealed up – was of next to no use; ditto the story behind Boardman's late surge during the record attempt where going behind Merckx's pace and then coming back was part of a plan rather than a dramatic moment.
The road cycling career from 1993 to 2000 is covered with some stories but what stands out is Boardman's independence, he joins the team on training camps which are as much about bonding as racking up riding but is allowed to prepare with his British coaches and lived in Britain too, showing up to meet his goals on a regular basis. You won't buy this for peloton gossip and if he was a pro just as EPO went wild in the peloton it's not mentioned at all. There's only the hint at doping when he's aiming for the Dauphiné and Tour de France:
"Based on my form-to-results ratio from previous years, I'd expected to reap big rewards. But despite being both lighter and stronger – every cyclist's dream combination – I seemed to be using all of my increased power output just to cling on to other people's wheels. In time-trials, my winning margins were being eroded – or erased."
So as much as Boardman has improved his rivals have got even better. The hint is there but it's not spelled out, the keener cyclist will get it but more casual readers may not. Instead the picture is of a pro scene that's often not very professional. Boardman took the yellow jersey in the 1994 Tour de France prologue but lost the jersey just before the race visited Britain after a chaotic team time trial. The team didn't bother working on this discipline, it was just nine riders trying to smash it:
It wasn't that the GAN riders and staff were lazy and complacent: they just didn't know what they didn't know. In most cases they'd spent the whole of their professional lives in the closed world of professional cycling, where the past was the template for the future and the best way to do things was they way they'd always been done.
This is part of a pattern where Boardman learns more from defeat than victory. Graeme Obree's rivalry forces Boardman to up his game and other defeats lead to debriefing sessions and lessons are learned and new plans are made.
One element where the causal factors of success are explored and explained is his role, or rather roles, within British cycling as he works in "The Secret Squirrel Club", the nickname for British Cycling's product development program. Skinsuits, helmets, cranks, frames and more are tested over and over again. There's a lot of detail here, nothing top secret is shared but all the same the book would make handy reading for some cycling federations as the last Olympics showed they've still got a long way to catch up. Easier said than done as the funding poured into the British track team is what allowed Boardman and colleagues to experiment and presumably paying them well for it too:
The criteria for spending lottery funds were very strict; they couldn't be used to simply improve performance, increase participation or even to win world titles, they could only be used to improve the chances of winning Olympic gold medals.
One aspect the book doesn't explore too far is Boardman's inheritance. A lot of the time Boardman portrays himself as someone interested in learning more and surrounding himself with either clever or curious people as the story of his success but if he'd not been born into a cycling family would he have got as far or rather would he have even started? If he'd not inherited the right DNA giving him a high performance aerobic engine would he have been able to attract and retain the people he meets along the way? If British Cycling hadn't got so much money he'd not have had a job developing products and if all of this had not worked then cycling would not be booming in Britain and his bike brand and media career may never have started.
But it did start and rather than thinking about the counter-factual you could write a convincing case that Boardman was the central figure in all of this, his gold medal in the 4,000m pursuit in the Barcelona Olympics started a ball rolling that led to lottery funding, Olympic glory, Team Sky and much more. Boardman now hopes that it'll get people cycling, not into racing or a sportive but simply as means of transport, his new challenge.
The Verdict: it's a good read but at £20 for the hardback is a lot of money for a sports autobiography although it can be found online for a lot less. It's of use to those wanting to study the rise of British cycling as Boardman has been there since the start and been a part of it all and it's bound to appeal to new cycling fans who know Boardman from British TV but don't know much about GAN, Obree or Lotus mean. It's enhanced by the authentic voice and the sweep of Boardman's career means the book is about a lot more than racing. And yes, it turned out to be a lot more interesting than first imagined.
Note: a copy of this book was sent free for review. It is published by Ebury Press/Penguin and available in hardback and an Amazon Kindle version.

More book reviews at inrng.com/books