With no stage preview tomorrow, a quick review of Stage 16 and a chance to examine a few other matters in and around the Tour de France today from Oleg Tinkov to prize money to the quality of hotels this year.
Stage 16 review: the day saw a three man breakaway of Tony Martin and Julian Alaphilippe. Perhaps they wanted company but they didn't get it and so they begun a futile move. Alaphilippe had a point to prove after his mechanical on the Grand Colombier yesterday but was this the way to do it? It was good advert for Etixx's energy bars but it wasn't planned. The two were caught and passed by the peloton and finished joint last and each collected the combativity prize, apparently first for it to be awarded to two riders but (update) as mentioned in the comments below it happened before in 2011.
Behind the peloton were terrified into action, Tony Martin is not the rider you let build up a lead and it meant a fierce chase and an average speed for the day of 47.1km/h, they finished 30 minutes ahead of schedule. Rui Costa had a go but never had a chance either.
In the end Sagan won with a throw of the bike, nothing outrageous or special but a good skill while Alexander Kristoff timed his throw late saying he didn't see the line. After Ilnur Zakarin's contact lense issues yesterday maybe Katusha's sponsorship search could be enlarged to include an pan-European optician?
Sagan = Green: Peter Sagan gets his third stage win and and almost an arithmetic victory in the points competition. He now leads by 114 points over Mark Cavendish meaning the Briton would need stay in the race – not certain – then win all four remaining intermediate sprints in the coming road stages, of which three in the Alps and one on the Champs Elysées without Sagan placing to collect 4 x 20 = 80 points. Then he'd need to win on the Champs Elysées again and hope Sagan is so far back he barely collects points.
Tink-off: On the subject of the unlikely, some are wondering whether this means Oleg Tinkov stays in the sport after he said he might consider changing his mind. It's unlikely bordering on impossible. First Tinkov says a lot of things, for example you might remember him saying Tinkoff was going to be the world's best team with a spend on coaching and "big data" that would surpass Team Sky. Instead they've been a top-heavy team with two impressive leaders and a couple of lieutenants but not much more depth. Second the team is disintegrating as you read this, Alberto Contador is said to have agreed terms with Trek-Segafredo and Oleg Tinkov himself told Russian Eurosport that Peter Sagan was going to Bora-Hansgrohe for the reported sum of €6 million, an amount which if true surely includes his entourage, whether riders like his bodyguard and human windbreak Maciej Bodnar and Gabriele Uboldi, his press officer and sometimes nicked "babysitter" behind his back. It's true Sagan has a contract with Tinkov for 2017 but what would be left were Tinkov to change his mind? Other riders have signed elsewhere and a lack of support in the spring classics has been a regular concern in recent years. Were Tinkov to stay he'd theoretically have the right to match these offers before 1 August but it'd be unheard of. However this is unlikely to be the last we see of Tinkov. He's passionate, his purchase of the team from Bjarne Riis for an incomprehensible sum suggests all his shrewd business skills were abandoned for the fun of running a team. Like Andy Rihs, owner of the Phonak team who had to stop following the team's scandalous run, he simply cannot tolerate being away from the sport and, unlike Rihs, the limelight. Indeed the Tinkoff team is Tinkov's second tilt at team ownership after his TCS Credit Systems team.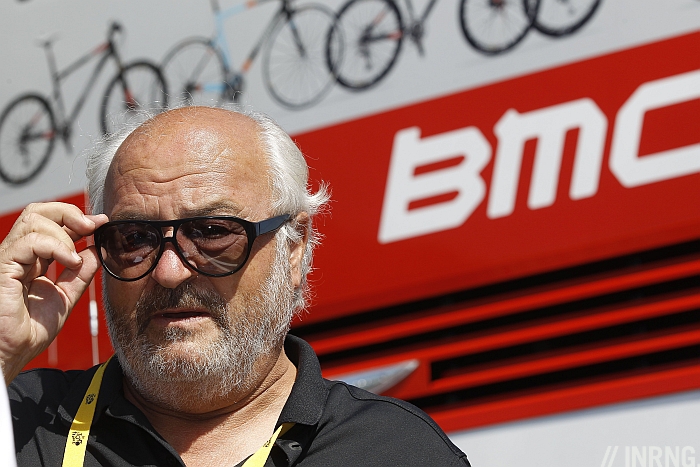 Rihs-land: Talking of Andy Rihs today was very much his stage. He was instrumental in bringing the race to the Swiss capital and it finished outside the Stade de Suisse, the stadium part-owned by Andy Rihs. In a wide-ranging interview in German Rihs says he's keen to stay in the sport but the investment has to make sense which suggests he wants a sponsor to take over BMC Racing in time.
From a billionaire to how to feel poor: Switzerland has one of the last hard currencies in the world and it's an expensive place to spend tomorrow's rest day. Expect several "how much? For a beer/sandwich/pizza?" messages in the coming hours and days from the Tour's caravan as people discover the price of a cheap meal or a drink in Switzerland. When riders stop for a coffee break on their rest day rides tomorrow the tradition is that the team leader buys the round.
On the subject of money the above is the prize money accumulated so far by the teams. It's not much. But unlike other sports, say, tennis, cyclists earn their money via salary rather than prizes. Instead for me the prize list is illustrative as it tends to correlate with success and activity so far, whether stage wins or just collecting money via the intermediate sprints (€1,500, €1000 and €500 for the first three) and KoM points etc.
All the prize income is taxed, levied, deducted and the fines paid during the race are netted off. What's left is shared among team staff meaning the riders only collect a small fraction of the headline sum. A tweet by Trek-Segafredo's Gregory Rast shows what happens:
1/2 Just in case if you are interested what's left from the price money in last year's milano-sanremo for the riders pic.twitter.com/WCpc6GJnSs

— Gregory Rast (@gregory_rast) February 22, 2015
Hotels: lastly the subject of hotels was a hot topic last year, literally as some riders and teams complained about the lack of air-con. It's not been a polemic this year, partly because the subject of motorhomes has been forgotten and there was a sense of some teams wanting to embarrass the Tour last year for political reasons, notably Oleg Tinkov who launched a tirade of ranty tweets at the Tour including one commenting on Christian Prudhomme's anatomy. But have the hotels improved? One blog has taken a look and says yes plus it seems the top teams seem to get the better hotels more often.