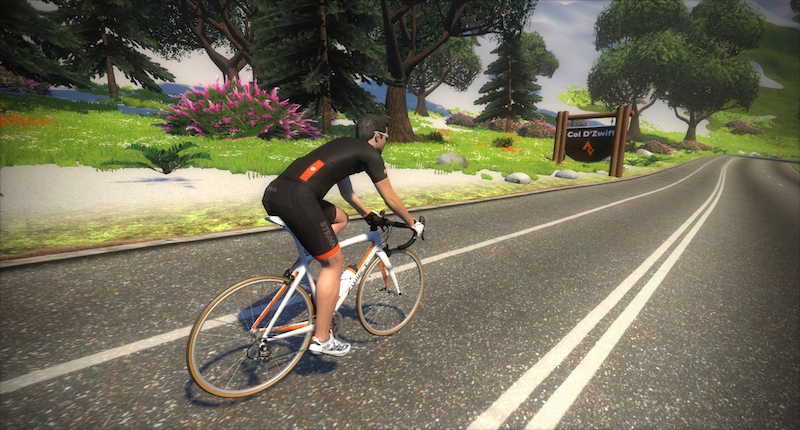 This blog doesn't do many product reviews but the virtual world of Zwift is worth exploring both as a consumer product and a theoretical concept too.
This is also a follow-up to a previous post that mocked indoor trainers as pointless or, at best, poor solutions because they never feel real no offer all the joys the open road can bring. Most of that remains true but new machines ensure a more realistic pedal stroke so you can at least get a workout which is why most people turn to these machines during the winter. A broken wrist two months ago meant a plaster cast and no outdoor riding so it was time time to try indoor riding again…
What is it?
Zwift is software that you run on your computer in conjunction with a home trainer and your efforts on the machine are replicated in a virtual world. Instead of going nowhere in your garage, cellar or spare room you can start lapping a virtual world with hills, descents and lots of other riders, all while gather data from split times to watts and doing pre-set workouts.
The Tech Bit
You'll need an indoor trainer and a power meter helps but a speed sensor is ok; a computer with sufficient memory and a dedicated graphics card is a must; an ANT+ USB antenna is required so that your computer can read the output from your trainer and or bike and finally you need a good internet connection. There are three setups:
a "basic" setup with a simple home trainer and a speed sensor
a "flexible" setup with a simple home trainer and a powermeter
a "premium" setup with a smart trainer
Despite the "premium" term there's no cost differential to users. That depends on what you've spent on the hardware at home. Zwift's website lists the compatible units, there's close to 80 models from Merckx-era rollers to the latest "smart trainers" which employ motors to control the resistance. The basic system takes speed as a proxy for watts so if you pedal at home at a constant effort you avatar will roll along the flat roads and climb more slowly uphill; by contrast a smart trainer will apply more resistance the moment you ride up a grade so that you have to change gears to respond to the road.
Overall the tech interface works well but I was lucky to borrow two premium trainers to test this, a Wahoo Kickr and a Tacx Neo and they were simple to pair and operate, it took a couple of tries to set up the ANT+ system but once it worked it was quick to pair every time. The software is intuitive and easy. In case you're wondering of the two units I've given the Wahoo back and am trying to keep the Tacx for as long as possible.
The Money Bit
It's $10 per month. There's a free trial touted as "14 days" but only 50km so you're going to use it up in a ride or two. It's enough to test whether you have a compatible trainer and home computer and to get a quick feel but no more.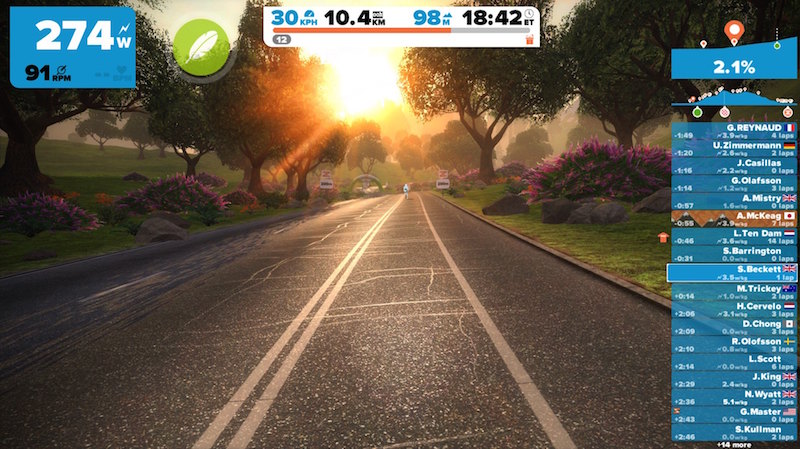 First impressions
Once setup you start beside the road and the moment you begin pedalling your avatar clips into their pedals and starts moving. On the top left is your power output in watts and cadence, a circle displays a "power-up" which you can use during the game ride for a quick boost, in the middle is the bar with your speed, distance, vertical gain and elapsed time and then on the right the course profile and below it a list of the other riders nearby.
There are two courses to ride, the make-believe land of Watopia and a recreation of the 2015 Worlds course in Richmond and there's no choice, the course depends on the day of the week. Once you get rolling you'll soon notice the other riders on the course as they fly past before you can pick up speed, each person accompanied by a national flag. It seems very popular with British and American cyclists and there are blue Tron-like avatars used to populate the course when there are few users. Fortunately it's a virtual world and nobody is crashing into each other, the steering is automatic. On Watopia you can chose between a hilly or a flat route, either pre-ride which means when you get to junctions you carry on towards or away from the hills as determined or you can tap your computer cursor keys to change.
It's realistic and immersive, even the graphics are not amazing – think Grand Theft Auto San Andreas – for example if you pair a cadence sensor then the pedalling rate of your avatar responds accordingly. It feels right and on an early ride I turned round to clear my noise and just caught myself before I spraying the room.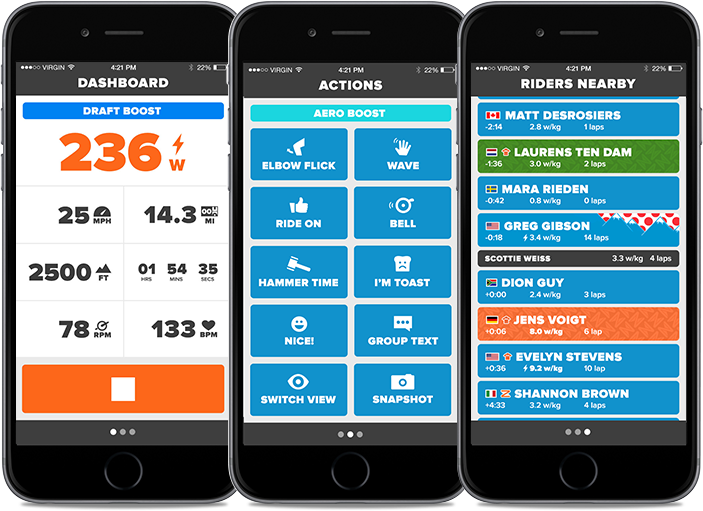 The drafting aspect is good but the sheer number of participants means that if you sit up for moment it can be seconds before you find another wheel to hop on. This is nice but means there's not the same incentive to hold that wheel at all costs that you can have in a real race or out on a regular ride. Get close to a wheel and "close the gap" appears on screen which gets annoying after a while as if a DS is barking orders when you just want to ride tempo. Indeed wheelsucking exists online too and there's netiquette too. You can use an app on your smartphone to make your avatar gesture, like waving, and take part in group chats but the body language is never clear. Is someone waving hello or goodbye? The group chat proved distracting with too much white noise from people on the other side of the course.
Training
Once you've got the set-up taken care of and got past the novelty factor you can get down to the serious business of riding. There are two modes, free riding and workouts. You can ride around the courses as you wish. Neither Watopia nor Richmond are that inspiring and once you've lapped them several times they get familiar and then repetitive. Yet I'm not sure if a virtual stage of the Tour de France would be any better though, with these short circuits it's easier to go and do one more lap and the short hills mean shorter descents as opposed to a replica mountain stage of the Tour de France where you could be climbing for an hour and doing nothing for 20 minutes as you drift down the Galibier. Indeed the prospect of climbing Mont Ventoux might sound appealing but a flat course offers the same workout: just pedal hard. Along the way there are sprint sections with a green jersey up for grabs each day and climbs with a mountains jersey too. Win both and you get a combined jersey. Plus heckling which we'll come to shortly.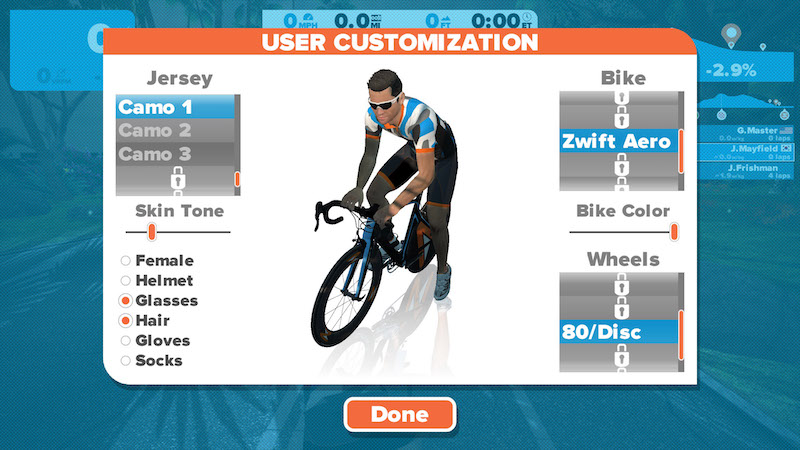 All this takes place in a computer game environment. Ride more and you get experience points which unlock achievements along the way such as a new virtual bike or different wheels. Hold 500W for a while and you get a bonus, manage 100km and you get another and so on. There are many of these and you can aim for them or just pick them up as you go along depending on how acquisitive you feel. It works as they keep you riding for longer. Normally it didn't take much of an excuse to end an indoor session before ("maybe I could iron some t-shirts?"; "surely the freezer needs defrosting?") but with Zwift you often keep going in order to finish a lap, go up another level or show that wheelsucker who's boss. It made for longer rides and more regular use of the indoor trainer. You can save rides and upload to Strava so friends know you didn't wimp out.
What would be better is some sort of virtual partner so you can race yourself. Laptimes are dependent on whether you draft or just the amount of people on the course because when things are busier you draft more. Of course you can just focus on the watts on screen but the realism means there's more going on.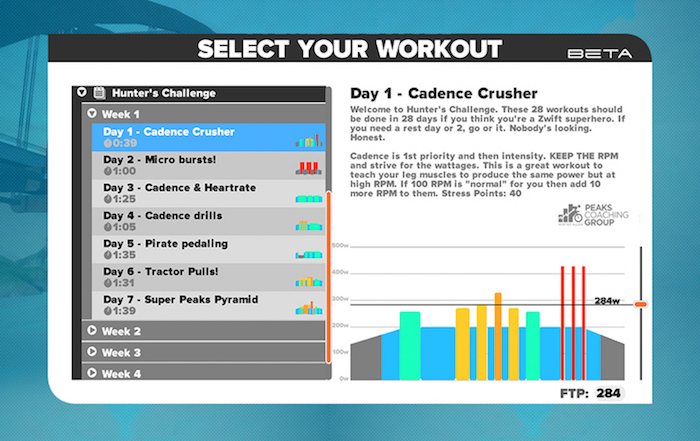 One way to escape the rest is the workout mode. This was introduced late last year and instead of letting you ride around as you wish it comes with pre-set goals and segments. There's a warm-up and then you do X watts for Y minutes as part of structured intervals along the way. It's a useful tool as it provides a better workout. The gaming element makes it more fun than an ordinary session where you might say "I should do X watts", here your screen comes alive with a virtual start and finish point and on-screen targets to hit. Once you've completed each interval you're scored by how well you stuck to the protocol. It's almost like having a coach or rather you set yourself to sticking to the plan. The forensic DC Rainmaker walks you through the whole experience over on his site.
Cyberspace and the online world
As well as the practical aspect the virtual side opens up many theoretical and conceptual ideas. Join Zwift and the first of the issues you'll confront is bound to be cheating. Online games like World of Warcraft have been dogged by cheats and the problems of policing them. Just as someone might use a cheat code for a bigger sword or infinite lives in a game, Zwift seems to have people lying about their weight so that they fly up the hills. Of course Zwift is meant to be a training tool rather than training for tools but the "you're only cheating yourself line" doesn't stop a few from using a dangerous drug like EPO to win a village kermesse. Someone out there will always game the settings. Judging by Twitter conversations it creates a spiral where because someone lies about their weight, others follow but longer term users say this has been reduced of late.
It works the other way. Crest the climb with the fastest time of the day and your avatar sports the mountains jersey. It might be virtual but you can feel real pride – shallow perhaps but let's take what we can get in January – only it doesn't take long for the hecklers to arrive and accusations fly via the chat function. Before the ensuing descent is over you're wondering whether to ignore the haters or book yourself in for an independent VO2 Max test.
Cyberdoping is one aspect of the virtual world but there are many encouraging things from group rides where someone from Iceland can ride alongside someone from Japan, there's not exactly cultural exchange but you can get online with friends and ride together too. There's a calendar of group rides. There's racing too, could these become official? Why not as sport is just competition defined by agreed rules. Rowing has its erg competitions and just as they don't worry about driving the blade correctly an indoor trainer race feels artificial. Zwift allows for drafting but in a simplistic way, you don't need to focus on the gap or the angle in case of a crosswind or fight for the right wheel as the drafting effect seems to be the same for everyone.
Concept is turning to reality with the news that the Canyon-SRAM team will offer a contract to a female Zwift user. This nexus of internet gaming, reality TV talent show and power data screening will be an interesting exercise in itself. Of course the virtual talent gets tested in the real world before any contract appears given basics like cornering and race craft matter. Plus they can be sure the person pretending online to be a petite 48kg woman isn't actually an 80kg man in his cellar. Probably not the first time this has happened online.
Conclusion
Zwift's virtual world brings real results. Whereas an hour's ride outside often feels all too brief, an hour on an indoor trainer can feel more languid than one of Dali's melting clocks. Instead of bailing out after 40 minutes because of boredom it was easier to keep going for 90 minutes. Part of this is down to modern trainers and I was lucky to borrow to high end hardware which enhance the virtual reality but Zwift was the decisive factor, Tacx's Neo feels great to ride but their software felt older and less involving.
As well as the practical use it's the virtual world that fascinates, whether the online community and ways to police the cheats or the possibility for more noble pursuits like competition and talent identification. It can't replace the pure pleasures of cycling but having wheels to follow and chasing a PB lap time do make indoor riding more tolerable than staring at your heart rate monitor or powermeter display. Just as you can stop playing a computer game when you've done all the levels you wonder what happens if you do everything on Zwift but hopefully by then the sun is shining and you can put the fitness to use outdoors and begin again once the evenings close in next winter.
Is it for everyone? No, if you don't want an indoor trainer then you don't need Zwift. But if you live somewhere with cold and dark winters or face a long injury spell and want to keep the legs turning, try it. As good as it is it still can't beat the real world. The first ride outside after a long indoor block felt wondrous, akin to the Count of Monte Cristo tasting freedom from the Chateau d'If.
All images from Zwift's website and press kit