What have world championship medallists Peter Sagan, Michael Matthews and Ramūnas Navardauskas got in common? Aside from the obvious, they're all forced to pay a share of their prize money to fund the CPA rider union. Only they're second class citizens when it comes to getting their voice heard.
Last week's piece on the clumsy workings of the CPA rider union pointed out it was funded on a compulsory basis thanks to a levy on prize funds. The good news is that this ensures stable finances for a rider union, the bad news is that all riders are forced to pay but it turns out a huge number of pros don't have a proper say because the CPA structure has serious geographical limits: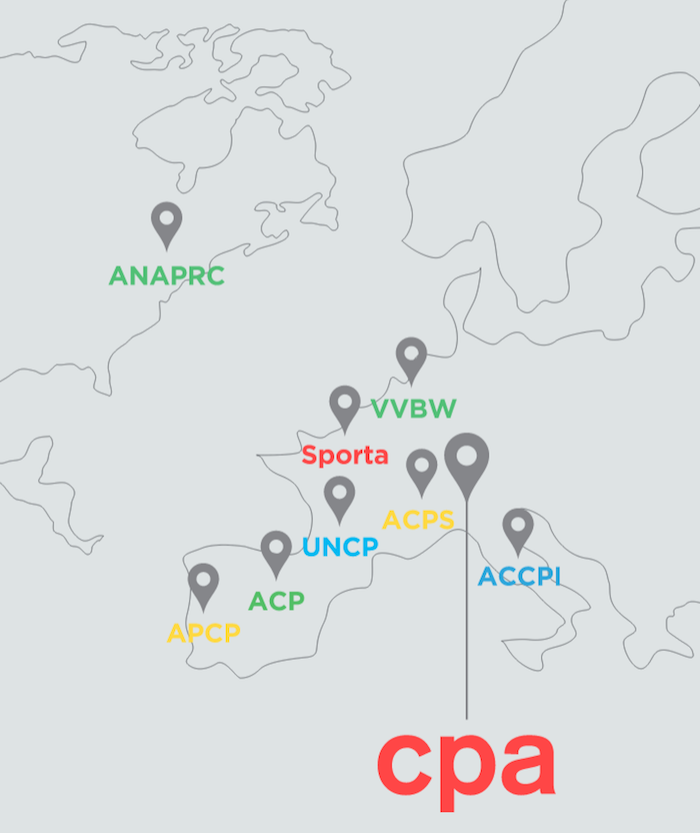 The illustration above comes from the CPA's website and shows the various national federations that sit under the umbrella of the CPA. It's very Euro with Portugal, Spain, France, Switzerland, Italy, Belgium and the Netherlands along with the US union the ANAPRC… and that's it. Britain and Ireland might be missing from the map completely but so are unions from many countries that produce many pros.
Here's the World Tour pro peloton for 2015 by nation, a total of 475 riders from 41 nations. The CPA represents all pros and not just the World Tour rides but let's use the World Tour for illustration. You can see the main nations that supply riders to the pro ranks like France, Italy, Belgium, the Netherlands and Spain, the traditional homes of pro cycling for over a century. But times have changed and now there's Australia with 28 riders, Russia with 19, Germany on 18 and Colombia on 16, Britain on 13 and so on. Indeed a total of 40% of the riders in the World Tour are outside of the CPA's coverage.
For those riders with national representation there's the usual formal democratic process of voting at annual general meetings of their national union and being able to mandate delegates to work on their behalf, plus valuable informal channels like chats with riders and so on to establish policy. But for those without a local union it means hundreds of riders are having to pay for a union which doesn't represent them as well.
Under the current rules delegates to the CPA meetings cast votes proportional to their member base meaning across the World Tour and Pro Conti ranks they can exercise block votes of over 100 votes each. By contrast pro riders from countries without a union can have their say if they attend the meeting in person but this is a two class system: if you're born in a traditional cycling country you get a union, if you're not then you have to pay but don't get a representative. Taxation without representation.
The Froome Paradox: Chris Froome won the Tour de France and collected cycling's biggest prize pot. Obviously prize money isn't a big deal in cycling but the yellow jersey in Paris is worth a lot to the winner and his team with €450,000 going to the first placed rider. As explained last week 7% of this is taken to fund the CPA but for races in France, Spain and Italy an additional 3% is taken off the prize money and used to fund the national rider union. So this means Froome pays €45,000 in union dues on the Tour win but doesn't have a union rep while his money bolsters French riders and the CPA in general.
The Veikkanen Conundrum: smaller nations are in a bind. Currently it seems each nation must have its own rider union and then affiliate to the CPA but you can imagine the problems here: reduced to the absurd a rider from a small nation cannot hope for any support, imagine a rider union in Finland with one union rep and a secretary working on behalf of Jussi Veikkanen.
What to do?
It's a classic case of agency and power. The existing CPA set-up sees the large federations like France's UNCP and Italy's ACCPI wielding large power in the CPA. This works for large enough nations that supply a lot of riders. Riders in large countries like Britain, Germany and Russia could and should organise to mandate a union to act on their behalf; perhaps funding this via an extra levy on prize money on races in their country or find another solution.
For smaller countries an alternative is to have transnational unions, for example a Scandinavian rider union to cover all the region, perhaps even to have a Baltic union with Lithuania, Latvia and Estonia added too. But this isn't about geography, a Scandinavian or Baltic pro cyclist has interests aligned with Canadian, Kazakh and Slovak riders too rather than national lines. But the CPA doesn't allow this.
Another remedy could be technology. If riders from small nations want a say but attending the CPA's meetings is too expensive or time-consuming then they could vote online or by email so that their voices can be heard although this only solves the attendance issue, it doesn't mandate someone to speak on behalf of the riders all year round.
Summary
The CPA is the recognised rider union and funded by all pros. It does speak on behalf of everyone but its structure means it's not representing the whole peloton in an equal way. While the UCI talks about encouraging "globalisation" the peloton is already full of riders from all four corners of the world and too many of them don't have a local union. Some riders need to work out ways to resolve this so the CPA can welcome new unions from countries with large contingents but the CPA probably needs to change its ways too to let international unions representing several nations in one go.