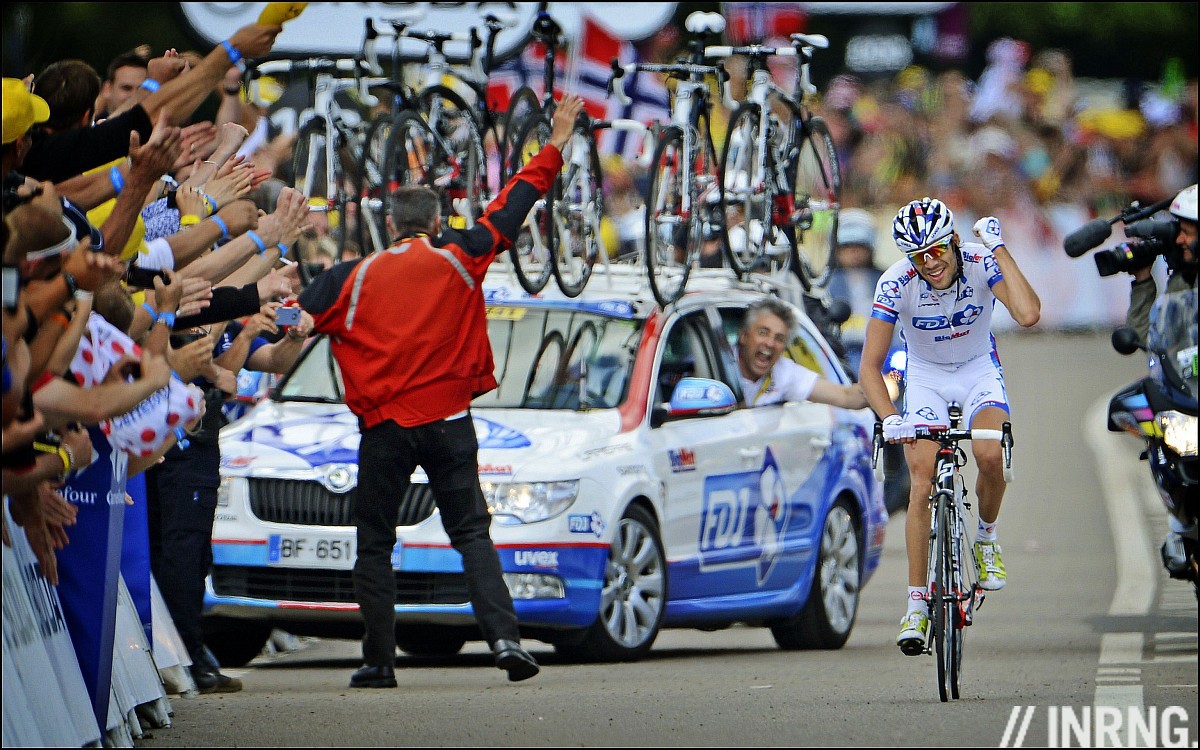 Parlons Vélo by Marc Madiot and Mathieu Coureau
It's written in French so at first sight a book review may not be of great use to an anglophone audience but it's a hook to write about Marc Madiot, share some legendary anecdotes and show some hidden sides to one of the sport's bigger personalities.
Often seen as a hothead and a relic from the past there's the story of a manager who, while Russian billionaires come and go, has lead one of the sport's longest lasting teams and sponsorship deals.
"Cycling is 98% suffering and 2% pleasure"
The tale starts as you'd expect, Madiot is a country boy who grows up on a farm and cycles instead of taking the school bus. He grows up impressed by the work ethic of farmers, especially his father's stance of only doing a job if you can commit to doing it well. Rurality is central to French cycling, the Tour de France and other races connect places that simply are not on the Parisian radar. Yet Madiot has a flamboyant touch, as much as he admires peasant hard graft he always wanted to look the part on the bike, a Velominati before his time. Back in the days a pro would only get team issue shorts and a jersey and Madiot wanted to look classy so he drove to the Italian border off to buy a bulk order of white socks and gloves to look the part and throughout his career he insisted on a clean bike and spotless kit. It's why FDJ use white bar tape today and why when they have the French champion the jersey has no logos.
The Power of Speech
When Marc Madiot was a junior he attended a training camp for promising riders held on the Vercors plateau, a remote area near the Alps where the best would be selected for the national team. The selector told the riders to get on their bikes and he'd announce his list. They ride and are told to stop and sit down in the grass where instead of being told the selection the coach gives an hour long talk about the resistance fighters in the Vercors and then, in five minutes, names the riders selected for the team time trial which included Madiot. What mattered to the coach was pride, inspiration and culture rather than reading a list. This made an impression that's lasted ever since with Madiot as a patriot and a motivational speaker known for rousing orations in team briefings designed, in his own words, to "stir up their guts".
This is the side we often see of Marc Madiot, if you haven't heard a team briefing then you'll have seen the man leaning out of the team car screaming at his riders or the video of him screaming like a maniac into race radio, crying on TV when things have gone wrong or railing at the commissaires. He's hot headed, passionate and almost unhinged.
Like Ocaña, Copy Guimard
Yet this book reveals a different side and another mentality. Luis Ocaña was Madiot's hero because of his passionate style and attacking nature. After winning Paris-Roubaix for the second time, Madiot's fan club decided to invite a surprise guest to celebrate and the curtain is pulled back to reveal Ocaña, "my idol was in my house". They say never meet you heroes but Madiot is delighted to see Ocaña, they drink champagne on a sofa. Madiot has kept the sofa ever since and will never get rid of it in the same way a starstruck teenage might refuse to wash their hands for days after meeting their idol. Later Madiot met Eddy Merckx over dinner and said "you're the guy I used to hate the most" because of the way he'd thwart Ocaña time after time. A laconic Merckx replied "I understand" and the pair enjoyed a good dinner. So Madiot isn't just an Ocaña fan, he keeps sofas he once sat on and hated Merckx. So far, so passionate. Yet he rode for Cyrille Guimard's Renault team. Guimard could well be the greatest ever directeur sportif and he certainly made an impression on Madiot who learned about saving energy, bluffing, calculating, tactics and technology. Guimard simply didn't do rousing speeches and Madiot says he's tried to copy as much as possible when it comes to running a pro team.
There's a long section on the fallout of the Festina affair where essentially there was a pact between the sponsor FDJ and the team: ride clean and we'll keep sponsoring. It worked because they were French and guaranteed a start in the Tour de France by virtue of having some of the best French riders. It meant a change, out went the foreign hired guns like Davide Rebellin, Max Sciandri and Mauro Gianetti and the team became more visibly French but less ambitious to the point where Madiot tells EPO was so out of control that they had to retreat from even trying to be competitive in some fields and to find pleasure in more modest goals: winning the Etoile de Bessèges instead of the Tour. Yet for all the franco-français aspect of the team Madiot signed neo-pros like Bradley McGee, Baden Cooke, Thomas Löfkvist, Philippe Gilbert and Bradley Wiggins, for someone said to be wary of les anglosaxons he's certainly helped plenty of them. He even tried to hire Floyd Landis at one point but when he and his brother Yvon told Landis and his manager that FDJ didn't have a doping programme and that they wanted to see Landis's medical file the Americans never called back.
As a rider Madiot seemed strong-willed and managed to win Paris-Roubaix twice making it his preferred race ever since. He himself describes a "pseudo-racer" phase as he became a manager, he kept seeing himself in the saddle instead of his new place in the team car and office. It's said this is detrimental, that Madiot suffers from the empiricism of ex-riders who won races in the past thanks certain habits and routines and think that since they won this way if others copy the process they will win too. There's a superstitious streak too, the death of Madiot father's leaves him distraught and convinced that his spectral presence helped Arthur Vichot to win the French championships, another race dear to Madiot because of its symbolism and because he won it himself. The book even explores Madiot's religion, a rare if not very private topic in the peloton.
From Patron to Chairman
Madiot is the face of FDJ but increasingly a delegator. It started out with his brother Yvon, an ex-pro, who helps with recruitment but today the performance element is handled by sports scientist Frédéric Grappe who manages a roster of several coaches and support staff including Julien Pinot, elder brother of Thibaut. When Madiot gives his résistance speech it's the Grappe and Pinot who have to remind the riders to sit tight in the peloton, watch their watts and save energy for the finale.
Conservatisme
There's a big conservative streak. Madiot is President of the French professional cycling group the Ligue Nationale de Cyclisme and with this hat on he's a defender of French cycling. He says he's not against new races on the calendar but that it has to be done cleverly and to take the public along for the ride; witness the lack of crowds for the Tour of Beijing he says. He's even sceptical of ASO at times for their cool business model.
"Marc is Marc"
It's not in the book but the phrase appears elsewhere from time to time, as if to excuse his eccentricities. Yet this has to be part of the appeal, the charisma. Arthur Vichot calls Madiot an "actor" and it's a compliment that shows Madiot's ability to deliver a speech or play a required role.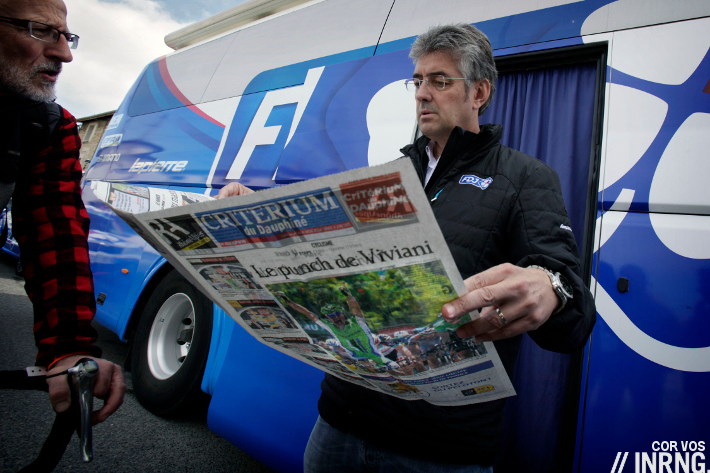 The Verdict: an entertaining read that shows complexity to a personality that can appear simplistic in caricature. Madiot's passion for the sport is worth celebrating, it underpins his longevity. Read the book if you can; if not then celebrate the man.
It leaves the impression of someone hard to classify. Madiot is the patriot who plays La Marseillaise on the team bus yet is equally proud to have given McGee, Wiggins and Gilbert their first contract as he is in signing Thibaut Pinot. Madiot decries the increasing use of English in cycling officialdom instead of French, rails against Velon and mocks former team mate Greg LeMond's apparent addiction to Coca Cola yet lives his own American dream with a Corvette in the garage and sports cowboy boots for six months of the year. Madiot decries race radios yet screams motivation into the mouthpiece; he loves Ocaña yet wants to copy Guimard.
The book is a question and answer session rather than a biography. There are nine chapters each with their own themes and they proceed like interviews with Coureau posing a question and Madiot holding forth but it goes much further than a magazine interview, at close to 250 pages there's space to delve into more subjects, to follow-up and to think. Parlons Vélo works well as a book but "an evening with Marc Madiot" could and should be a sell out in Parsian or provincial theatre.
Parlons Vélo is published by Talent Sport and available as a paperback and an Amazon e-book
A list of prevous book reviews can be found at inrng.com/books