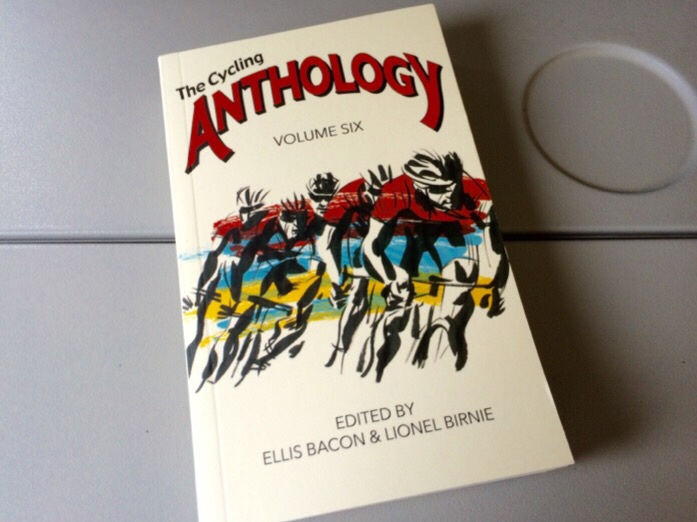 Cycling Anthology Volume Six
"Strong, light, cheap. Pick two" said Keith Bontrager when it came to parts for your bike. Here's a book that offers strong writing, that's light and small enough to fit in a race jersey pocket and all for a keen price.
Is Ned Boulting the new Phil Liggett or the new Ned Boulting? The Phil and Paul commentary tandem is not eternal with Liggett especially having mused aloud that retirement is looming. Anglophone TV viewers, not just Britain but from Alaska to Australia, have heard them for decades. Boulting writes the opening chapter describing his mutation – think Gregor Samsa – from pundit to commentator, of how he goes from observing a race to noting everything around a race and compiling notes and cards on every rider and the daunting prospect of having to talk for hours over a bike race when there's little happening except for men pedalling in Yorkshire countryside.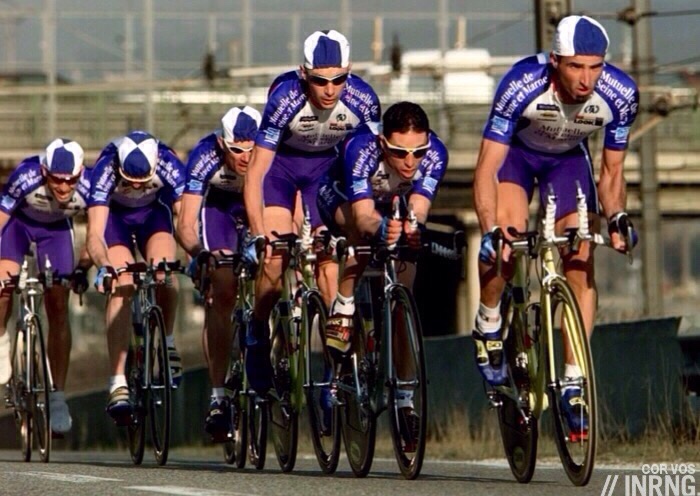 The story of the Mutuelle Seine et Marne team in the 1997 Tour is worth the book alone, this team was a tiny wildcard invite in the days when ASO could invite who it wanted to the Tour and also when invitations went out in mid-June meaning riders and teams fought hard for recognition in, say, the Dauphiné (not an ASO race back then but big on the radar all the same) meaning they might attract attention and invites only they were rinsed by July. It's a well-told tale with characters like team manager Jacky Lachevre, literally "Jacky The Goat" and a rider called Jean-François Anti. rider Jean-Philippe Dojwa being allowed to ride ahead of the bunch as the régionale de l'étape, the local, only when he tries to meet his partner there's a problem:
There were so many people on the side of the road. I looked and looked but never saw her.
If this is the tale of losers it's an endearing one set against the pre Festina EPO-que and the team makes it to Paris with just two riders.
Robert Millar pens a series of imaginary letters from an American worker to Lance Armstrong chronicling the rise and fall of the rider. It seem almost a metaphor for the US cycling boom as it tracks Armstrong's slipstream, pride turns to jingoism and then a pen pal version of Kübler-Ross, étape by étape. I suspect this contribution will work for some and annoy others but it brings to mind a meeting I had with American family in the Pyrenees once. They had travelled from outside Seattle to support "Lance" and father and son, dressed in matching jeans and sneakers, beamed with pride as they recounted how Armstrong was going to thrash his rivals again, that he was better than known dopers. I felt like having a little explanatory session – "You do know about Dr Ferrari, right?" – but why ruin the trip of a lifetime? Millar's piece reads a lot like an imaginary continuation of what happened once that family got home.
Ellis Bacon's piece is a fictional tale of race fixing and sports gambling, an imaginary tale but all too prescient. I suspect for now the sums traded on match bets, Rider X to beat Rider Y on Stage N etc, are too small to make an income from yet alone attract money from criminal syndicates, perhaps is is just a naive hope?
There's plenty more, William Fotheringham is almost apologetic about writing about Bradley Wiggins again but this is a meditation on retirement and life in the public eye. Lionel Birnie covers the subject of food and the Tour de France, whether his own quest for cassoulet or the riders and what they get to eat, whether today's lot or past participants. There's an appearance of the old-skool trick of eating bread but pulling out the white core, a habit repeated so often it should be investigated to see if the old lore works or not. Another old tale is one that surely gets repeated again and again
When Kelly and his team-mates came down to breakfast on the first morning, the breakfast they were greeted with was much sparser than the hotel owner had intended. There was a small crescent-shaped grease mark on the paper tablecloth next to each plate. De Gribaldy had been down before his riders to remove the buttery croissants from temptation's way.
Is there a theme? No, each contribution is unique but the Tour de France appears often, although for what the French call autour du Tour, literally "around the Tour" but really meaning on the margins. Even the account of the Mutuelle Seine et Marne team at times paints them as spectators reduced to watching Jan Ullrich and Richard Virenque from afar.
The Verdict: the format is handy enough and the eleven chapters offer variety, a greater depth of story than you usually find online or in a cycling magazine. Do check other editions especially the first two volumes. Recommended.
Note: a copy of this book was sent by Prendas Ciclismo.
You can find this for sale at via Prendas for £8.99 (€12.50 /$13.50) with free postage for UK readers. It's on Amazon too but I recall the authors and publishers get more income if you buy it elsewhere, up to you to keep Lionel Birnie in cassoulet.