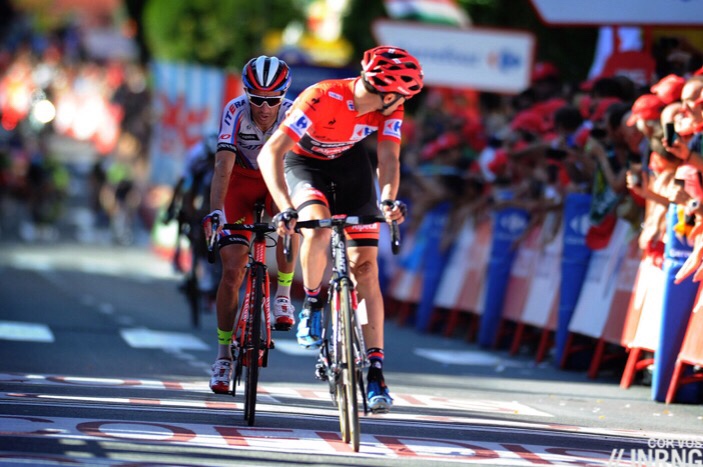 The last of five highlights is a hard call. Like any list half the story is in the omissions and it forces you to cut out plenty of good moments. The Vuelta? Even nominating this stage race is tricky as it had several great moments.
Peter Sagan's descent off the Rochette in the Tour de de France was a visual thrill. For all the excitement of his win in the World Championships it was a late attack in a long race, a brilliant move but only brief entertainment. Sagan's a curious character, one minute labelled a pig for his podium peccadillos, the next minute the saintly supporter of Syrian refugees in central Europe; a serial loser who can't convert power into wins then a worthy World Champion. Take your pick. In truth he's just been riding bikes for years and doing well at it and it'll be interesting to see how he fares in 2016. The descent was Sagan at his most eloquent and expressing himself in a way that almost no other rider in the peloton can. One problem with the sport is that it doesn't have many big personalities with reputations that reach beyond the sports pages, think Kobe Bryant or Lionel Messi and Sagan could be on the verge of this. But would he want it? He's already left Slovakia for Monaco and not just for the taxes but to escape the local media hungry for any stories. If you want to see Sagan's descent, visit youtube. If you've seen the film "C'était un rendez-vous" by Claude Lelouch you'll know the director enhances the impression of speed with the low level camera, cycling's filming techniques with a man perched high on the back of a motorbike probably makes Sagan look slower although we should salute the camera crew's ability to keep up and stay filming. It's an amazing ride and you can imagine IAM Cycling's Jarlinson Pantano needed a stiff drink after the shock of trying to follow.
The Vuelta was a late surprise. Season fatigue can set in for followers just as much as racers but Tom Dumoulin's performances kept things fresh. The Dutchman was strong on the first summit finish as Esteban Chaves won and beat Chris Froome in an uphill finish days later. Expected to crack in the high mountains he kept going and it was only on the last mountain stage that he cracked and Fabio Aru and strong Astana team got the better of him. It had a wider satisfaction too, Dumoulin crashed out of the Tour De France on the day when he could have ridden into yellow.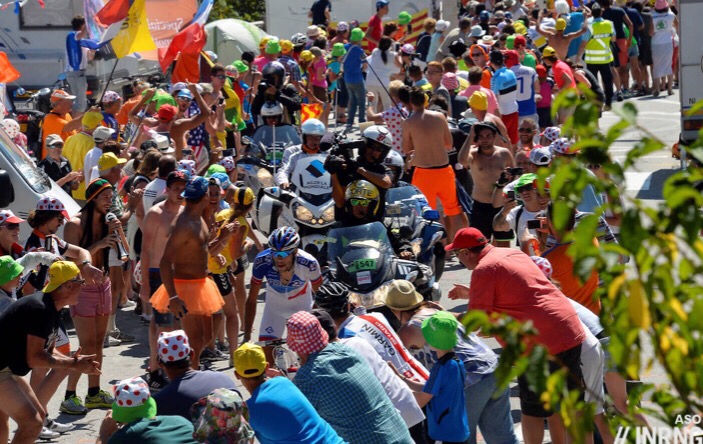 The Tour de France had a lively first week and plenty of breakaways during the three weeks to the point where a bunch sprint almost felt like a treat. Stephen Cummings's surprise win came after a long, scenic stage and perhaps it piqued Romain Bardet and Thibaut Pinot into their impressive, salvage stage wins. If scriptwriters were involved perhaps they'd have narrowed the gap between Chris Froome and Nairo Quintana for the final mountain stage to Alpe d'Huez so that people were staring at the clock as Froome rode up the Avenue Rif Nel to the finish line in the ski resort but reality meant Froome was that bit ahead, it was still a tense moment and the roaring crowds had cheered up Thibaut Pinot who took a stage win. The Giro had a similar pattern with a big opening week before an obvious winner emerged only to wobble late in the race. But it was a different affair with the top riders emerging right from the start with the uphill finishes while the Tour had a proxy war between teams on the flatlands before the Pyrenees.
Taylor Phinney's win was a good news story, a comeback from injury. It's still a step along the way, without setbacks he'd be expected to deliver a lot more but this win was cheering and he visibly enjoyed it too. Esteban Chaves beaming smile was great to see, yes he wore extensive orthodontics for some team but radiates happiness.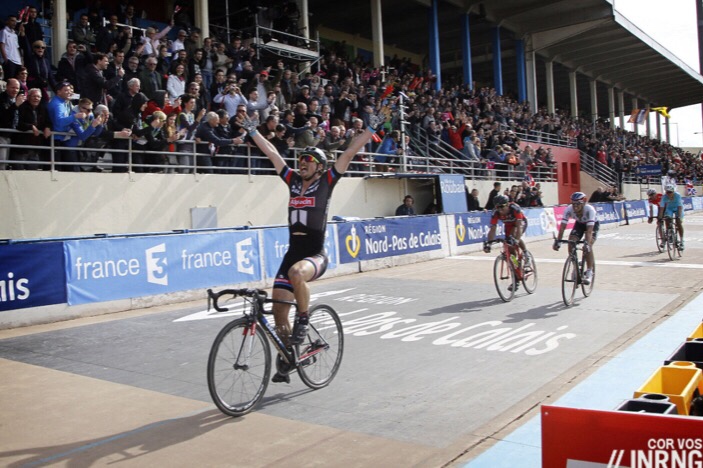 Paris-Roubaix was a thriller with John Degenkolb's late moves. Is he a sprinter? Labels can be too exclusive because he can win bunch sprints but his best triumphs came elsewhere, especially in Roubaix. Sanremo was barely a sprint, after 300km it's a punchdrunk slugfest. Roubaix was lively, entreprenerial and the result of some effective team tactics.
There are many more good moments. The Tour Down Under was a close one for the retiring Cadel Evans. Paris-Tours was good. The Strade Bianche have become a classic, all that's missing is a famous stretch of sterrato to become an infamous landmark. The Vuelta a Andalucia was a lively contest too with Chris Froome and Alberto Contador fighting for every second in a lesser race.
Away from particular races I'm not sold on on board cameras but they came of age this year in the Tour de France thanks to a sponsorship deal between Velon and Go Pro which brought sharper images, more filming and, crucially, professional editing. Until then the footage was poor and the production worse, often outclassed by the amateur – in the noblest sense – efforts of Jeremy Roy. 2015 could be the year TV coverage improved without us knowing, we had the first use of a drone camera in the Tour de France although you probably saw the images from the camera, not of the camera. Also the telemetry data is coming, this year's test in the Tour was more zeta than beta but there are powerful capabilities, new tools for TV producers.
Has this been the year of the neo-pro? Many first year pros have had a great start with wins and impressive performances. Stefan Küng, Pierre Latour, Ilia Koshevoy, Emmanuel Buchmann, Tiesj Benoot, Miguel Angel Lopez and Caleb Ewan are among some who've caught the eye.