Etixx-Quickstep have unveiled Lidl as a new sponsor for 2016, the German discount retailer's commitment isn't known yet but is expected to appear on the kit as a partner but the team's name won't change. It steps in just as construction materials group Renson pulls out after switching its allegiance to Giant-Alpecin for 2016.
In the other direction to Renson could be Marcel Kittel. Today brings news in Het Nieuwsblad that Marcel Kittel could move from Giant-Alpecin to Etixx-Quickstep, buying himself out of his contract to make the switch however cyclingtips cools things a bit.
Kittel's move makes sense as Etixx-Quickstep needs a sprinter. As good as Fernando Gaviria is already he surely needs a season or two to improve. A demotivated rider is a liability rather than an asset, even if he brings celebrity status for his Germany sponsor. In order to move the following need to happen:
the departing team and the new team must agree
the UCI has to approve
The Professional Cycling Council, a co-committee of the UCI, riders, pro teams and others must vote yes to it
That's all possible but far from certain. What looks more likely is that things have to change on the team between now and this time next tear. Giant-Alpecin have to find the way to keep Tom Dumoulin, John Degenkolb, Warren Barguil and others happy, there are only so many spaces on the Tour de France team. The team has done a good job over the years in managing Kittel and Degenkolb already and it's luxurious position for a team that doesn't have a big budget that's still managed to bring on all of these riders.
Africa-ca-ca-ca-Cavendish: Mark Cavendish's move to MTN-Qhubeka is finally announced. It's been such a saga that the confirmation felt stale. He's joined by Etixx-Quickstep team mate Mark Renshaw and Bernhard Eisel from Sky, a reunion of a formidable sprint train of the past. The interest is how they work together again and the results they gain, especially because they're on a smaller team: no more Tony Martin to close down gaps; no more big travel budget and sports science academies.
World Tour: the Cavendish transfer talk crowded out talk of a World Tour licence for Dimension Data. The deadline for the paperwork was 15 August so this could have been a speculative application in the same sense Jean-René Bernaudeau made sent in his dossier to join the World Tour for 2016 despite not having a sponsor. If it's more serious then Dimension Data may need more riders so that they can race competitively on several fronts, sending the sprint squad to one destination and the others elsewhere. We'll see, the UCI usually announces the applicants in October.
As of now there don't seem to be any other contenders for the World Tour but several teams want to join the Pro Continental ranks, cycling's second division: ActiveJet of Poland, Marseille-KTM of France which has announced a new sponsr in Delko, a retailer of auto parts, Roth-Skoda (said to be interested in Alessandro Ballan) and One Pro Cycling of the UK.
World Tour or Pro Conti: it doesn't matter any more as far as the use of race radios goes as they have been approved for use in HC and .1 status races. It marks a change of policy where the UCI had been trying to get rid of them in totality. As ever the topic of radios is like a Rohrschach test with people seeing the patterns they want. Yes some World Tour races are locked down but this is because they're high stakes races and big teams try to control the scenario.
What if the real pressure comes from newer technology? Today a manager in the pre-race briefing can demand riders be at the front near danger points in a race and scream repeat orders over the radio. Tomorrow with GPS telemetry they'll be able to see where they are in the bunch and anyone caught lurking when they're supposed to be upfront could have to explain themselves, it means less chance to hide and more pressure to perform. Of course there's only so much room at the front but the technology could be used to track the difference between an order and its execution.
London/off: London's turned down the Tour de France grand départ for 2017. It won the bidding ahead of other cities but when it came to signing the contract the British capital backed out citing budgetary concerns. It all seems too soon after Yorkshire and the ride through London in 2014 but this was very popular and you can understand ASO's desire to cash in. Look to Münster and especially Düsseldorf.
Where are the B-samples? New of Lloyd Mondory's A-sample positive came up in Paris-Nice and there's still no news on his B-sample. It's the same for Luca Paolini's cocaine A-sample story in the Tour de France. Ditto Katusha's Gianpaolo Caruso and Davide Appollonio, both EPO cases. It seems EPO tests are delicate, especially if trying to catch those using microdoses so a delay is inevitable but still, Mondory's case is now over 200 days old and there's no news on the B-sample or any resolution to the case. So are these cases slow or borderline?
Vampires: one anti-doping topic where there's no more waiting is the use of night-time testing in France as the French parliament has passed the law to enable this. It's especially useful for testing during an event like the Tour de France but will be used sparingly and probably with intelligence. In turn though this risks making the testing itself a newsworthy, or at least gossipworthy, event. If Rider X is rousted at 2am and news leaks out then fingers will start pointing; and even if the news doesn't leak it's possible that the media starts asking riders if they've been tested at night. It's a good idea but needs careful handling.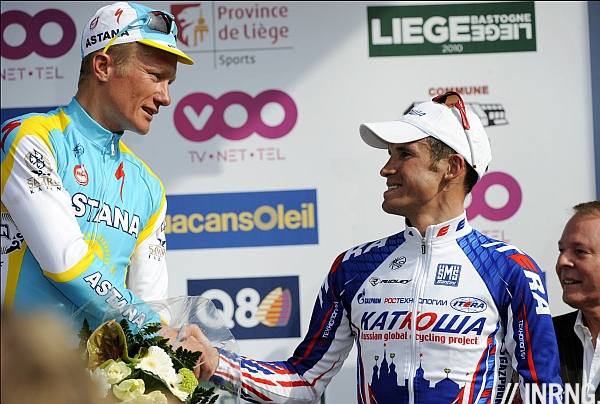 The Moment The Race Was Sold? A Belgian prosecutor has been investigating the claims that Alexandr Kolobnev could have sold the result of the 2010 Liège-Bastogne-Liège to Alexandr Vinokourov. Now it seems the prosecutor wants to press charges and have the case heard in court. Scandal? Maybe but remember cycling is a strange sport where collusion is essential to win, for a simple example see two riders who conspire in a breakaway to keep clear of the pack. They might even come to a deal where one wins the stage as the other stands to gain the overall lead. There's a line crossed when large sums of money change hands to throw the result, that goes from sport to fraud. It's an old story now, it first emerged in 2011 when a Swiss magazine published claimed emails between Vino and "Kolobok" so if it does reach court it could take time to resolve. Still it mattered at the time the news would have mattered a lot because Katusha were strangers to first place and the sight of a Russian rider selling out to a Kazakh for personal gain could have been very awkward.
The whole issue was explored in more detail back in 2012 including who would be the winner in the event of both riders being disqualifed: https://inrng.com/2012/11/vinokourov-kolobnev-race-fixing-cycling/