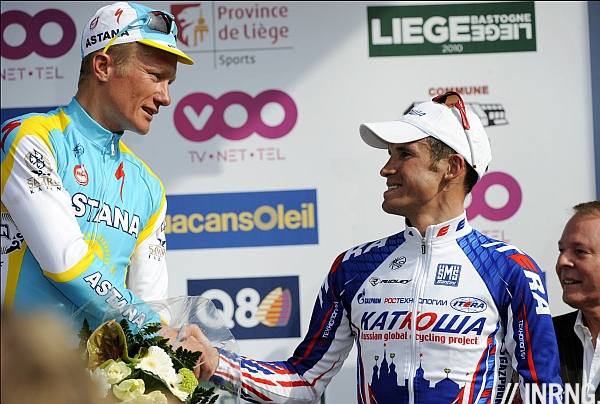 The UCI is investigating allegations that Alexandr Kolobnev sold the 2010 Liège-Bastogne-Liège race to Alexander Vinokourov after an apparent chain of emails between the riders was past to them by judicial authorities in Italy.
Fixing the result of a sports event is a criminal offence in many countries and Russia is due to pass a law on the matter soon. But in cycling there's a different attitude, a cultural tolerance that can allows riders to trade results and agree deals in a race. Is this acceptable?
To recap, Kolobnev and Vinokourov were in the lead of the 2010 Liège-Bastogne-Liège, riding as a pair into the finish to dispute the finish but rivals on the Katusha and Astana teams respectively. The allegations come from apparently leaked emails that show the two corresponding after the race and discussing payment of a sum of €150,000 in order to ensure Vinokourov won. This is against the rules.
Old story, new context
This story is not new, it first appeared in a Swiss magazine in 2011 with excerpts of the emails. The UCI enquired but the journalist did not want to give up his source and so the investigation went nowhere whilst Vinokourov denied everything and even promised legal action although I can't find evidence of this being launched. Later the Swiss magazine published the email exchange in greater detail. So what's changed now? Well the Italian judiciary has the emails too and has been looking into the payments too, meaning it is a lot harder for the likes of Vinokourov to say the story is a journalist's fantasy.
1.2.081 Riders shall sportingly defend their own chances. Any collusion or behaviour likely to falsify or go against the interests of the competition shall be forbidden.
For now we'll put aside this one case and look at the wider subject: trading races is expressly forbidden but it happens. In fact it occurs more than we might care to admit and more than we might notice. In some cases it is harmless and in some cases it is questionable.
Contador's Gift
Let's take a harmless case first. On Stage 19 of the 2011 Giro d'Italia Paolo Tiralongo (Astana) was alone at the front of the race, having attacked with 5.5km to go on the final climb and wins the stage. But the others were closing in fast, in particular Contador. Here's the video:
Contador has words with Tiralongo and then the Spaniard takes a long pull and is "outsprinted" by Tiralongo. In fact Contador was team mates with Tiralongo the previous year and with six kilometres to go he told Tiralongo to attack and then helped him win. Many acknowledged the gift, headlines said this aloud. In cycling this was seen as a great thing, noblesse oblige as Contador shares the spoils of the race after he'd already won several stages. But two athletes conspiring to fix the outcome of a race? Isn't this illegal?
And that's just a case of generosity. There are less obvious examples, for example during the Olympic games road race last summer we saw Belarus rider Vasil Kiriyenka and Austria's Bernhard Eisel working to help the British team. In a way this was so obvious, these riders have contracts for employment with Sky and were apparently putting employer ahead of nation. This doesn't excuse it, it explains it.
So three examples:
the allegations of selling a classic
a big name rider letting a little guy win
additional team help from those outside your team
Is any of these cases permissible? We can review this twice. First the hard rules and their black and white text and then second under the softer subject of culture and tradition of the sport. Here's the rule again
1.2.081 Riders shall sportingly defend their own chances. Any collusion or behaviour likely to falsify or go against the interests of the competition shall be forbidden.
So any collusion that could change the race is forbidden. In this sense all three examples fall foul of the rule. Selling a race obviously changes the result, gifting a stage is also an act of collusion between two riders and the same for two teams working together although we could argue that when a rider like Contador gifts a stage there's no overall change in the race.
Accepted practice
Now for the softer side. Collusion might be forbidden but it is essence of bicycle racing. When two riders escape the pack they share the pace and even if they are fierce rivals they co-operate and conspire to stay away from the peloton. This is what makes cycling so intriguing, the contradiction where rivals form a temporary alliance to beat others. Chess on wheels, spandex diplomacy, call it what you want. It is all about collusion, no?
Other sports do it too
Sumo wrestlers can conspire to lose. In Formula 1 a driver can ease up to let a team mate pass. But few other sports see collusion so essential to the result. Perhaps this is why gifting wins in cycling is tolerated and at times celebrated when it could cause outrage if, say, a football team let a rival win?
You can only sell what you've got
Plus the season is long and a good deed done one day can be returned later in the year. A rival team car might happily pace a rider back to the bunch, this is what sport is about sometimes. Also you have to be in a winning position to start gifting or even selling wins, the race is only yours to sell once you've almost won it.
Nobody is going to sell Liège-Bastogne-Liège before the race starts, it is only after 240km when, say, two riders have a certain advantage that the trading can begin and indeed in the alleged Vino-Kolobok deal the pair finished over a minute ahead of third place Alejandro Valverde*… although this is like saying you can't sell a tennis tournament until the two finalists agree a deal in the locker room with two sets remaining.
For me the difference is when this crosses from a sporting alliance into a fix. Two rivals can exploit each other as they near the finish of a big race, taking turns to share the work. They can probably even talk about how to ride, maybe agree a pact to ride to the final corner and then the best rider wins. But going any further is against the rules because we quickly start to falsify the results.
Cosy tradition?
Many will see the idea of riders agreeing deals on the road as tradition and part of cycling culture. But that's like saying doping is a tradition so we should put up with it. Plus if you think it's tolerable, imagine being a sponsor of the Katusha team who for years has generously funded a team but with few wins and then find allegations that one of your riders sold the biggest win for the team so far, and worse he sold it to a team backed by rival companies who compete against you in the international energy markets.
The trouble is we cannot test for race-fixing. There can be obvious examples for TV viewers but turning that into a sanction is something else. That's why the public emails in print and with the Italian police mean the UCI has to investigate but it can't invites to explain each bizarre turn they do on the front or interrogate a rider who sprints like a schoolboy in case they've faked it.
Conclusion
The act of riding in a bunch is an example of mass collusion in the sport. But this is accepted and sometimes deals are done which are questionable. But rarely do suspicious emails emerge. In fact the emails are the story here because someone has access to Vinokourov's email and the police have been tracking his banking activities as part of a wider investigation.
Unlike other sports where match fixing is seen a horrendous scandal, cycling seems to tolerate this. If a classic is sold for €150,000 I seen comments from people saying "hmm, that much?" rather than outraged at the prospect of a deal. But if cricketers or footballers take money in a pre-planned conspiracy which ends up in court, cycling is about circumstantial alliances forged during a race and often in the closing moments. Find riders fixing a race before they've clipped into the pedals for the day and you can ban them and jail them too.
The practice of awarding wins and making deals is part of cycling's tactical sophistication. It is part of what makes a six hour race compelling to watch and nobody is throwing away wins in the classics or the overall of stage race. Most of the time these practices are far removed from criminal conspiracy and corruption.
* Footnote
The results from the 2010 Liège-Bastogne-Liège were as follows:
1 Alexandre Vinokourov (Kaz) Astana 6:37:48
2 Alexandr Kolobnev (Rus) Team Katusha 0:00:06
3 Alejandro Valverde (Spa) Caisse d'Epargne 0:01:04
4 Philippe Gilbert (Bel) Omega Pharma-Lotto
5 Cadel Evans (Aus) BMC Racing Team
6 Andy Schleck (Lux) Saxo Bank 0:01:07
In the event of Vinokourov and Kolobnev being banned they stand to lose the race. Valverde would normally inherit the win but he was later banned in the year and his results in 2010 annulled. So this would make Gilbert the winner whilst Cadel Evans and Andy Schleck join him on a hypothetical podium.