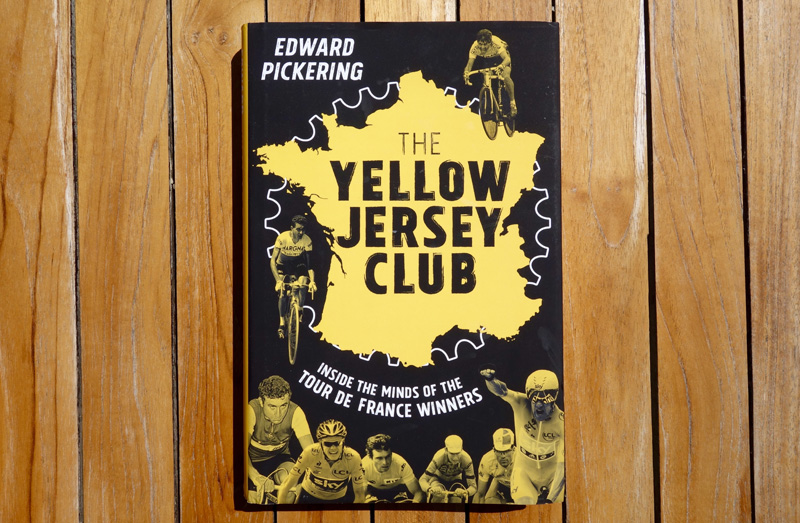 The Yellow Jersey Club by Edward Pickering
The premise is simple, a look at the last 20 Tour de France winners and Lance Armstrong. Each member of the "yellow jersey club" gets a chapter dedicated to their exploits. At times the 21 winners share little more than victory in the same race such is the range of personalities and career paths.
Better still this is not 21 versions of how the Tour was won with mechanical reproductions of Rider X attacking on Stage Y to take a time advantage of N minutes. Instead this is often a look at the different types of winner, their characters, personalities, tactics and career paths rather than any shared trait that defines a Tour winner.
Take 2008 champion Carlos Sastre, you'll come away with the impression of an under-rated climber who finally had the stars align and seized the moment; as opposed to him being seen as an accidental victor at times, able to ride away up Alpe d'Huez while the Schleck brothers sat tight or because Cadel Evans didn't deliver in the final time trial. 1987 victor Stephen Roche is "the nicest guy who'll ever stab you in the back" and by the end of the chapter you get the impression of schemer, a manipulator but all done in charming style whether with a smile or caressing pedal stroke, a rider used tactics and rivalry to win a Tour de France rather than brute force.
If there are few shared traits among the winners a recurrent theme across the chapters is that the easy wins seem boring for Pickering as he explores what the French call l'art et la manière, the style and manner of a win:
[Marco Pantani's] attacking riding and time-trial defeats made him easy to support, in contrast to the Indurain and Ullrich, whose defensive and negative Tour wins were impressive but too well planned, too cold to be emotionally engaging.
Pickering cites writing by Hugh Dauncey and Julian Barnes on what makes a sportsman popular in France and it's often a question of style and panache. Victories, especially dominant, don't please the crowds. There's probably a whole book, even a sociology thesis, to explore why, in Pickering's words "French sports fans especially appreciate the aesthetic value of sport and are extremely susceptible to the idea of glorious defeat" although presumably it's because people want a lively show. Pickering seems to have a francophile appreciation of sport rather than the win at all costs approach or the risk management methods. There's an appreciation of Miguel Indurain and Bradley Wiggins, especially with Wiggins and his character, but little cheer for the spectacle of their wins. Instead this is often reserved for the one-off winners than the dominant names and sometimes it's the story of other races lost as much as their Tour win that is recounted, for example how Jan Ullrich slid from 1997 winner to regular loser.
At times it's personal as Pickering recounts in the first person how he got into the sport thanks to Greg LeMond or how 1976 winner Lucien Van Impe "came before my time as a cycling fan. I was three years old" and there are subjective reviews of various Tours along the way with different editions rated for their interest and style. Pickering writes well and it's an easy read rather than a list of personal picks. Interestingly often he's presenting subjects for you to decide. Wiggins's win in 2012 was "depending on your outlook on life, either a masterpiece or a dud". Pickering is inviting you to think for yourself.
The same invitations appear on the discussions of doping, inevitable of course with a series of winners spanning the EPO-que. You're left to join the dots when it comes to Miguel Indurain's transformation into a five time Tour winner or the sudden slowdown in Alberto Contador's climbing speeds in recent years. The "cognitive dissonance" over Contador is interesting, there's an exploration of whether Contador is among the great riders of his time or the great cheats and the reader is left to make up their own mind… or endure the dissonance.
You get to compare viewpoints and stories. Each chapter is isolated from the next and presented in chronological order so you get the view of Carlos Sastre and Andy Schleck getting the better of Cadel Evans before it's the Australian's turn; you get the story of Sky's internal strife in 2012 before the chapter of Chris Froome.
There's some overlap with the supply of books available now. You might already know about Greg LeMond's career thanks to Richard Moore's Slaying The Badger or have the read the full story on Bernard Hinault in William Fotheringham's badger biography. So should you read this? That depends on your appetite for reading but The Yellow Jersey Club has a different take, for example the chapter on Hinault covers his strength of character. Both Hinault and Lance Armstrong come across as men more like alligators or sharks, they just can't help doing what they do. Armstrong's inclusion is debatable since he's been stripped of the wins but makes the book while Floyd Landis doesn't. Similarly Andy Schleck is in the book but he was only awarded his "club" membership because of Alberto Contador's positive in 2010. The concern was that Armstrong had to be crowbarred in because of the celebrity sales potential but read it and the chapter is unflattering to the Texan and gives us a good insight into his long reign and the doping era it was part of and the book is better for it. You can feel the extra pages devoted to Greg LeMond.
Reading this means reappraising some riders. Bernard Thévenet and Joop Zoetemelk are often cited in comparison to Eddy Merckx and Bernard Hinault but here they get the spotlight shone on them for a moment and it's welcome. The same with more recent club members like Oscar Pereiro and Carlos Sastre who have faded fast from the collective memory.
The Verdict
You can look up a list of Tour de France winners on Wikipedia but mercifully this is more than a 300 page listicle. Instead it's a well-written collection of essays and often the story of character and humanity as well as tactics and sport.
On one level this is a handy history primer with 21 profiles to get you up to speed with many of the big names of the Tour de France if you're new to it all. If you're already keen on Tour history you'll still find more, especially as the book succeeds on the more profound level where it analyses the wins and the characters of the victors and often invites you to think more. "Which do we prefer? Winning ugly, or losing pretty?" asks Pickering. Read this and you can think about an answer.
It's available as a hardback book, an e-book and the price varies according the format and region and published by Bantam Press / Transworldbooks.co.uk
Note: this book was sent free for review. Find more book reviews at inrng.com/books