Bernard Hinault and the Fall and Rise of French Cycling by William Fotheringham
Some say Bernard Hinault was better than Eddy Merckx. If the Belgian has a better palmarès they reckon Hinault would win if they started a fantasy race at the height of their powers. It's amusing speculation and we'll never know. What is more certain is that Hinault was the last rider to try and win everything, he did the Giro-Tour double but also the Worlds, Paris-Roubaix and so much more. One big factor behind this is Hinault's forceful character.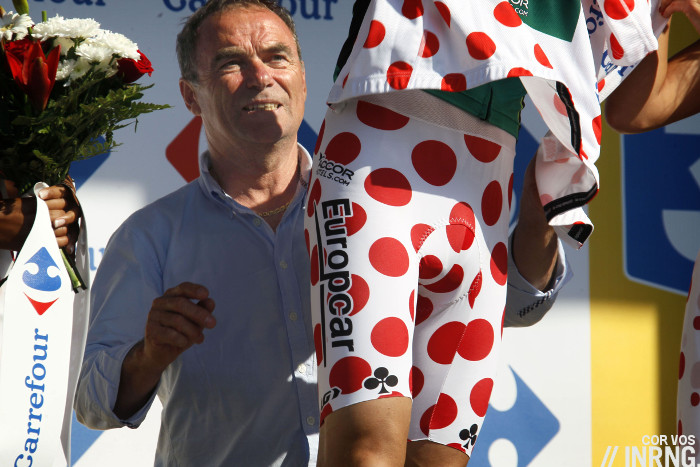 Many will know Hinault today as ASO's podium master. It's sometimes a modest role, a god of the sport reduced to making sure the yellow jersey is zipped up tight. Would Eddy Merckx show up to pour beers in the village départ? But some might see traits of Hinault the cyclist, the confident manner and moments of aggression where he'll gladly punch or push any joker who tries to leap onto the podium. This book is the story of Hinault's racing career, of how and why he started cycling and what happened next.
Methodically this is a synthesis of past quotes, interviews, meetings and moments. It reads as if Fotheringham has pieced together archives and impressions in chronological order to tell the story. It works well, no references feel like they've been crowbarred into place and it all tells the story of a powerful man surprised at his success, toying with others and even his team mates.
The book never quite touches directly on what made Hinault so good, the assumption is that he was born with the DNA of a champion and this was boosted by aggression and even borderline psychopathic tendencies. Hinault talked about racing for fun, for pleasure but this meant attacking his rivals anywhere but the fun was cruel like a cat toying with a mouse. You wonder if Hinault's rivals locked their hotel doors at night just to sleep safer. Hinault's mental side comes to the fore again and again. His jaw alone tells a tale, jutting defiantly at the world. Fotheringham explains Hinault's pirouette on Lance Armstrong (once a champion now unmentionable) but doesn't cover the whispers about Hinault himself, the links to veterinarian horse trainers.
Innovation and technology is celebrated and Cyrille Guimard is a key factor. Arguably the greatest team manager ever, a point he'd probably argue too. There's not much to read on Guimard in English so this book is a great insight. Of course merely signing Hinault to your team would make any car-driving chimpanzee look good but Guimard and Hinault are a winning tandem. Guimard was the first to supply a cycling team with a bus, the book details many more examples and Hinault responded well to the new technologies. It's pleasantly confounding since he often appears as the sort who thinks all you need is a bike with round wheels yet Fotheringham shows Hinault adopting a aero helmet for a time trial as it's a means to put even more time into others. This is still cycling in the pre-sports science era, take Hinault and Guimard's policy of an 80km warm up before time trials; it sounds excessive but thinking about it, this meant starting the time trial with heavier legs and therefore being unable too make too many sprints up hills and out of corners: today we'd call it pacing and trying to keep the power output steady but back then this wasn't so obvious. Later on it's explained Hinault would beat rivals with a strong final third of time trial, a "negative split" in today's jargon. Similarly Hinault teams up with Bernard Tapie to launch a new team and this ushers in yet more modern aspects of team management. This is the story of Hinault but a constant theme is the evolution of the sport and Hinault was involved in this.
At times the book delivers one race account after another and amid the "Hinault attacked here, Hinault won there" accounts you get lost. Presumably it's the same for all sporting giants, the heavyweight makes another KO punch, the  footballer scores another winning goal. In this sense the relentless nature is all part of his story, the way he'd go solo with 50km to go, how as an amateur he'd take the fight to the pros.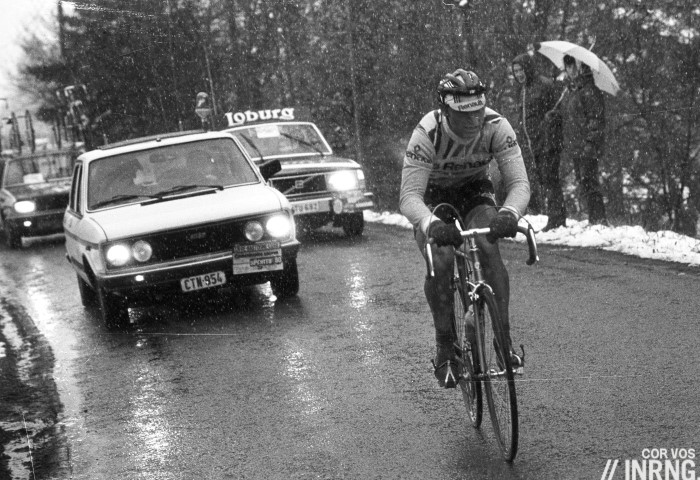 The book has a francophone vibe as Fotheringham opens with his experience of racing in Brittany, Hinault's home region. It continues with numerous French phrases, there's coup de gueule here or ravitaillement there. The quip about Neige-Bastogne-Neige might have some wondering what happened to this one day race in case you didn't know that neige is French for snow and a rhyming play on Hinault's 1980 Liège-Bastogne-Liège win in the snow. The French phrases are not used in an arty or snooty sense but some readers might find themselves needing to note them down or search for translations online while reading.
The 1986 Tour de France battle between Hinault and his team mate Greg LeMond is recounted, familiar ground if you've read Richard Moore's "Slaying the Badger" but essential for a Hinault biography; ideally you'd read Fotheringham first and then delve into Slaying the Badger for the full story. The book does a good job of retelling many Hinault legends such as Hinault ordering a bottle of wine with a pre-prologue meal, famous but this book puts it in context. But this isn't "Hinault the wild life", he was an incredible character on the bike but remarkably straight off it, he'd even strop on training rides to speak to farmers about their work. Even as a rider he shunned celebrity he was famous for winning but never famous for being famous and the book tells the tale of media annoyance because he wouldn't play their game.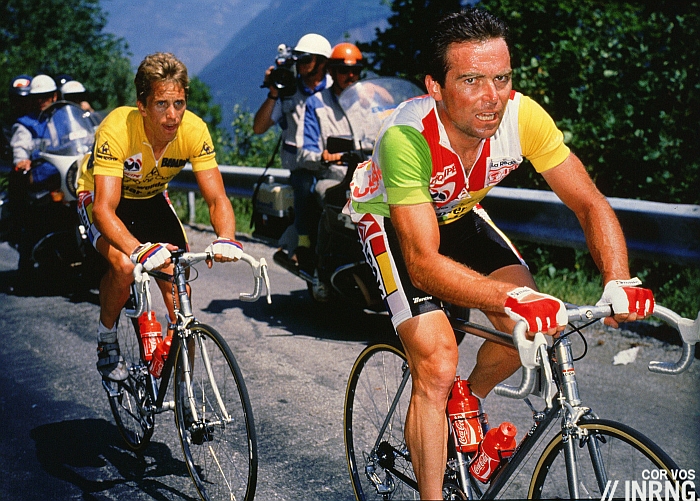 The book ends by exploring why there's no successor to Hinault. It's comparable to the search for the new Merckx in Belgium and both the French and Belgians are still waiting decades on. Fotheringham looks at the structural issues in France but it's hard to pin down. As Guimard once quipped, "c'est génétique" in that all the structures and systems can't produce someone with the physique and mentality of a champion. But there have been other factors, Fotheringham looks at the "two speed cycling era" where French teams largely rode clean while their rivals did not, a general hypothesis that stands up, albeit with some big exceptions too. One big reason for this is the French could afford to ride clean because no matter how dire their results a wildcard invitation to the Tour would appear and the entire annual budget would be justifiable marketing spend for a sponsor. This chapter is probably worth another book… or a hundred blog posts.
Summary
Want to know more about one of the greats? Here's the comprehensive version of events to read in English although you might look up a few francophone terms. It's well-researched with accounts from the times accompanied by recollections today. There are some amusing tales but this isn't the tale of a playboy or even a showman, he raced like Rambo but retired as a dairy farmer
It's probably best read one chapter at a time, try it on, say, a long-haul flight and the relentless tales of Hinault winning melt into one, as do the tales of his rivals who often sounded like survivors of a natural disaster, as if they'd been ravaged by Hurricane Bernard. But there's more, Hinault's style of racing is fascinating, especially the way he'd attack climbers in the valleys or outsprint the sprinters. He'd break his rivals physically and mentally. Thanks to Guimard he often had a technological advantage too.
It's also a good tour of where French cycling is today. L'Equipe might go wild in July with front covers celebrating Frenchmen who finish third or seventh but watch the podium ceremony. That 60 year old pulling zippers? Now that's what you call a champion.
This book was sent free for review. It is out now in the UK and Europe and a US version called "The Badger: The Life of Bernard Hinault and the Legacy of French Cycling" looks set to appear in September but US readers will find the current edition for sale online too. For more book reviews see inrng.com/books