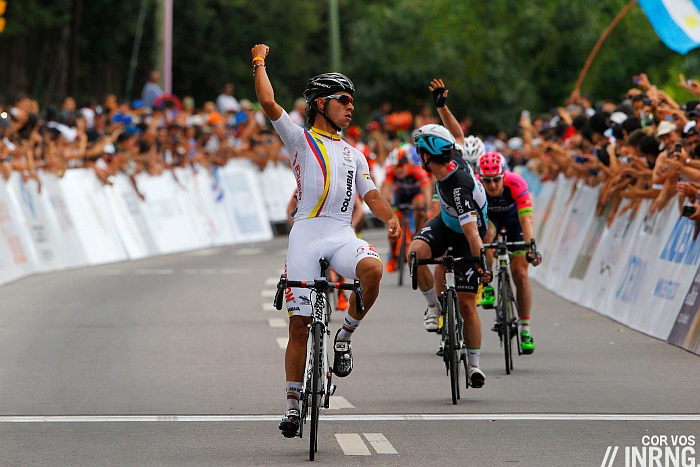 Peloton, soigneur, bidon. The lexicon of pro cycling has many French words and stagiaire, French for "intern", is the topic du jour. It refers to riders who join a pro team on a trial basis from 1 August to the end of the season.
Definition: it applies to an elite or U23 rider who has not ridden for World Tour or Pro Conti team before. A stagiaire cannot ride World Tour races, only Continental level races and they may race for their amateur club or team during the trial period if they want. World Tour and Pro Conti teams make take three stagiaires from 1 August onwards, Continental and Women's teams may take two.
National preference: recruitment tends to track national roots. For all the talk of big superteams scouring the world for talent, Team Sky take two stagiaires from Britain and BMC Racing take two of their three from Switzerland (BMC might fly under an American flag but their sponsor and funding comes from Switzerland and do plenty of their riders) including Tom Bohli, a hulk of a rider with a track background in the style of Stefan Küng. Giant-Alpecin bolster their German identity with 2014 U23 German meister Max Walscheid. One exception here is Etixx-Quickstep which has two Colombians including sprint sensation Fernando Gaviria.
Winning DNA: this year's draft includes Julien Bernard (pictured) with Trek Factory Racing and Valentin Madouas at Bretagne-Séché, the sons of Jean-François Bernard and Laurent Madouas, French pros in the late 1980s and early 1990s. Continuing the family theme there's Rayanne Bouhanni joining his brother Nacer at Cofidis. Lotto-Soudal's Frederik Frison is related to Herman Frison, 1990 Gent-Wevelgem winner.
Stepping stone: some stagiaires join because they're turning pro already. Riding with their future colleagues makes for a good introduction and a smooth transition. Last year the likes of Tiesj Benoot (Lotto-Soudal) and Dylan Teuns (BMC Racing) were locked into their pro teams already and riding as a stagiaire was merely part of their career progression.
Dropped: any rider pulling on their pro team kit tomorrow and clipping their feet into a team-issue bike might feel pretty special but future employment isn't guaranteed. At a glance it looks like at least a third of stagiaires will return to the amateur ranks without a contract and the risk of looking like damaged goods. Sometimes the retreat is planned part of a plan, a nurtured rider gets a trial one summer, continues their development the next season in the amateur U23 ranks and then can turn pro later. Take Gregor Mühlberger who rode with NetApp-Endura last year, went back to the amateurs and is back with Bora-Argon 18 again.
Some trials just don't work out. A team can see ability in results, lab tests and power data in the same way an employer can read exam results or qualifications on a CV. But the trial allows for the softer skills to be tested. Is the stagiaire good with the team, whether carrying bottles in a race or cracking jokes at the dinner table or do they retire to their hotel room or spend too long staring at their phone? Even the small things like saying please and thank-you to the mechanics and soigneurs can help show whether a rider is good for the team, after all there's a long list of riders ready to step up instead.
Cheap deal: some riders can be taken on because they're cheap to hire, they'll race for a team jersey and the chance to impress. This matters in the second half of the season where a lot of the roster could be tired, injured and spread across races like the Vuelta. Having a couple of extra riders can help fill spots on the team.
Polish that CV: given that a lot of pro teams are run a bit like a family business, having contacts helps to land a trial. Results can help but sending in a CV to a team can still help catch attention. Some amateurs take on agents to help place them too; or rather the agent takes on a promising rider, pleads their case and if a pro contract follows the agent will start to earn.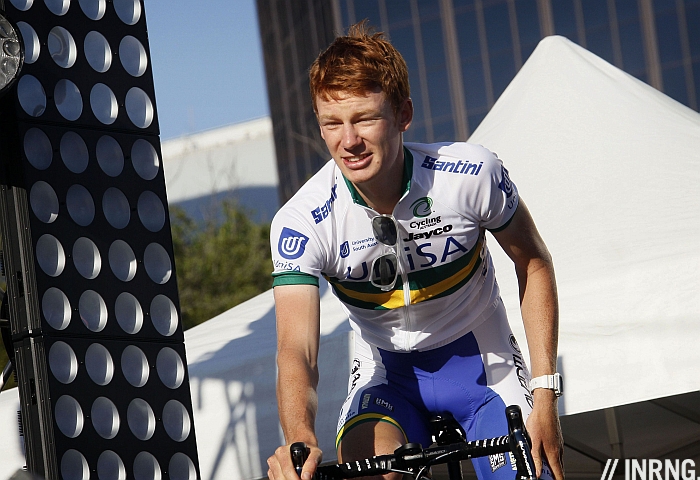 Four to watch:
Jack Haig (pictured) impressed in the 2014 Tour Down Under and did well again this year, for example 7th place on the stage to Paracombe where Rohan Dennis rode away up the climb. He's been a long term plan to join Orica-Greenedge and has been racing steadily in the amateur ranks. He's currently doing the Tour d'Alsace with the Australian national team and Saturday's stage over the Grand Ballon will be a good test of his climbing talent
Fernando Gaviria doesn't need much of an introduction after his successful start to the season beating Mark Cavendish and Sacha Modolo in the Tour de San Luis, it earned him a ride with Etixx-Quickstep. But it's the leap from introduction to confirmation that matters now. Moving to Europe is a big deal and so is coping with pressure, all while staying hungry despite a big contract
Would Rayanne Bouhanni join Cofidis if his brother wasn't the team leader? Rayanne is a good rider and more of a punchy classics contender than a sprinter so it'll be interesting to see how he fares and whether a contract follows
Tao Geoghegan Hart joins Team Sky. You wonder why the team takes on young riders given it doesn't need to develop riders: it can just buy in the best when needed so it'll be interesting to see how TGH and fellow Londoner Alex Peters fare, both for 2015 season and in the upcoming two years. Italian beefcake Gianni Moscon will join Sky later this season too.
Summary
Stagiaires are trainees who can join a pro team from 1 August onwards. It's much like the outside world with a few trainees taken for exploitative reasons, namely they're cheap and hungry. Many are on a trial, a long term job interview if you like and some have already inked a pro contract and are making the transition to the pro ranks already.