The UCI and Tour de France owners ASO are clashing over reforms to the sport and even the UCI has its splits after its President Brian Cookson has reportedly been overruled by his own Management Committee.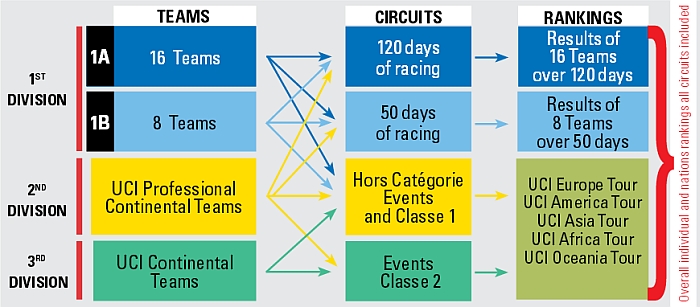 The clash is primarily over the UCI's plans for reforms to the men's pro cycling system, particularly to the World Tour and its calendar of races. These changes have been announced but in whisper-mode and never explained clear in public. Late last year Dutch team boss Richard Plugge told the UCI where to stick its ranking reforms and others have gone public with grumbles about plans to shrink the max team size from 30 to 22 riders.
Revised plans
This brought a rewrite during the first half of the year with input from the Velon group of teams, including, according to Spanish sports paper AS.com the call for a reduction in the length of the Giro and Vuelta from three to two weeks although whenever this idea crops up everyone seens to shun it (it does keep appearing though). Today's newspaper L'Equipe says the revised plans had the following ideas:
the UCI would step back from regulation of the World Tour (how far isn't clear in the article)
a franchise-like system where teams could stay in the World Tour rather than worry about relegation to provide stability for teams (ie sponsors know what they're buying in to)
teams would not be obliged to race every major event, unlike the current obligatory World Tour system, but could negotiate their presence with races (without saying it, this hints at appearance fees)
According to a Reuters article yesterday, ASO sent a formal letter to the UCI earlier this week saying it could pull its  races off the UCI calendar if the UCI doesn't implement some of the proposed reforms. In contrast French website VeloPro, equally well-informed, says ASO is upset with some of the proposed reforms and could pull its races if these reforms go ahead. Today's L'Equipe sides with the latter explanation suggesting ASO and other race organisers are not happy and the UCI is left to find a compromise between the teams and the organisers.
No Tour de France?
Whatever the grounds or motivation ASO is raising the explosive prospect of a UCI calendar without the Tour de France, the Vuelta, Paris-Roubaix, the Critérium du Dauphiné and all the other events it owns. Unthinkable? As recently as 2008 the UCI forbid teams from riding Paris-Nice after ASO wanted to use French anti-doping controllers rather than UCI ones, a spat over a technical issue but a proxy war for wider tensions. The result? The UCI was completely ignored and Paris-Nice was race as normal. No team could tell its sponsors it was going to sit out a major race because of a political spat over which anti-doping agency was testing its riders. You'd imagine the same again this time, the UCI could try and tell teams the Tour de France is a "forbidden event" under the rules but the Tour de France and its massive media coverage is the greatest reason why sponsors back teams in the first place. Nobody wants to miss the biggest races of the year.

Velon, different this time?
One difference this time is the establishment of the Velon group of teams. In the past the teams have tried to make representation via their AIGCP lobby group but this has often been undone by a lack of unity. So 11 teams have formed this corporate joint venture. They put out a well-timed video interview via their InCycle channel this week saying they wanted to improve cycling's long term future (who doesn't?). They can speak with a unified voice but it's hard to see what they can do. Boycott ASO races? Member teams and their sponsors surely cannot afford it. The Tour de France is the sport's golden ticket and few sponsors can spend millions on a team to spend July doing the Tour of Qinghai Lake. If Oleg Tinkov has floated a boycott before it's hard to imagine all 11 teams agreeing.
Of course not all teams are members of Velon which brings us to the second source of division, the UCI's own Management Committee, effectively its governing board. The UCI has a joint committee of its own officials and the pro cycling world called the Professional Cycling Council and according to VeloPro this voted six to five for Brian Cookson's rules. Hardly an ecstatic endorsement but the PCC's members include Christian Prudhomme of ASO so it was never going to be a oui to the proposals. But reportedly the plans have now been iced by the Management Committee with Brian Cookson's plans humiliatingly rebuked and according to reports he didn't even bother putting it to a vote. It's worth remembering the Management Committee includes oligarch Igor Makarov, boss of Russian cycling and non-Velon team Katusha and sponsor of the European Cycling Union headed by fellow Management Committee member David Lappartient of France. There's also Renato di Rocco of the Italian federation and part-time Kazakhstan rep to aide non-Velon Astana.
Politics
If Brian Cookson has been rebuked by his own Management Committee on such a fundamental issue as World Tour reform then he's got some ground to recover. He's halfway into his mandate as President and people around him are increasingly jostling for position, sensing Cookson could be a one term President.
Outside the UCI we're seeing the backroom bickering go public. In 2011 some teams refused to allow cameras inside team cars with Jonathan Vaughters declaring "the athletes and equipment are our property – why should we give access?" and today it looks like we have the same stand-off with Velon teams refusing to use the geolocation telemetry sticks in the Dauphiné, presumably holding out for a payment. You could argue Velon didn't contribute to the cost of R&D for these devices so they can't hold out for much. But putting a price on this isn't the point, short of a boycott of ASO races small guerrilla actions are all Velon has for now and we might see new forms of this during the Tour de France, for example shunning the pre-stage signing on ceremony or the post stage interview, the logic being that these actions benefit ASO's show but earn nothing for the team.
It's another proxy war between some teams and ASO over money. It's a bit like the old dispute over the use of race radios, ostensibly about tactics and safety but a fundamentally issue about who controls the sport then teams wanted a say in the UCI's regulation of the sport, today they want a slice of ASO's TV money.
Conclusion
You might enjoy the sport but pro cycling is a commercial activity. As said countless times the Tour de France was created to sell newspapers and today's teams are lycra billboards for corporate communications. It's business but there's no free market with ASO controlling the key events and teams now trying to establish their own oligopoly via a franchise system.
There were plenty of battles to establish the Pro Tour a decade ago and the "2020" reforms reopen similar fault lines again. There have been arguments and disputes behind the scenes this year which are now starting to take place in public, an ugly sight. As shown above the accounts vary but either way there's a lot to negotiate, barter and argue over. ASO and Velon are wrestling over the future direction of reforms and normally the UCI would mediate but it too is split with Brian Cookson's proposals getting rebuked, itself damaging for the President's authority.
The longer things stay chaotic, the less certain the sport. Television rights packages aren't worth so much if, say, a race is going to be shrunk by a third; teams will struggle for sponsors if they don't know whether entry to the Tour de France is guaranteed or not. Despite ASO's threats to remove its races from the UCI calendar the sport will go on but so will the backroom arguments.