This year's Giro might have only one solo time trial but today's stage compensates with a route so long and challenging that it's worth two time trials, one flat 30km effort followed by another 30km in the hills.
If the overall classification is still a jumble of jigsaw pieces waiting to be put into place this will give us a better picture. The Alps start tomorrow.
Stage 13 Wrap: a procession with no action. For hours on end the bulk of the TV audience must have consisted of hospital patients in traction with the remote control out of reach plus locals waiting to see their house on television. As expected the sprint finish happened and once again the sprint and result was reduced to a side classification following a crash just outside the 3km to go safety point. Among the many delayed were Alberto Contador and Richie Porte. Contador lost a little time and Porte lost a lot. Game over for Porte? The team will wait until Sunday night to draw conclusions, to see how he fares today and then on the summit finish at Madonna del Campiglio. Fabio Aru collected the maglia rosa and was perhaps a touch too triumphant on the podium given he'd won thanks to the crash of a rival.
Back to Sacha Modolo's sprint win, it wasn't stylish given the way the peloton had been disrupted by the crash but he'll take it after riding the Giro for four years without a stage win. He always looks miserable, a frowning face, the peloton's Droopy Dog but finally he had a reason to smile. Meanwhile Giacomo Nizzolo takes yet another second place and is equal first on points with Elia Viviani but as is his luck the Sky rider takes the jersey.
The Route: two time trials for the price of one. The start in Treviso is right by the Pinarello bike shop, the home of the bike company. The opening 30km to Conegliano are totally flat and on a regular wide road to the first time check just after the river Piaveideal for the time trial specialists to churn a 56T chain ring. Only with every long pedal revolution they are getting closer to the Conegliano hills, famous for their wines.
At Bagnolo the climbing begins to San Pietro di Feletto with over 2km at 5%. Not steep nor long but a big change in rythm and the vertical gain is quickly felt as the road climbs up via three hairpins on the way to the second time check followed by a regular descent.
The route carries via the feedzone – this is so long getting a second bottle matters – and then to Col San Martino where soon after more climbing begins. The profile says 10% max and 12.2% but it's wrong, it's not that steep. It's followed by a fast descent with several bends but with open visibility. It drops to Valdobbiadene before the final 400m to the line rears up.
Route summary: a maxi chrono of two halves: one flat, the other hilly. The second section is not wild, the roads roll well and riders can spend most of the time on the climbs in an aero tuck if they want. It's not so much the climbing – the total vertical gain is ~750m – but the distance that will tell.
The Contenders: the distance means today is unlikely to throw up a surprise, it's such a big effort that it requires experience. But picking a winner isn't easy. We're now two weeks in so pure time trial specialists don't have an automatic advantage but those who have been given "rest days" without too much team work can surprise. Among the obvious names there are many discount factors, Uran has been ill, Porte bashed his knee, Contador has doubts about holding his TT position and so on…
Rigoberto Uran is the top pick. The Colombian has become a time trial expert borrowing from the experience and knowledge of working with Tony Martin, he's even had a haircut this week to improve the flow of his locks. But doubts remain, he's not been at his best so far and crashed at Imola, he got light injuries but that means uncomfortable sleep and another day in the rain won't help the wounds either. He won last year's Barolo time trial stage but that was a heavier course which suited him more.
Richie Porte would have been joint equal prime pick with Uran but finished yesterday's stage and refused to get on the rollers complaining of articulatio genus inflammatorius or in Australian dialect "my knee is f—-d". It's not Sky's style nor his to seek revenge for the misfortune he's endured. Sky like to be logical not passionate and Porte is just laid back but even if he wanted to rip it up today the concern is that a knee injury is going to ruin things. At the time of writing there's no diagnosis. Assuming he's ok this stage has been Porte's first big rendez-vous of the race. He's excellent in the time trials too including on the flat where his times could rattle rivals like Contador and Aru. Team mate Leopold König has been seen as a climber but had an excellent time trial at the end of the Tour de France last year where he finished fifth in Périgueux. He's now ahead of Porte on GC but this is anecdotal, Porte is still the boss. Domestiques Vasil Kiryienka and Kanstantsin Siutsou might be given their chance too and both are candidates for a top-10 today.
Alberto Contador is the key rider today. He crashed yesterday. It's one thing to pull your shoulder out, it's another to crash with this injury so he could be sore all over again. Contador is a competent time triallist but not the certainty he was when he worked with sulphurous coach "Pepe" Marti. A top-5 position will be fine for him especially if he keeps his rivals close but given Uran and Porte's woes he could get the better of them too. Team mate Roman Kreuziger sits fourth overall but the time trial isn't his forte. He'd probably settle for a top-20 position today.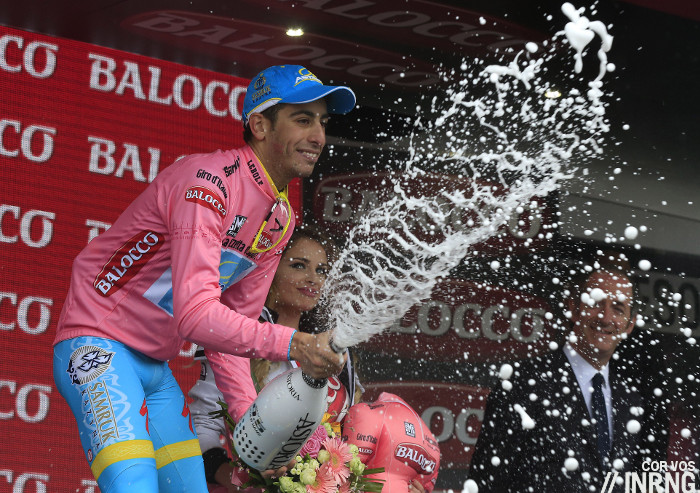 A story of things starting to go wrong for Fabio Aru was emerging after two stages where he didn't look so aggressive but the script changed as he collected his first maglia rosa yesterday. He'll have enjoyed the post stage interviews but the euphoria and huge cheers along the way could see him swept along. But like Inspector Columbo scratching his head might say, "there's just one last thing": he's no good in a time trial. There's nothing to say he'll be terrible for eternity but it takes time to learn. He was well off the pace in the Vuelta last year: in the 37km TT stage to Borja he lost 1.48 to Uran and 1.24 to Contador, add on 20km and extrapolate. In mitigation he's got to work in the windtunnel and on the track and he probably won't bomb as much as some expect. In this morning's La Gazzetta Dello Sport Paolo Bettini says Aru should lose 25-30 seconds to his rivals but I suspect he'd settle this morning for losing 90 seconds. As good as he's been so far this week team mate Mikel Landa is a climber with little time trial pedigree and likely to lose ground here. But Dario Cataldo and Tanel Kangert are powerful rouleurs who are likely to be sent out to to set fast times, Cataldo especially as he was 11th in the Barolo time trial last year.
The Outsiders: The real mystery is Ilnur Zakarin, the Katusha rider won a stage in convincing style the other day  and three weeks ago he almost beat Tony Martin in Romandie on a wet and technical course, the kind of course and conditions the German loves. Today's distance is a novelty for him but he's a man of surprises. Meanwhile Jurgen Van den Broeck is as stealthy as ever and of all the stages this his best chance to get a win and establish a position high on GC. He was fourth in the Romandie time trial and will find the long course even better. Movistar's Beñat Intxausti and Ion Izaguirre are both solid riders in the time trial but look like top-10 pretenders, especially with Intxausti going all out for the mountains jersey now which means he might back off today to stay fresh.
The Specialists: Trek Factory Racing's Kristof Vanderwalle is Belgian national TT champion but a win today would be huge and unexpected. In years past Sylvain Chavanel would have been a contender but he's fading these days and his time trial style of starting full gas could be very costly today. Giant-Shimano's Tobias Ludvigsson is an outsider, the lanky Swede copes well with hilly courses but the distance will tell. Finally Orica-Greenedge have two outsiders in Luke Durbridge and Michael Hepburn. "Durbo" was supposed to be the next big thing in time trialling but a big win remains elusive outside of team time trials while Hepburn the new Durbridge but they're 24 and 23 respectively and have time on their side.
| | |
| --- | --- |
| | Rigoberto Uran, Richie Porte |
| | Ilnur Zakarin, Alberto Contador |
| | Van den Broeck, Ludvigsson, Kangert, Durbridge |
Weather: cold and wet at times with intermittent showers. The variable conditions could alter the result especially as the forecast is for a headwind on the long flat first 3okm for the early starters which could swing to a tailwind for the last riders but this timing isn't precise.
TV: the first rider is off after midday they go every minute until the last 20 are three minutes apart. They go in reverse GC with Fabio Aru starting at 3.42pm and expected to finish around 5.15pm Euro time. There are three time checks on the course to help tell the story better. Cyclingfans and steephill.tv have the pirate feeds if you can't find it on TV.
The Giro is: wine. As races cross the landscape they pass many different times of local produce but wine is indicative for the landscape, the grapes need warm weather from May to whenever they're picked and the presence of wine often indicates hilly slopes. Put another way if you find vineyards you're probably in good cycling country too. Today's route celebrates Prosecco, the Italian sparkling wine.