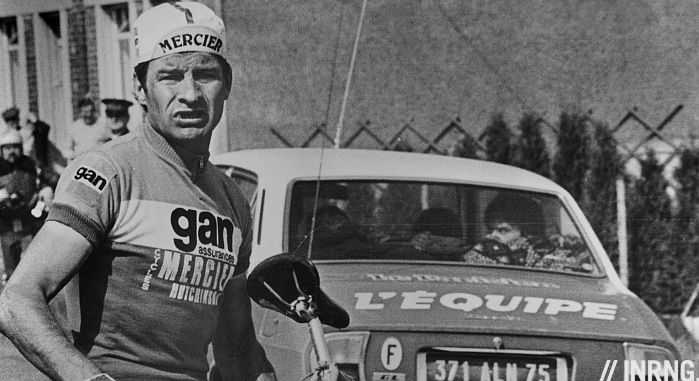 For years Jacques Anquetil didn't know what to do. As much as he'd win he couldn't beat the popularity of Raymond Poulidor. The more Anquetil beat Poulidor, the more popular "Pou-Pou" became. The public love an underdog and sometimes Poulidor wasn't beaten by a superior rider, he was undone by misfortune. He would have won where it not for some random incident like a puncture or a crash. While Anquetil avoided potholes or stayed upright his rival was wiping out but also becoming increasingly popular.
Decade after decade cycling has celebrated the "moral winner", the rider who should have won but was thwarted by the cruelty of sport.
Who was the first moral winner? Who knows, there are many ancient tales of hard work being thwarted. Achilles the battlefield hero undone by an arrow to his heel, Orpheus the gifted musician reduced to rescuing his wife.
Skip 2,500 years and René Vietto made a name for himself in the 1934 Tour de France. Previous Tour winner Antonin Magne broke his front wheel so French team mate Vietto offered his front wheel – familiar theme – but it didn't fit. So another team mate and 1933 Tour winner Georges Speicher stopped and gave his wheel to Magne and then Speicher grabbed Vietto's wheel leaving Vietto folorn by the road until the team car showed up. Vietto lost four minutes. The next day Magne's chain snapped and Vietto surrendered his bike and lost another four minutes. All this was normal in the race at the time recounts Benjo Maso in his book "The Sweat of Gods" but the difference was that Vietto was photographed sitting on a low wall looking sorry for himself, his bike missing its front wheel.
The image was cropped to remove others from the shot to pretend Vietto was left alone write Maso and the photo was used to write up the story of Vietto sacrificing his chances for his leader. Magne went onto win the Tour de France but by the time he made it to Paris the story of Vietto had got out of control and many were led to believe by newpaper reports that Vietto could and should have won the Tour de France despite being slower than Magne and others. Magne was not allowed to do his victory lap on the track in Paris without Vietto by his side says Maso and banners were waived displaying "Long Live René Vietto, moral winner of the Tour". Vietto earned a small fortune from this popularity.
There have been other moral winners. As mentioned above Raymond Poulidor played up the myth of being the eternal second and became wildly popular. This theme is even sent up for comic effect in "Le Vélo de Ghislain Lambert" a Belgian film from 2001 where Lambert is last man in the Tour de France but his efforts to ride make him wildly popular. It's art imitating sporting reality. It doesn't always have to be a loser, Greg LeMond's 1986 triumph in the Tour de France was arguably boosted by his triumph over team mate Bernard Hinault.
In more recent times there was no doubting Vincenzo Nibali's superiority over Jean Christophe Péraud and Thibaut Pinot but some were questioning the value of his win in the absence of Alberto Contador and Chris Froome. Even if you're fine with the win you'll probably want to see a rematch with Contador and Froome present this July. Nairo Quintana's lead in the Giro was almost accompanied by an asterisk and with "*Stelvio descent" written in people's minds until he stormed the Monte Grappa time trial to convince people he was the best. A big difference today is that we can see everything that happens while stories of Vietto were embroidered by journalists keen to spin a yarn.
Which brings us to Richie Porte. Nothing can be changed here because the rules are the rules but it's this inflexibility that could have the public behind Porte. If he manages a good time trial and tracks his rivals in the mountains then people will say "if it wasn't for that wheel change"or "if he hadn't punctured" then he would have won. All this is in the conditional squared, after all he did puncture – "if he'd only looked where he was going he wouldn't have smashed his front wheel into a pothole" and so on –  and multiply this by uncertainty about the future, for all we know today Porte could crack spectacularly in the Alps. It works the other way too, sections of the Italian media have complained on the airwaves of RAI and the pages of La Gazzetta that Porte is hard to reach for post stage chats and interviews so perhaps they're less inclined to defend his cause because even if you didn't like the wheel change losing time just because a puncture is cruel. Either way there's the coulda, woulda, shoulda aspect which makes extrapolation dangerous but it's this space for doubt that changes things or at least keeps discussions going in bars and online forums.
Summary
Cycling takes place in the great outdoors and all sorts of random and unexpected events can occur, the result of a race is so different from what would happen if we put 200 riders onto ergobikes in an indoor gym. The changing circumstances and drama involved bring suspense and make the sport so compelling. Even when the result is in the story doesn't end.
Today it's harder to imagine the "moral winner" of a race enjoying such fervent support on their way to fourth place. A century ago the newspapers could be more creative and if not providing fiction, they were often telling stories with exaggeration or, in the case of Vietto's "isolation" on the side of the road a cropped photo. Television has changed plenty and today's the internet takes this a step further, the images of Porte's wheel changed are shared around the world within minutes. But the concept still exists, it's one thing to win a race but being the clear winner on fair terms helps win the public seal of approval and this still counts for something.