"Pantani, Debunking The Murder Myth" by Andrea Rossini, translated by Matt Rendell
The Giro finishes in Madonna di Campiglio today. While we're all interested in the climb to the finish this is the tale Marco Pantani's fall from grace which began here, taking him from a national icon to an isolated crack addict found dead in a hotel.
In the 1999 Giro d'Italia Pantani was leading the race with just one mountain stage remaining, a coronation for Italy's most popular sportsman, but a pre-stage haematocrit test scored 52%, his blood was too thick and he was ejected from the race. The rise and fall of Pantani is expertly told in The Death of Marco Pantani by Matt Rendell. "Pantani, Debunking The Murder Myth" isn't so much Pantani's freefall but the moment of his collision with the ground.
Pantani's death stunned Italy and he is far from forgotten. There are probably more Pantani monuments in Italy than Coppi ones. If his exploits on the bike are celebrated, his death is still a subject of intrigue. "Pantani was murdered" ran the front page headline of La Gazzetta Dello Sport last August but the quotation marks bracketing the words are as important as the name and verb, a quote rather than a statement. The newspaper gave front page prominence but the story was all over the Italian media, especially television:
"Ten years ago, he was found dead in a hotel room. It was said immediately, and repeated for ten very long years, that he died of an overdose. Today, however, another, compelling, truth is emerging, and perhaps we can say that he was murdered"
– Quarto Grado, Gianluigi Nuzzi, Rette Quattro
"The official theory about the death of Pantani is creaking more and more, as the hurricane of new evidence continues to blow in a totally different direction"
– Davide de Zan, Tiki Taka, Italia Uno
"All the dailies, all of them, are talking about a conspiracy. Even the investigating magistrates believe there was a conspiracy"
– Barbera D'Urso, Domenica Live, Canale 5
While the inquest was being opened again the media seemed to have made up their minds, happy to stir up an exciting story and bash Italy's creaking legal and judicial system. Aided by celebrity lawyer Antonio De Rensis sunbathing in the limelight, Pantani's family revived conspiracy theories concerning the death in the Hotel Le Rose in Rimini. La Gazzetta even printed cartoon capers of what could have happened.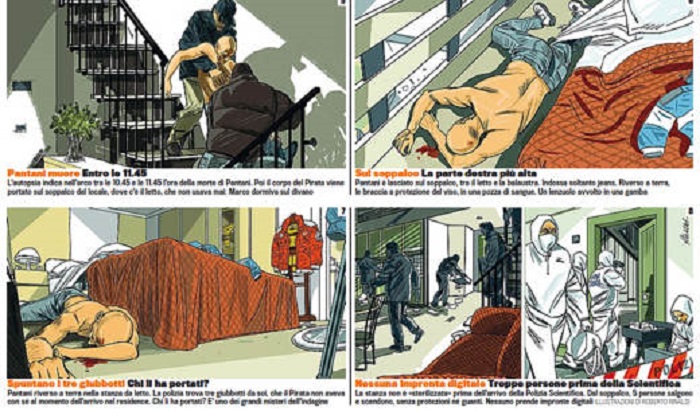 Nobody wants to believe in suicide or overdose, psychologically it's easier to imagine nefarious criminals rather than dwell on a champion reduced to addiction and isolation. Conspiracy beats logic. Take the fact that Pantani had barricaded himself in the hotel room. As Rendell writes in the introduction speculation got ahead of reason:
"the simple fact that the door was locked and barricaded from the inside, and the windows were shut from the inside and the blinds drawn, has been largely ignored. One well-known Italian sports writer even commented, "Locked from the inside? But that's the classic crime story scenario," thus transforming evidence against the murder theory into proof that it was true"
This book is a response designed to counter all the claims of murder and conspiracy. Andrea Rossini is a local law reporter and has covered the Pantani case since the moment news of his death arrived. The original title of "Delitto Pantani: ultimo chilometro (segreti e bugie)" translates as "The Pantani Crime: Last Kilometre (Secrets and Lies)" but the English title makes the book's mission clearer.
The book has an introduction by Matt Rendell to set the scene and then two parts: Part One is a meticulous reconstruction of the last eight months of Pantani's life, "every episode, every description, every snatch of dialogue derives directly from a witness statement or a scientific report" writes Rendell. Part Two is shorter and the "rebuttal" section, providing the explanations to many of the doubts that have been raised by the murder theorists.
The book suggests Pantani's final trajectory is inevitable, that he had a habit of barricading himself into rooms and consuming huge quantities of crack cocaine, amounts that would have killed others before but Pantani's oxen heart could just about tolerate. This is Pantani on 27 December 2003 in a hotel in Miramare:
The door was locked. The room was very hot. The room was in chaos. There were empty cans and a candle in a bottle. There was white powder everywhere…

…He was smoking [cocaine], sniffing it, burning it, reducing it to resin or oil and putting the drops in his nostrils. He was eating it. Another physique would have collapsed.
This was a scene that had apparently been repeated five times before, the binges were happening again and again and he'd almost died once before. His friends and family had tried to help again and again but Pantani's unwillingness to embrace rehab was leaving them frustrated, trying their patience and by the time Pantani was alone in Rimini is friends were fatigued and his parents were touring around Greece. On the last occasion in Rimini he had also taken prescription medicine which could have been the final excess.
Some of the claims behind Pantani's murder are bizarre. Take the "chinese food" hypothesis where there's a note of a "Chinese food container" found in the room. Since Pantani disliked Chinese food this was used to suggest someone else had been inside the room. Only the container is simply an aluminium box, described once in a throwaway line as "for Chinese food" but in reality the kind any type of takeaway food is delivered in and it turns out an omelette had been delivered to Pantani's room from a nearby restaurant before his death. This is just one example but the book dismantles many "Chinese whispers" that have spread across Italy.
The Verdict
This isn't a cycling book, there's no inside account of Pantani's racing career. It's a tale of drug abuse and addiction followed by post mortem medical analysis and crime scene reporting. At times it's uncomfortable as the delivery of facts is relentless and as much as the book tries to stress there was nobody else in Pantani's room it's as if you're locked in there with him.
Another book cashing in on Pantani? No, this is not a glossy tome found in bookshops, supermarkets and tobacconists across Italy, it was rejected by major publishers and Andrea Rossini did not get tour the TV studios in the name of marketing. As Rendell adds to the book "commercially, Andrea Rossini's book Pantani: Debunking the Murder Myth was a disaster: only if his death could be made out to be murder was there a story to sell".
It won't stop the moral confusion over Pantani the cyclist, the champion, the doper, the drug addict but it is a calm exposition of the excesses of coverage of Marco Pantani, rebutting the tall stories and setting some records straight. If you've read The Death of Marco Pantani this is a compelling epilogue.
A copy of this book was sent for review. You can find the English version as an e-book only for the Kindle device with online retailer Amazon for $6.25 or £4.79. The Italian version exists in paperback for €10.
More book reviews at inrng.com/books.