It's testimony to the Tour Down Under's improved status that we're no longer debating whether it's a bike race or a glorified training camp. It's a race and if you don't find it compelling, no worries, it's not compulsory to love the Tour Down Under any more that you should get excited by the GP de Montréal or the Tour of the Basque Country. But there's a problem with this new found status as a serious race: it's too early. The World Tour starts in January but vanishes in February.
"Everyone's so lean" was an observation the other day. In times past riders could show up overweight and out of shape and pedal around the sunshine and have more fun still once the sun had gone done. Yes some would contest the stage finish but others were more interested in the bar. Today's race is like any other event, teams show up with plans to win and score points.
Mind the gap
Too early? Yes because if a rider wants to hit peak form then they face waiting more than the biblical 40 days and nights until the next race on the World Tour. Peak now and you've got a one shot chance at winning rather than trying to go for a few more races. As risks and rewards go, the Tour Down Under is a Game Theory contest: do you bank on the others not yet being on form and therefore you can bag some "easy" points; or do you go easy now knowing that timing a peak of form later in the season will bring more chances to get results and score points? If you want the numbers it's 42 days between the TDU and Paris-Nice, double the second longest wait on the calendar of 21 days between the end of the Vuelta and Il Lombardia, although this is interspersed by the World Championships.
The premature slot is visible in other ways. It's as if the sport wakes up from hibernation only to fall asleep again a week later. Of course there are many other races, things are about to start in Europe and there's the Gulf state triptych in Dubai, Qatar and Oman too. But these aren't on the World Tour. Do other sports start their top leagues and then shut down for weeks? Imagine the NFL starting for a week only to stop and leaving college football to watch. Conceptually the World Tour needs to plug the gap and deliver a calendar with semi-regular fixtures.
Move the TDU?
Changing the TDU's spot on the calendar isn't easy. The UCI has made enquiries and tried to nudge the race into February but got a firm "no". Right now the race happens during the school holidays which helps with the traffic and transportation as well as allowing families to make a trip out to see the race. Race boss Mike Turtur has a settled formula and it works, giving South Australia a premium sports event. But it has to contend with the Australian Open tennis tournament which surely sucks a lot of the media's attention, you wonder if Turtur would prefer his race not to clash with the tennis?
If the TDU is fixed then and we have a World Tour opener in January then the sport needs to find find a filler for February. Of course there are existing races in February, just none on the World Tour. So if the UCI wanted to do something it could wave its magic wand and promote an event in February. Perhaps the Dubai Tour will go this way soon? Australia could have other races too, if the Cadel Evans race goes well could be promoted and perhaps the Herald Sun Tour too? It might sound too much but remember Australia is the sixth biggest supplier of professional cyclists to the World Tour, with 28 in the peloton this year.
Meanwhile in Argentina
Talking of timing the ongoing clash with the Tour de San Luis remains awkward. If you've made it to a dedicated cycling blog then you'll know the South Australian roads don't suit Nairo Quintana or Vincenzo Nibali so much; that riders like Peter Sagan and Michał Kwiatkowski are aiming to peak in April and the San Luis government pays mucho dinero appearance fees. In short San Luis is an expenses-paid training camp for some, occupying a role the TDU once provided. But for the newcomer it's confusing to see two races clash and a "World Tour" race start while many of the best riders are doing an inferior status race in Argentina. Whether the TDU moves or not, at least avoiding a clash between these two races is desirable as a face-saving exercise, so the TDU's sponsors don't wonder why they're backing a race on the UCI's premium calendar only to see so many stars elsewhere.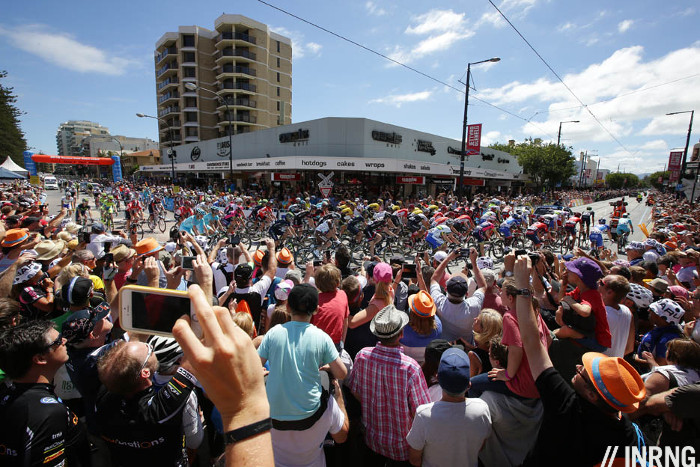 Summary
The TDU is now a proper season-opening race now but sits awkwardly on the calendar. It's a risk to peak for this race and as a marketing and sporting concept the World Tour look strange with this early event and then nothing for 40 days. If it was a simple as copy-pasting then the TDU could be dropped into February. But traffic, school holidays and the race's place on Australia's sporting calendar means that's almost impossible. Already promoted from .1 to .HC for this year, Dubai seems the obvious choice to join the World Tour. Purists might rail but it's just a status change to help the calendar look more coherent.