Rohan Dennis jumps clear on the climb to Paracombe to take the stage and the time bonus, putting him in the ochre jersey. It was a slender lead but enough to defend on Willunga Hill two days later.
The 2015 season has started with a tale of home advantage, an Aussie 1-2-3 on GC and local teams thriving.
Dennis's move shows the contradiction between cycling as a team sport and an individual one. He jumped clear and neither Richie Porte nor Tom Dumoulin could follow, perhaps they were cooked, certainly it meant riding in a headwind with Cadel Evans sitting on their wheel but this act saw the apprentice trump his master. However come Willunga and Dennis was the stronger of the two BMC riders, tracking Porte when nobody else could.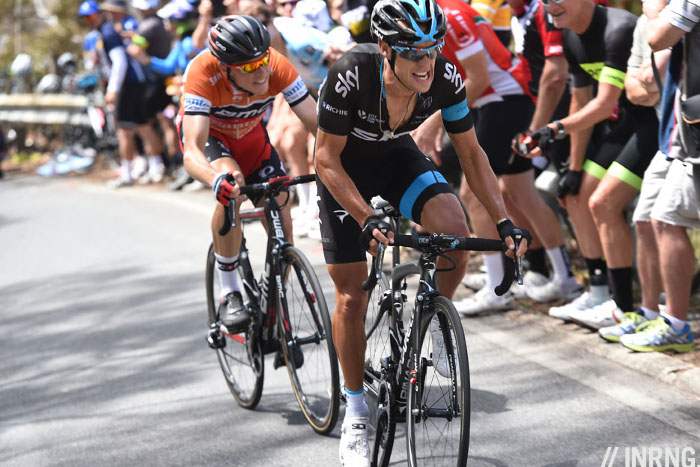 The Willunga stage was crucial and enlivened by Astana who drove the pace on the last lap and briefly split the front group in the crosswinds. A curiosity or tactically significant? It did leave Sky floundering for a moment and might have cost Richie Porte some energy even if he played it cool in the chase rather than trying to close the gap solo. As for Porte, it could be agonising to replay the race, he was so close and a variety of scenarios could have delivered the win: going with Dennis to Paracombe, attacking earlier on Willunga and so on. Subtract time bonuses Porte and covered the course quickest, four seconds ahead of Dennis. But that's anecdotal, Dennis won.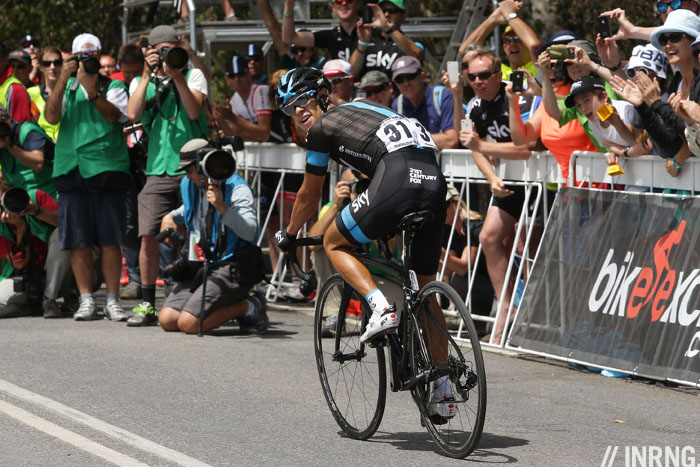 Local Heroes
UniSA – a combo team riding under the label of the University of South Australia – won two stages with Bobridge and Steele Von Hoff. Were they showing up the big teams? Superficially yes but don't forget the context, Bobridge is in top form as he's training for the Hour record after a summer while Steele Von Hoff is keen to get back into the World Tour and this is his shop window. So the combo of summer form and motivation/desperation means UniSA can pick some great riders. It looks bad for Cannondale-Garmin with their ex-riders thriving (Dennis, Bobridge, Von Hoff and George Bennett's top-10) but presumably the team has bigger fish to fry in the coming months.
We should note Wouter Wippert's stage win too, a Dutchman but for the Drapac team. Drapac are progressing and finally get the stage win they've been chasing. Another triumph was the number of Australian cyclists out in attendance, the crowds are big with fans travelling long distances to see the race. You don't tend to see this in France or Italy as there's always a local race meaning no long journey's necessary but it means many a European race is watched on TV rather than experienced by roadside congregation. An Australian clean sweep? Orica-Greenedge were left only with Daryl Impey's points jersey but that's bad luck on a course where Simon Gerrans could have thrived.

We also got some of the first on-bike camera footage that matters. So far the content's been viewable for its novelty rather than anything actually happening, sure we get a different angle for a sprint finish but even that's been undermined by the GoPro fisheye lense which widened the gaps between riders. But Jérémy Roy's freelance footage for Youtube captured a dramatic incident. He's been toying with editing software and during the week and his daily output was fun but all changed when he got the finish line images of a massive stack. It makes you wonder if on-bike video is really the "crash cam" because other footage of, say, a solo win or riding in the bunch doesn't tell us much.
So Long Cadel
It's a credit to the Tour Down Under that the peloton couldn't engineer a win for Cadel Evans because this wasn't a testimonial criterium, no rigged result. Perhaps it's not the fairytale ending but fighting to finish third while passing the baton to a young compatriot and teammate is still a saccharine script straight out of Hollywood.
Extrapolate
Like all forward projections, you can better predict what will happen in a few days than a few weeks, yet alone months. Jack Bobridge is going to break the Hour record on Saturday. I can see Rohan Dennis doing it again too, he's got a bigger engine but the Grenchen track in Switzerland might make it harder.
Looking ahead it's too early to tell for Richie Porte and his Giro ambitions, he's in an identical position to last year with second place, it's a question of so far, so good. J-J Lobato's got his eye on Milan-Sanremo and he can scale small climbs to outsprint the best while Tom Dumoulin can surely win a stage race this season; had the TDU included a time trial stage it would have been good to see him against Dennis. As for Rohan Dennis his story is a much longer term prospect but in 2015 can hope to challenge in other stage races, after this week the next test comes in races like the Tour of California, the Dauphiné and the Tour de Suisse, the summer stage races with high mountains.
Quiet points
Rohan Dennis won the best young rider prize
Jack Haig backed up his ride last year with some solid riding
Movistar's Ruben Fernandez was climbing well and is a glimmer of hope for Spanish cycling
Moreno Moser was 8th on Willunga suggesting he'll be back for 2015
Lampre-Merida's Niccolo Bonifazio is one to watch. Sometimes badly positioned he was sprinting well
Meanwhile in Argentina
You might have heard the solipsism "if a tree falls in a forest and no one is around to hear it, does it make a sound" and again we're left asking what happened in San Luis. The win of unheralded riders and the basic video content makes for few followers.
The Verdict
Exciting racing and a worthy winner enlivened by entrepreneurial locals and invitees like UniSA. No longer is the race a sprint-fest where André Greipel wins overall, now the route is punchier than a randy kangaroo. This allows a wider cast of characters and as it's the start of the season, we see new kits and shiny bikes. Purists who say "the season doesn't start until Het Nieuwsblad" are missing good racing, with echelons and attacks, especially as it's easy to watch with the action concentrated late in each stage. Sure it's not the most significant race but even races like the Dauphiné and Tour de Suisse often get viewed through the prism of the Tour de France rather than celebrated in their own right.
1 Rohan Dennis (Aus) BMC Racing Team 19:15:18
2 Richie Porte (Aus) Team Sky 0:00:02
3 Cadel Evans (Aus) BMC Racing Team 0:00:20
4 Tom Dumoulin (Ned) Team Giant-Alpecin 0:00:22
5 Rubén Fernandez (Spa) Movistar Team 0:00:24
6 Domenico Pozzovivo (Ita) AG2R La Mondiale 0:00:31
7 Daryl Impey (RSA) Orica GreenEdge 0:00:35
8 Gorka Izagirre Insausti (Spa) Movistar Team 0:00:52
9 Jarlinson Pantano (Col) IAM Cycling 0:00:53
10 George Bennett (NZl) Team LottoNL-Jumbo 0:00:57
Points: Daryl Impey (Orica-Greenedge)
Mountains: Jack Bobridge (UniSA)
Young Rider: Rohan Dennis (BMC Racing)
Team: Movistar