Giant-Alpecin launched the team for 2015 today. We know the sponsors, we know the riders, so what's new? Well the location was telling, they used the French embassy in Berlin. While most teams book a hotel or a theatre this one went for the grandiose symbolism of diplomacy and Franco-German unity. This is about much more than bikes and shampoo.
Ten Year Journey
The team's come a long way. You might remember the Skil-Shimano team which became Argos-Shimano but it was Shimano-Memory Corp to start with. The Skil format was a Pro Continental team on a tight budget, they tried hard to get a spot in the Tour de France, recruiting French riders and starting many a small race in France to establish their francophile credentials. It paid off in the sense they were invited for the 2009 Tour and it wasn't until 2013 that they became a World Tour squad. Regardless of their UCI label now they seem essential to any race. Marcel Kittel is the king of the sprints but the roster is full of exciting riders.
It's not been perfect, the team almost vanished when the squad ditched Dutch oil firm Argos for a US suitor who turned out to have empty pockets. Bike sponsor Giant had to step in to save the team. But otherwise it all seems a rather sustainable path and likeable too, they seem fun and healthy. Nobody worries about dodgy doctors here. Now things seem to be getting better still. After landing Alpecin last summer in recent days the team has announced a slew of subsidiary sponsors: Sunweb, Oakley, Pioneer and more. If you wanted a case study in how to build a team from small beginnings look no further than Iwan Spekenbrink's journey to build this squad.
German multinational
"We're multinational" said the squad today but they're making a clear play on the German connection. The team will race under a German flag for 2015, it's an elective decision under the UCI rules – teams are free to chose a nation – and makes impeccable commercial sense given Germany is Europe's largest consumer market. Naturally a team will attract greater coverage in Germany if it's German. But there's authenticity behind the German label with Marcel Kittel and John Degenkolb as captains and Germany's Alpecin as a co-sponsor. Still the team's DNA remains Dutch with senior managers and nine riders, ahead of five German riders.
There's also Bora-Argon 18. Nine months ago Ralph Denk might have been thoughtfully plotting a route for his team to become Germany's only pro team and attract all the accompanying headlines but the plans have been overtaken by Giant-Alpecin's germanic adoption. Still there is room for two teams and if they're rivals we can celebrate two teams. A wildcard invitation for the Tour looks likely.
80 million people
Germany is the big market to crack. As covered here and elsewhere before cycling is a popular sport in Germany but TV coverage has vanished. The German public bought into the T-Mobile team only to discover many of their results were a monumental fraud and TV broadcasters took an editorial decision to pull live coverage of the race. This wasn't Germany exceptionalism; even in France the establishment newspaper Le Monde also stopped reporting on the Tour de France for a while, reasoning that the race was no longer a sporting event but a pharmaceutical contest.
The return to normality stops the media blackhole for sponsorships, because until now funding a pro team meant reaching major European markets from France to Poland, Denmark to Switzerland only to exclude Germany, Europe's largest and most wealthy nation.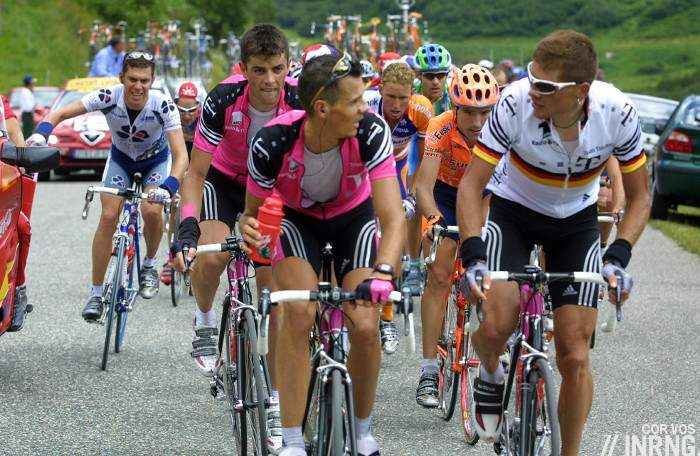 New TV deal
German broadcaster ARD will show the Tour de France next summer. The Tour has been available on Eurosport and the channel, unlike almost everywhere else in Europe, is free-to-air to strictly speaking cycling has been visible but the difference is one of audience, Eurosport remains a niche broadcaster rather than a mainstream channel with giant audiences.
The reported €5 million for rights paid by ARD seems light, one third of the sum paid at the height of the Ullrich-mania. But what if live TV coverage in Germany on a prime channel like ARD is almost worth giving away for ASO? It can build an audience and there are immediate gains, it can now sell jersey space and other publicity like hoardings and banners knowing that they'll be seen by millions in Germany. These are cautious steps, the live coverage only extends to 90 minutes a day and it's for the Tour de France only. ASO's other races like the Dauphiné, Paris-Roubaix, Liège-Bastogne-Liège and Paris-Nice remain on Eurosport only. Plus ARD has an option to pull out in the event of more doping scandals.
Conclusion
A team launch with a difference, Giant-Alpecin are an international team waving the German flag and on the same day we've had confirmation that the live daily coverage of the Tour de France will return to ARD in July. All good news.
It's the start of a return to normality rather than the resolution of a long-standing problem, it'll take more than Kittel's caffeinated quiff to resolve. TV coverage on a mainstream channel is great but only the beginning as cycling audiences take time to build. There are immediate benefits, today is great for German cycling but good for the sport as a whole as existing teams and the Tour de France can reach a wider audience this year.