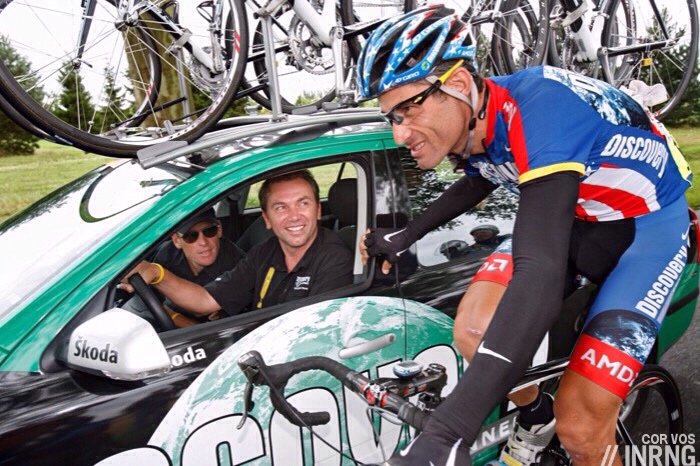 There's a fuss about George Hincapie's gran fondo because it's resembling a US Postal reunion. Lee Rodgers sets out the moral case on crankpunk.com. But whether your sympathetic to Hincapie or Armstrong or not doesn't matter. The UCI rules are clear:

Note those rules apply to any event, theoretically even a BBQ run by a club that belongs to a UCI member federation is out of bounds. You'd think Armstrong had his legal entourage would know this or maybe he just wants to provoke USA Cycling into acting?
From can't to won't? It's still hard to understand Chris Froome's response to the Tour de Framce route yesterday. Let's take Nacer Bouhanni who won't ride the Giro next year. But this year's Giro has made him a millionaire and he dutifully showed up for the 2015 presentation in Milan a few weeks ago. Cofidis won't ride, the French team are Pro Conti and if all goes we'll plan to do the Tour and Vuelta. But even the straight-talking Bouhanni was making the right noises in Milan, saying he'd like to ride and praising the race. By contrast Froome's statement is out before anyone's digested the Tour route, he's in effect saying "Nevermimd the ceremonial presentation, I've seen the predictions and maybe I'll be washing my hair in July." Froome is riding the Saitama criterium this weekend. That shredding sound you can hear might be his appearance fee being torn up.
Brändle to attack hour record
Now for a more certain bid. As predicted the Hour Record is now open to all comers. Jens Voigt set a good standard with the palindromic 51.115km and now IAM Cycling's Austrian rider Matthias Brändle is set to have a go. The whispers say 52km is possible. But he's going to do it on the track in Aigle, Switzerland, also known as the UCI HQ. Why the "but"? Because it's a 200 metre track. This is short and makes it harder work thanks to more laps – 260 -and more "G-force". Aigle is not The Wall of Death but his 75kg means a lot of force on each of the 512 or more steep bends. We saw Voigt having to get out of the saddle at times to ease the strain. It's also a cardio-vascular thing because the blood is spun outwards in the bends, impeding circulation. Still the whispers say 52km is on the cards, a good idea before Bradley Wiggins puts it on the shelf for some time. It'll be done at the end of the month and you can watch on the UCI's YouTube channel.
Marginal Portfolio Theory
If Brändle wasn't your first pick for the next hour record attempt, which Team Sky and British Cycling staff member would you make as the ideal advisor for some of London's hedge funds? Well it turns out Shane Sutton is now advising two giant asset managers on managerial techniques and performance coaching of the financial kind says the Financial Times. If you can't read the article, paste the URL into Google's search bar and hit search and then click on the first answer.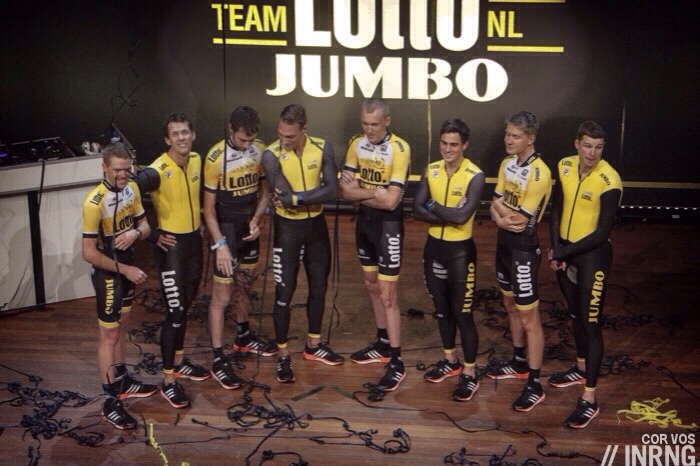 2015 will see Belkin become Team Lotto NL Jumbo. It's great to see but the name is a mouthful and just as Omega Pharma-Quick Step became OPQS the Dutch team could see its name abbreviated. Meanwhile OPQS will become Etixx-Quick Step next year and Belgian rivals Lotto-Belisol become Lotto-Soudal.

At yesterday's Tour de France presentation cyclingnews.com asked Brian Cookson about Roman Kreuziger's biopassport case:
"The matter is in the hands of lawyers and we'll take legal advice on that. I fully expect that we'll be appealing the case and within the time limits."
WADA is teaming up with the UCI and is will ensure adequate funding.
The Kreuziger case will rumble on over the coming weeks and months, much like Astana's license hearing. The case is turning into a national mission with the Kazakh sporting authorities pledging to put all pros on the athlete bio passport scheme. In L'Equipe today Vincenzo Nibali says the Kazakh sponsors are angry with the Iglinskiy brothers, especially as they're Kazakhs. All this suggests considerable resources are going towards backing the pro team rather than abandoning it.
Sagan in green
The last word goes to a reader who's looked at the new points scale for the Tour de France and retrospectively applied them to last July's results. Sagan still wins by a long way.