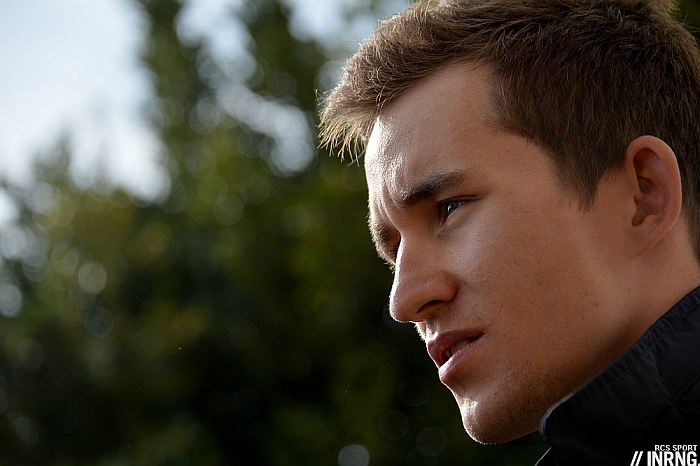 Who is Michał Kwiatkowski? Ask Google and the answer might confuse. There's a Canadian ice hockey player and for many in France "Michal" is a singer who featured in Star Academy, a popular TV series.

In Poland there's Dawid Kwiatkowksi, who sort of looks like a Slavic Justin Bieber. There are several Kwiatkowskis in cycling. Grzegorz has ridden elite races in France while Łukasz rode on the track. But they're no relation.
Michał Kwiatkowski was born in the village of Działyn in Central Poland on 2 June 1990. Rural boredom seem to be a reason he started riding, as he told Velonews:
"There was nothing to do at all. My brother was riding his bike, so I started to follow him. From the first days on the bike, I started to feel great… …My parents were farmers, but now my father works in a factory."
His elder brother Radosław was good in the elite ranks and Michał wanted to copy him, whether the wins or the cool looking kit that Radek brought home. He started riding with TKK Pacific Toruń, a team based in Toruń, a large town about 30km away from home and famous as the birthplace of astronomer Copernicus.
Those pictures and more are from Facebook's OfficialMichalKwiatkowski. Boredom and new clothes quickly gave way to success. Coached by Wiesław Miedziankiewicz he won an international stage for 16 year olds, the "Po Ziemii Kluczborskiej" and collected several junior titles on the road and track.
Kwiatkowski was soon the best junior around. That's not hype. He won the UCI's rankings in 2007 all while a 17 year old with another year to go in the junior ranks. He won the junior Peace Race in the Czech Republic ahead of Matthias Brändle, now with IAM, with Peter Sagan and other names lurking in the results. There was gold and silver in the European Cycling Championships in the road race and time trial respectively.
He didn't top the rankings in 2008 but that's because the UCI changed the format to abolish individual rankings in favour of nations. No matter, he won the time trial world championship title in South Africa in 2008 – Taylor Phinney was third – and his efforts all year helped Poland win the junior rankings. But the junior results are often misleading because if Kwiatkowski was good there plenty of others who shined but have since vanished and are probably sitting in an office, factory or bike shop while you read this. I've looked before at the correlation between junior triumph and professional-level success and it's not big. But it's notable that Kwiatkowski was competitive from the early years, much like Peter Sagan who was winning international stage races as a 16 year old, technically too young for the junior ranks.

Pro with Caja Rural: he turned pro with the modest Caja Rural team in 2010 (a deal that saw his brother Radosław join too, a bit like Juraj Sagan following Peter's slipstream). But if the team was small he was still 19 years old and it was a leap into the deep end of a big talent pool. It might seem an odd move for a Pole to sign with a Spanish team but he was under the wing of rider agent Giuseppe Acquadro. The Italian has a stable of Spanish and Colombian riders including Nairo Quintana and Rigoberto Urán. Acquadro was able to link Kwiatkowski to a Spanish programme and it was all part of a three year plan where he'd ride with the smaller team before joining the Caisse d'Epargne team (now Movistar) as he told website s24.pl:
"I had the opportunity to sign a contract with the ProTour team right away but together we decided that it would be better if the first season was spent at Caja Rural. There is a little less racing and the races are easier, so at the beginning it's a good step to go to the next level"
Radioshack: but he spent as much time in the Caja Rural green jersey as he did in the Polish national kit where he rode the Tour de l'Avenir when he was third on the first stage and by which point the plan had gone out of the window as he signed a contract with Radioshack. 2011 saw him adopt a new red and white jersey, that of Radioshack. A series of good results in Belgium appeared notably third overall in the Three Days of West Flanders and again in the Three Days of De Panne.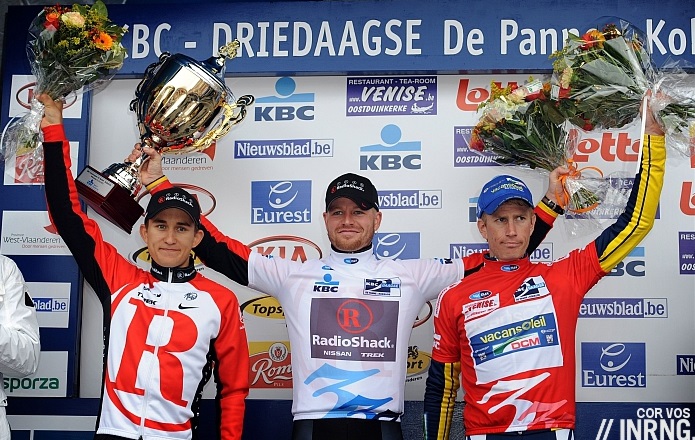 Secret Pact: This caught the attention of Quick Step team boss Pat Lefevere. For years Lefevere had a secret pact with Johan Bruyneel and Dirk Demol over at Discovery/Radioshack not to recruit riders from each other. It kept down wages and stopped feuding between two teams with strong connections to West Flanders. But Lefevere thought the Pole was just too good, he broke the deal and signed Kwiatkowski.
OPQS start: 2012 was a relatively quiet year at OPQS. He won the time trial at the Three Days of West Flanders and was eighth overall in the Eneco Tour and rode the Giro. All good in hindsight but at the time it wasn't wowing the crowds nor getting headlines. This all changed for 2013 when he was fourth on the Queen Stage of Tirreno-Adriatico to Prato di Tivo in the lofty company of Chris Froome, Vincenzo Nibali and Alberto Contador in the gruppo di testa. He made a long break in the Tour of Flanders and then finished fourth in the Amstel Gold Race and fifth in the Flèche Wallonne.
The Dauphiné went well and then came the Tour where he wore the white jersey and ended up 11th overall, all while helping Mark Cavendish albeit not every day as he finished five times in the top-5 for himself on different days. He ended the year as a known quantity and a medal at the team time trial event at the worlds.

2014's gone up a level. He won the Strade Bianche, dispatching Peter Sagan in on the climb into Siena. He's stood on the podium in every stage race he's ridden this year, whether in the final results or along the way. He was third in the Flèche Wallonne and in Liège after finishing fifth in the Amstel and now has the rainbow jersey for a year. But merely listing results is not the point, note he can make the podium in Liège on a Sunday and on the following Tuesday he wins a prologue time trial, all when aged 23.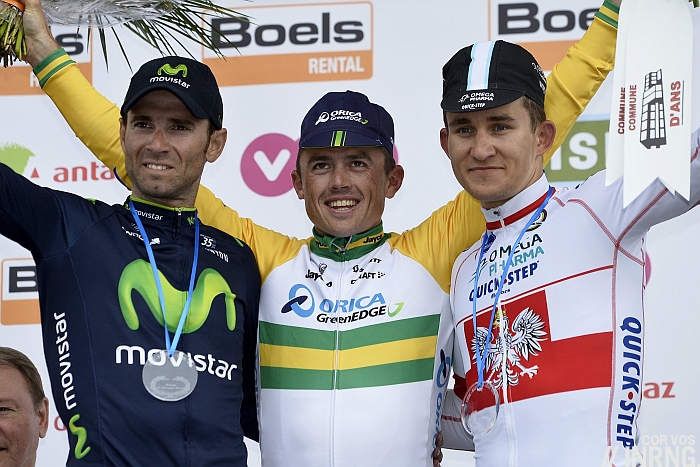 What Next?
This piece originally went online in late April and Kwiatkowski was all set for the Tour de Romandie, a break and then the Dauphiné and Tour de France. It seemed as if everything was set for him to continue his progress. Romandie started perfectly as he won the prologue but he abandoned the race later. After a break he resumed racing at the Dauphiné but was off the pace in the prologue and dropped early on the Col du Béal when Chris Froome and Alberto Contador had their first summer showdown.
The Tour wasn't any better, it was his "the biggest goal of the season" but probably the biggest disappointment and he spent much of summer burned out… only recovering in time for the Tour of Britain and the rest is history.
Rider Type?
The uncertainty is real because he's a hard rider to categorise. 1m76 and 68kg, he's physically versatile. He beat Tony Martin in the Romandie prologue and back in Algarve too. But he can sprint fast from a group and seems at ease in the classics, whether the Strade Bianche and Tour of Flanders or the Ardennes, a win in the Flèche Wallonne seems a matter of time. Perhaps the only limiting factor in the classics is his team, OPQS have others hungry to win the cobbled classics and he'll have to give way. If anything he's throwback to the past, an all-rounder in an age of specialists. He might not win in the high mountains nor take a long time trial nor win bunch sprints but he'll come close and once the terrain is selective he gets hard to beat, more so since he's a risk taker and a good bike handler. Worryingly for his rivals he's just 24. One thing we know is that he'll stay at OPQS, the Belgian team had already renewed Kwiatkowski's contract in the spring.
Paying It Back
What to do with the money? He's concious of the help he got and now helping his old club in Toruń. Sponsor Pacific is a cereal company that's been bought by Swiss giant Nestlé and the firm is now a sponsor of the team. He's also the force and some of the funding behind the Akademia Kolarska Copernicus, a cycling academy. OPQS team mate Michał Gołaś and fellow Toruń resident is also on hand to help.
Spelling
Now time for school. The last character in Michał isn't an "l" like the last character of, say, Michael. Instead it has a Polish character "ł". A lot of the media miss this out despite being happy to use other foreign characters, for example sprinters André Greipel and Arnaud Démare have the acute "é". Also kwiat is Polish for flower which explains headlines like "Flower Power" or "Kwiatkowski Blooms" and maybe "Kwiatkowski Wilts Under Pressure" et cetera.
Pronunciation
Two things to note. The "ł" in Michał is pronounced differently and as for the surname it doesn't rhyme with Bukowski because a "w" in Polish is pronounced as a "v". Listen for yourself:

Conclusion
Michał Kwiatkowski is making a name for himself whether in the pro peloton or Google's rankings although many struggle to say his name. Dominant in the juniors, quick into the pro ranks and now competent on every terrain, he's a hard rider to label. A classics winner who could win or five monuments in the coming years or a grand tour contender? Maybe both but that's for him to spell out.