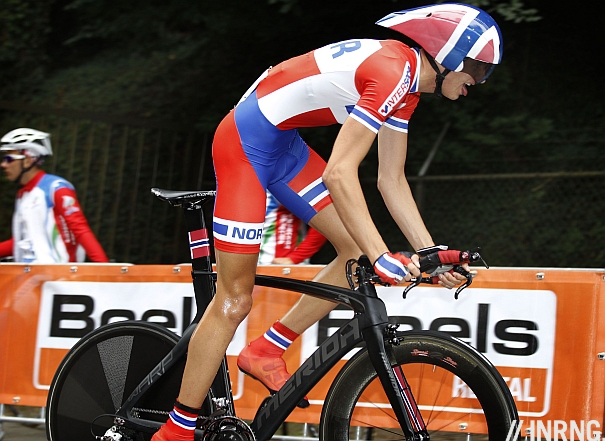 Norway's Oskar Svendsen is the new junior time trial world champion. Who knows what the future holds for him now but it seems he could well become a force to be reckoned with in the senior ranks in the years to come.
Why? Because it turns out the time trial is a good measure of talent. This might seem obvious yet the road race is a very different story where past winners have flourished, proved mediocre or vanished into cycling obscurity despite the glory of a rainbow jersey.
Here's a look at the correlation between junior performance and adult success in the time trial and road race. Plus what this means for today's gold medallist Oskar Svendsen, who isn't just the world time trial champion, apparently he has the world record for the highest VO2 Max ever recorded.
Definition
A junior is any rider aged 17 and 18.
History Repeating
Since the junior category was introduced for the world road cycling championships, only one junior road race world champion has ever gone on to win the rainbow jersey in the senior ranks: Greg LeMond won the junior title in 1979 and then the senior race twice in 1983 and 1989. Damiano Cunego came close with a senior silver medal in 2008 after his 1999 junior win.
Let's scan the recent results. I've picked 1998 as an arbitrary cut-off because the contrasting of careers of Scanlon and Pozzato make a good start.
Looking through the most recent list of junior winners some names stand out. Damiano Cunego seems to have blossomed early, being a young world champion and winning the 2004 Giro but without the consistency of wins his early talent would suggest. Roman Kreuziger is similar, he dominated his rivals in the junior ranks but having turned pro he's had some consistent high finishes in the Giro and Tour and wins in week-long stage races but he's not become the leader that many predicted although he's a good store of UCI points. A similar story for Diego Ulissi who was hailed as the next Paolo Bettini but so far the only similarity is the town they come from, Cecina.
Ireland's Mark Scanlon surprised with his win in 1998 but quit the sport frustrated. Others like Arnaud Gérard make a good living, the Frenchman is today a useful part of FDJ's sprint train for Arnaud Démare… the 2009 silver medallist who took gold the U23 worlds last year. Russia's Rovny has bounced around several pro teams and is currently with RusVelo but has won nothing, the same for Oleksandr Kvachuk, now with Lampre-ISD but a virgin palmarès. Spare a thought for Kai Reus, the Dutchman was a promising rider with Rabobank and was training in the Alps one day in 2007 when he crashed on the descent of the giant Col de l'Iseran and went into a coma for ten days. He returned to racing but had to stop after getting mononucleosis and is now with United Healthcare.
But road racing is a random business. The junior race is short and intense and lacks tactical sophistication meaning riders can get lucky on the day. Of course nobody is there by chance, each country is selecting a competitive team and the race is probably the fiercest contest on the junior calendar. But it is still open.
Instead we can look at the time trial results from the same year. The time trial strips out much of the tactics needed for the road race and offers a purer test of ability.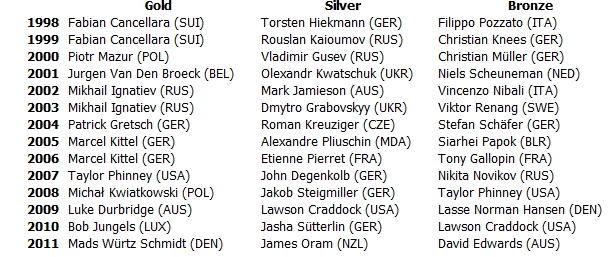 Indeed the results seem to bear this out. Scan the list and every name should be familiar to you with the exception of Piotr Mazur. The Pole is a pro with CCC Polsat Polkowice and had two years with Saunier-Duval but isn't known for much else. By contrast Cancellara's double win stands out; he is a winner in the junior and senior ranks. Russia's Mikhail Ignatiev has also won twice and if he's not such an illustrious winner he is still a tough rider known for frequent attacks. We also have another double winner with Marcel Kittel who was a time trial specialist for a long time before he emerged as a sprinter once he turned pro… which suggests he could become a classics contender in the future too. And the more recent champions like Phinney, Kwiatkowski and Durbridge are impressive neo-pros whilst Bob Jungels has been an insatiable winner in the U23 ranks this year and will turn pro for 2013.
Today's time trial was won by Norway's Oskar Svendsen. Is he a name to remember? Yes, you would do well to reserve a few neurons for his name because he seems to be a real prospect. His background is as a mountain biker and he first hit the radar when he scored the highest recorded VO2 max ever seen in a human: 97.5ml/kg/min. This is huge, especially because it was set on a bike whilst cross-country skiers often score higher since they use their arms too, meaning even more effort. As the Norweigan story says they had to double-check the lab equipment but apparently all was well.
But as impressive as this high score is, it does not guarantee success in cycling where a wider range of factors determine the winner of a race although a high score is often well-correlated with power output. Svendsen can already look to a promising career in an event like the track pursuit but as today's test showed, he can also hold a high pace for a longer distance suggesting he can enjoy a strong career.
Summary
Only Greg Lemond has done the double in the junior and senior road race. As a pure effort test rather than a more random outcome, the junior time trial appears to be a much better predictor of success. Many junior world champions from the time trial go on to great things. But of course there are many who don't succeed at junior level who later come good too.
We'll have to see with Svendsen. Who knows, maybe he'll get bored or suffer injury? But for now he can enjoy his gold medal knowing it is a worthy achievement but confident that he's already got a CV to open doors with any pro team.