An 11 man group with three riders from Omega Pharma-Quick Step forms with 9km to go. Niki Terpstra attacks with 6.5km to go, nobody follows and he quickly builds a lead. This was the moment the race was won.

The day started with a tribute to former pro Arnaud Coyot, a local who died in a car crash over the winter and Pierre-Henri Menthéour, a former pro, Tour stage winner and Eurosport cameraman who died yesterday. A sombre moment but then a lively start with 48km covered in the first hour and a group of eight men going away. The move didn't have any star names or top teams, a surprise given how it much it helps to send a man up the road in this race. But the second hour was very different with the breakaway taking 10 minutes in almost as many minutes.

The bunch sped towards its cobbled rendez-vous and it didn't take time for the sectors to resemble bowling alleys with the riders being scattered like pins. Others were puncturing regularly, Arnaud Démare had at least three. Alexander Kristoff fared even worse, puncturing twice, crashing and being taken to hospital. The lead break had its share of damage, it was never going to stay away but fragmented early. Many were broken by the Arenberg Forest and at one point it was reported that Bradley Wiggins was dropped. You thought he'd last longer than that…

Thor Hushovd (BMC) was one of the first to start probing the race and FDJ's Mathieu Ladagnous tried too. But it was at 65km to go that Tom Boonen took off. Soon Damien Gaudin (Ag2r), Clément Koretzky (Bretagne-Séché) Geraint Thomas (Sky), Bram Tanking (Belkin), Bart De Backer (Giant-Shimano) and Yannick Martinez (Europcar) joined him. Or rather they sat on his wheel. Boonen did get some help but for every pull from someone else the Belgian was gesticulating to the others and shouting at them to ride. Should they collaborate? There was a long way to to and with nobody from BMC or Belkin the move would be chased. And that's what happened with BMC and Belkin leading the pursuit.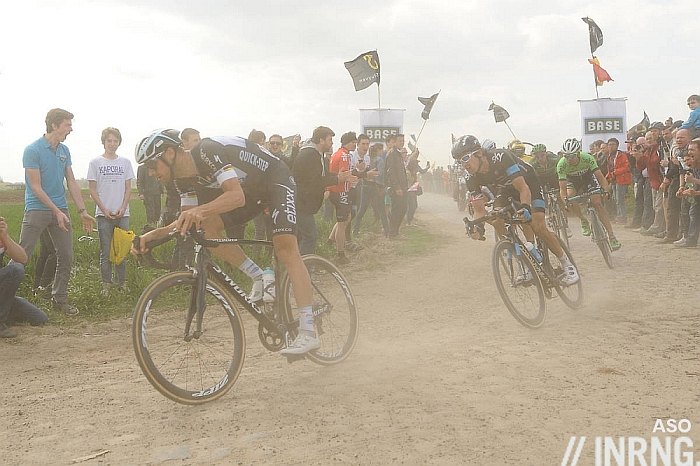 Boonen got fed up and repeatedly tried to go away. But it wasn't from a position of strength, he wasn't incisive enough to just solo away like he'd done in 2012. But in a race marked by the old mines it rides over, Boonen was a Stakhanovite complete with rippling biceps. His digs condemned Ladagnous, Gaudin and Koretzky from the lead group but crucially the bunch behind was being forced to chase and it was shedding riders too including important helpers like Manuel Quinziato (BMC) and Gregory Rast (Trek) gone. Boonen's moves looked wild at the time but apply hindsight and his aggression was weakening the field.
With the lead group thinned and holding a slender lead Hushovd barged across to make a lead group of six: Boonen, Martinez, De Backer, Thomas, Tanking and Hushovd. Again Boonen was trying more moves and making a show on TV but it forcing everyone behind to chase and ensuring OPQS could sit tight. Try as he might the lead group of six riders stayed together and hovered off the front of the bunch, 50 seconds at the 40km point.
For all Boonen's theatrics the action got more intense when Sep Vanmarcke attacked on the small Pont-Thibaut pavé sector. Cancellara followed, marked by Belkin's Lars Boom. Soon after Peter Sagan jumped out of the bunch, marked by Belkin's Wynants. By now all the big names were in the mix but it was easier to see who was working than to know who was sat tight. With 25km to go it was all together again, a sizeable bunch had formed and it was packed with big names, even Cancellara had restricted himself to one chase effort after Vanmarcke.
With 21km the bunch went through a village called Le Bureau and Peter Sagan went to work. He couldn't stay away by solo, could he? No and with such a large bunch behind presumably the thought never crossed his mind. But it was a good way to ensure he was at the front over the coming cobbled sectors. Behind the ever-aggressive Vanmarcke attacked with Cancellara following direct and then Zdeněk Štybar (OPQS) and John Degenkolb (Giant-Shimano) too got across and they linked up with Sagan to form a five man lead group after the Carrefour de l'Arbre. But behind the surprises were only beginning. That big bunch? Gone, smashed. Out of the dust came Wiggins who got together with Terpstra and Boonen to form a chase group with Thomas, De Backer and Sebastian Langeveld (Garmin-Sharp).
The lead five was a tactical headache. Sagan and Degenkolb meant two fast sprinters who'd look to sit on. Štybar had two team mates behind. Which left Vanmarcke and Cancellara to work or attack. Vanmarcke had a go but got nowhere and as the lead five looked at each other the chasing six rode across with 9km to go to make 11 riders in the lead including three from OPQS. Bradley Wiggins attacked but his move was closed down.
As the group watched each other Terpsta went. What was more astonishing is that nobody went with him. In a lead group of 11 with three from the same team the moment the dominant squad goes everyone has to jump with them, otherwise it's too late. But easy to say now, hard to do after 250km. So it was that Terpstra took five, 10 and then 15 seconds as behind Cancellara eased up, Sagan reached for a gel and Wiggins took a drink. Game over.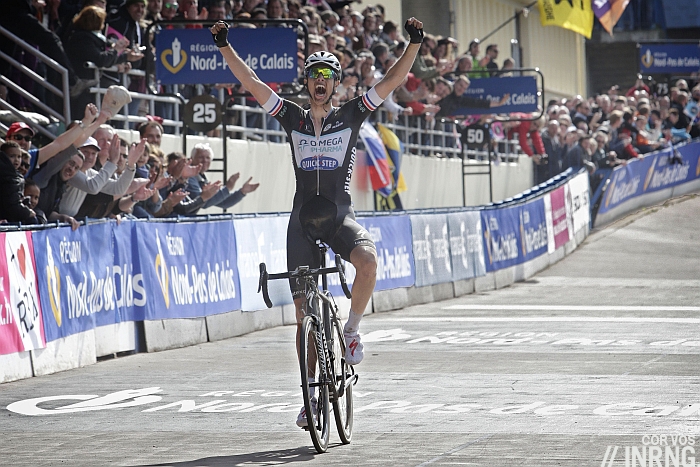 The Verdict
A great race in terms of suspense and unpredictability although the feverish tension receded in the final 10km because once Terpstra got a gap he was heading for victory. For TV viewers Tepstra crept up on the race, he wasn't in front of the cameras but blame the producers because he made the top-10 over the Carrefour de l'Arbre cobbles when many others were blown away. Sure this wasn't the comic book hero victory where a lead group is forged in a cloud of dust and then the winner picks off his opponents one by one. And yes, the law of large numbers applied with OPQS, they had the firepower up front and used it correctly. But it was a deserved win.
Terpstra clearly meant business today, donning a skinsuit for the 256km race. Often Tom Boonen's lieutenant, the rangy Dutchman isn't a fast sprinter but excels in clipping off solo in the finish of a race. Riding for Milram he beat the entire Rabobank team to with the Dutch national title this way in 2010… and did it again in 2012. Again he won the Dwars door Vlaanderen in March knowing once up the road others would not chase because OPQS had numbers up front. Déjà vu.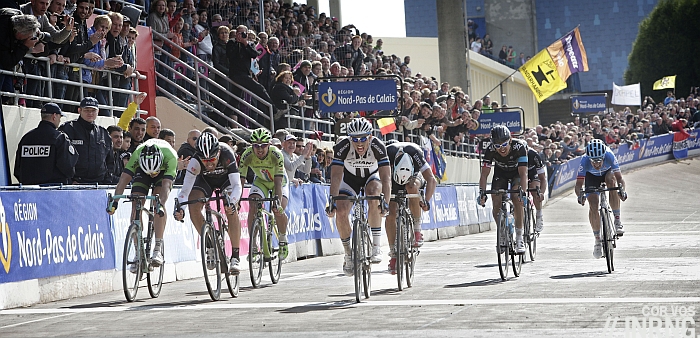 Degenkolb won the sprint for second place and punched the air. He didn't think he'd won, later telling TV it was just spontaneous pride at coming second in the race which was a big target for the year. If we wonder how Giant-Shimano manage their sprinters, here's the answer with Degenkolb able to focus on the classics while Kittel gets the support in the Tour de France. Third place went to Cancellara, who finishes for the 12th time in a row on the podium of a Monument. A disappointment by his standards but a big result all the same especially as he had to out-sprint Sagan, Boonen and others.
That's All Folks
The classics continue but that's it for the cobbles this year… until the Tour de France. OPQS saved their spring campaign today. It'd been a nervous time for Patrick Lefevere who again faced another season without a major classics prize and to make it worse, this year he's been fretting about riders being tempted by offers from Fernando Alonso's new squad. Bad enough for the long term but the immediate worry they'd ride for themselves instead of the team. Sep Vanmarcke's still 25 so his future looks bright although he really does need a win to match his abilities. Among the big budget teams Katusha thrived with Kristoff until he went to hospital today. Sky and BMC tried hard again but haven't got much to show; at opposite ends BMC's Sylvain Dillier, a neo-pro was quietly impressive during the classics and at the other end Bradley Wiggins was astonishing today. Much will be made of Wiggins as a Tour winner being competitive in Roubaix and rightly so because these things haven't happened for 20 years. But arguably it's his Tour win that was the exception, for years he was a heavier track specialist and he now enjoys the freedom to do as he pleases on a team. We won't see other stage race specialists copying.
1 Niki Terpstra (Ned) Omega Pharma-Quick-Step 6:09:01
2 John Degenkolb (Ger) Team Giant-Shimano 0:00:20
3 Fabian Cancellara (Swi) Trek Factory Racing
4 Sep Vanmarcke (Bel) Belkin-Pro Cycling
5 Zdeněk Štybar (Cze) Omega Pharma-Quick-Step
6 Peter Sagan (Svk) Cannondale
7 Geraint Thomas (GBr) Team Sky
8 Sebastian Langeveld (Ned) Garmin Sharp
9 Bradley Wiggins (GBr) Team Sky
10 Tom Boonen (Bel) Omega Pharma-Quick-Step