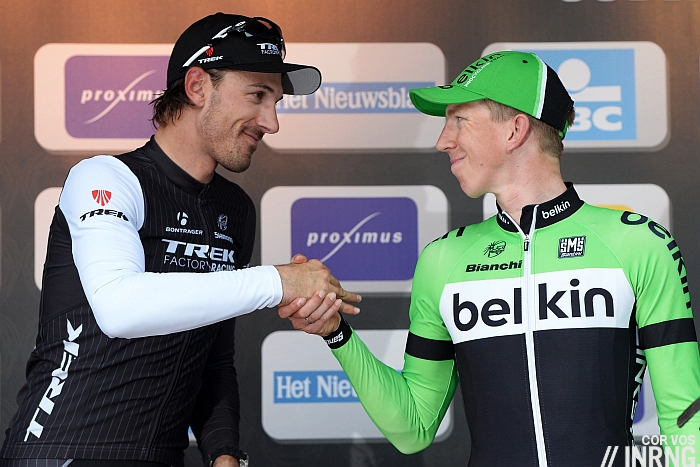 The last act of madness and also the last cobbled classic of the year. Paris-Roubaix is a wild race with a touch of the circus and it's not just because the riders circle Roubaix's concrete ring for the finish. It's the greatest one day spectacle of the year. Fabian Cancellara may seem irresistible but he's going to meet some immovable objects as well as plenty of tough riders and teams desperate for a last chance win.
The Course


Two myths: it doesn't start in Paris but and it's not flat either. After the start in Compiègne a series of roller-coaster hills are taken in the big ring and just enough to help a breakaway get going as other riders feel the need to shut it down in case they tire too soon.
The cobbles start with over 150km to go and hurt from the start. But it's the Arenberg Forest that marks the big strategic rendez-vous.
The Cobbles
| | | | | |
| --- | --- | --- | --- | --- |
| Sector | Distance | Location | Length | Difficulty rating |
| 28 | 98.5km | Troisvilles | 2200m | +++ |
| 27 | 104km | Viesly | 1800m | +++ |
| 26 | 106.5km | Quiévy | 3700m | ++++ |
| 25 | 112.5km | Saint-Python | 1500m | ++ |
| 24 | 119.5km | Solesmes | 800m | ++ |
| 23 | 126km | Saulzoir | 1200m | ++ |
| 22 | 130km | Verchain – Maugré | 1600m | +++ |
| 21 | 135km | Quérénaing – Famars | 1200m | ++ |
| 20 | 140km | Monchaux-sur-Ecaillon | 1600m | +++ |
| 19 | 153km | Haveluy | 2500m | ++++ |
| 18 | 161km | Trouée d'Arenberg | 2400m | +++++ |
| 17 | 167.5km | Wallers – Hélesmes, aka "Pont Gibus" | 1600m | +++ |
| 16 | 174km | Hornaing | 3700m | ++++ |
| 15 | 182km | Warlaing – Brillon | 2400m | +++ |
| 14 | 185km | Tilloy – Sars-et-Rosières | 2400m | ++++ |
| 13 | 191km | Beuvry-la-Forêt – Orchies | 1400m | +++ |
| 12 | 196km | Orchies | 1700m | +++ |
| 11 | 204km | Auchy-lez-Orchies – Bersée | 2700m | ++++ |
| 10 | 208km | Mons-en-Pévèle | 3000m | +++++ |
| 9 | 214km | Mérignies – Avelin | 700m | ++ |
| 8 | 217.5km | Pont-Thibaut | 1400m | +++ |
| 7 | 223.5km | Templeuve – Moulin de Vertain | 500m | ++ |
| 6 | 230km | Cysoing – Bourghelles | 1300m | ++++ |
| 6b | 232.5km | Bourghelles – Wannehain | 1100m | +++ |
| 5 | 237km | Camphin-en-Pévèle | 1800m | ++++ |
| 4 | 240km | Le Carrefour de l'Arbre | 2100m | +++++ |
| 3 | 242km | Gruson | 1100m | ++ |
| 2 | 249km | Hem | 1400m | ++ |
| 1 | 256km | Roubaix | 300m | + |
| | | | | |
The four and five star sections really are unlike anything else. The Flemish classics use plenty of cobbled roads and some sections are rough. But these ones are something else. It's as if a farmer has taken a tractor and plough and set to  work, the tractor leaving deep ruts and the plough turning up the stones as they were tilled soil.
Cobble-mania should not run wild. As much as we focus on the pavé, they account for only 51.1km of the course or 20% and the four and five cross sections account for precisely 10% of the course. It's why riders use only adapted road bikes, they must still complete a fast course on flat roads where speed matters.
The speed is no higher than in the approach to the key cobbled sectors. Like the Tour of Flanders the strategic point isn't the cobbles but but the approach. You want to go into a key section at the front because if a rider falls in front of you then at best you are delayed, at worst you go down too. Everyone knows this and the fight amongst riders and teams for a place near the front is fierce and tiring, as hard as the cobbles themselves.
The Finish
Held in the old velodrome, riders enter the concrete track and do one and half laps. The banking can play a part, riders exploiting the slope to the line to launch their finishing sprint.
The Contenders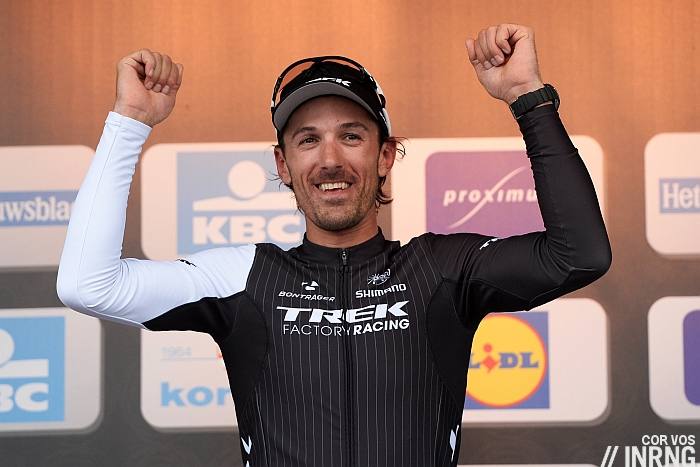 Fabian Cancellara is the prime pick. The Swiss is in top condition and has the experience and expertise needed to win. His team isn't the strongest but it's got enough power to keep him out of trouble for much of the race. But if Cancellara is the obvious pick, this is the most random of races and his triumph is far from predictable. Talking of uncertainty, Stijn Devolder had a terrible time last week if he rides he could take off early and force others to chase. His participation has been a saga this week, the team hint he won't ride but he was he wants to . Update: Stijn Devolder is not riding. The Trek Factory Racing has an extra man in Dirk Demol, the DS won the race in 1988 after a 222km breakaway and has driven the route more than most.
Sep Vanmarcke is the second pick. Third in Flanders and the only rider capable of following Cancellara on the Oude Kwaremont last Sunday, he was second in this race last year and that on a broken front wheel. He's got a reliable team in Belkin too. He's had the ideal approach this week too, while Cancellara has been distracted by media work, Vanmarcke's been kept hungry and focussed. His weakness could be his aggression, he's not afraid to attack from afar but this has seen him waste energy early. However in Paris-Roubaix this is often a rewarding move, a chance to take an option on events yet to come during the race.
Peter Sagan is the next choice. Having been the prime pick for Milan-Sanremo and the Tour of Flanders he's been demoted but it's all relative, agile and powerful he still has what it takes to win whether going solo or winning in a sprint and there's no long climb to thwart him. He's been close in the races so far and if fortune tilts his way he can win.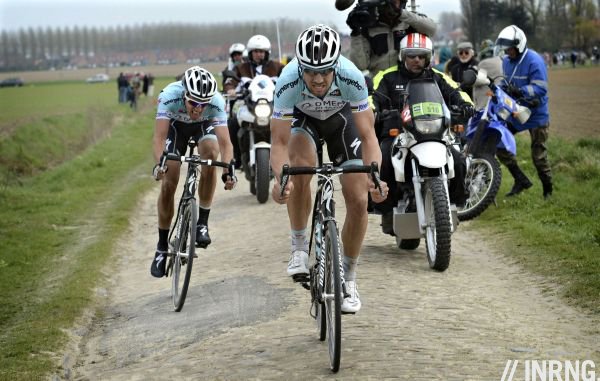 Tom Boonen's the leader of the OPQS team and last week this was a problem. The team built its tactics around him but blew up on the Kwaremont. But De Ronde is a more athletic course with its bergs and he's finally got a six hour race in his legs. Even if he's not in top form for Sunday he can count on skill to get him through – he's so at ease he doens't wear gloves on the pavé – and he packs a powerful sprint. I think OPQS will still back him but as ever this is a squad is full of cold stone killers. Niki Terpstra is the second man, visibly stronger than Boonen last week, he'll look to breakaway in the final 40 minutes. A year ago I pencilled in Zdeněk Štybar as a prime pick for 2014 but now he's looking good but not outstanding. It won't be a surprise if he's on the podium but he's far from the first choice. Stijn Vandenbergh was the slowpoke of last Sunday's quartet but he's built for this race as is Guillaume Van Keirsbulck.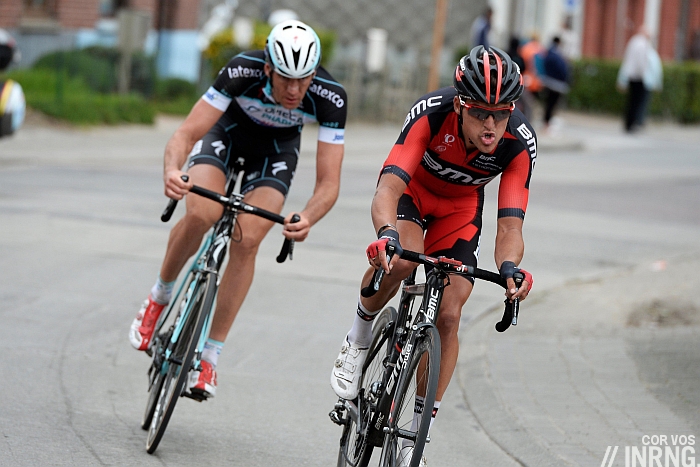 What of Greg Van Avermaet? He had an outstanding race last Sunday. He's so consistent but this is probably his worst event, he's a routier-sprinteur who can sprint but cope with climbs because he's a touch lighter than others. Only this could be a penalty on the pavé. He's got a decent team and some are tipping Taylor Phinney. The American can win this race but he has had only one top-10 finish in the classics this year and still needs experience of handling the front group in this race so he's an outsider tip. In a race where experience counts Thor Hushovd could pop up but he's been quiet this season and retirement can't be far off.
Katusha's Alexander Kristoff was fifth last week and is in fine form. He went solo last week up the Paterberg, proof that he's not willing to settle for a sprint even if he knows he can probably beat everyone; his double-act with Luca Paolini won't be so balanced, the Italian rider is less suited to the cobbles. Another sprinter is John Degenkolb and the German's had a low profile this week but this is the race he really wants to win, he's shown that he's far more than a sprinter.
Team Sky bring Bradley Wiggins which is notable because a Tour winner hasn't started the race since Greg LeMond in 1992. The beared Briton had a solid Ronde and he's got the sustained power needed for this race. I think he could try "a Terpstra" and pre-empt the major attacks with a longer range move while the big guns are still sitting tight. Edvald Boasson Hagen is their best rider, I'll still tip him but he's a constant frustration, you know he has what it takes but he's yet to strike. Geraint Thomas can be there in the finale too but he's a lighter rider and therefore discounted.
Next comes a wider cast of pretenders. Ag2r's Damien Gaudin was strong last year and resurfaced in Flanders last week but his move showed he was able to attack but was not visible in the final showdown, instead team mate Sébastien Minard was the surprise rider in the front group. FDJ's manager Marc Madiot dreams of this race but it's been a nightmare in recent years for him, he's got some strong riders with Arnaud Démare still a contender while Matthieu Ladagnous and Yoann Offredo are outsiders; the latter is suffering from an open wound in a place where the sun does not shine. Not ideal for the pavé.
Tyler Farrar's had a good spring campaign, two podiums and Garmin-Sharp team mate Sebastian Langeveld is probably their best bet, tenth in Flanders. Often a factor in this race over the years Filippo Pozzato wasn't visible last weekend. By contrast Bjorn Leukemans was visible and if he's more a versatile and lighther build, his new role with the Wanty-Gobert team means he can't pick and chose his moments. Finally Orica-Greenedge might try to send some men up the road, Jens Keukeleire is probably their best bet, if it was raining and windy then Matt Hayman would be the man.
| | |
| --- | --- |
| | ? |
| | Fabian Cancellara |
| | Sep Vanmarcke |
| | Tom Boonen, Alexander Kristoff, Peter Sagan, John Degenkolb |
| | OPQS, Boasson Hagen |
Nobody gets five chainrings for Paris-Roubaix, any predictions get an extra discount because no other race has such an element of luck.
The Scenario
Tradition means a large break goes in the morning and this melts under pressure once the cobbled sectors begin. If early breaks are often futile, it's often an effective tactic in this race because even if a rider is reeled in, they serve as a relay for team mates and in crueller terms, equate to a spare pair of wheels up the road.
Otherwise it's a process of elimination from both ends with riders being dropped and suffering crashes and mechanicals while attacks and accelerations help to chisel the front group. Note the default outcome is either a solo win or a group of no more than four riders, the only exception in the past 20 years is 1997 when eight riders contested the finish.
Weather: sunshine and a temperature of 16°C in the afternoon. There will be a northerly breeze at 25km/h meaning a headwind for the day but the course turns left and right as soon as the cobbled sectors start meaning a crosswind for much of the later part of the race too.
The weather on the day matters most but conditions prior too do before. It's been a wet and damp winter meaning more moss than usual on the stones and this has given way to more vegetation in recent weeks. It's been dry for most of the week but a few showers are possible today (Friday) to help reduce the dust.
TV: live coverage from around 1.00pm Euro time with the finish expected around 4.50pm. It's on local TV, Eurosport and other channels, normally the same ones that show the Tour de France in your home country have the rights to this. But if they have decided not to air it, cyclingfans.com and steephill.tv have TV schedules and pirate feeds galore.
History: this is the 111th edition of the race. Two riders have won four times, Roger De Vlaeminck and Tom Boonen. Fabian Cancellara can join them if he wins one more.