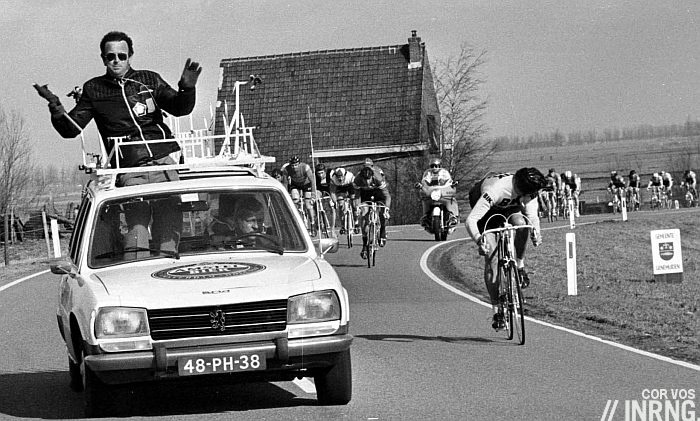 The call for riders to be given yellow and red cards as warnings and sanctions in a bike race got a few laughs last week. Unlike other sports where play can be stopped you can't stop a race unless in the most severe of circumstances so seeing officials waving cards could be a symbolic gesture at best. But that's the very reason why we need them.
Look at it the other way
Let's imagine a game of ice hockey or soccer and instead of the referee having a whistle, they merely have a notebook. The game is played without interruption – which could delight some – and once the contest is over any offences are recorded and instead of a sporting sanction, cash fines are issued to the offending players and teams. Now imagine the list of fines is kept hidden. It sounds absurd… but this is what pro cycling does.
As loyal readers will know the UCI rulebook is very prescriptive with rules on everything from sock length to logo placement, not to mention more important things such as conduct, whether for image or safety. There's a whole section on "Discipline and Procedures" and this sets out a range of offences and the accompanying tariff in Swiss francs (Swiss francs because the UCI is based in Switzerland).
In almost every race there are riders and team managers who get fined. Pick a stage of the Tour de France and it's normal for several names to be cited for "sticky bottles" and other offences. Here's an example from 2011:

It's a typical day with Movistar getting a fine for giving Amador a big tow behind the car, the rider gets a time penalty and the team gets a 200 franc fine. Robert Gesink cops CHF100 for "incorrect behaviour" and Leonardo Duque, then with Cofidis, got named nice. Note nobody's doing anything unusual, the riders named above aren't particularly villainous. During a three week race a large proportion of the bunch will get fined as they go about their jobs.
But there's a big problem with all of this: it's a hush, a secret. Every day people can read the results but rarely get to see the fines. Now the daily commissaire jury bulletin does accompany the results sheet given out in the Tour's press room but you won't see the fines reported unless they're particularly juicy, amusing or relevant to the race. Certainly they're not on the race website nor published alongside the results. This is a problem.
Justice needs to be seen to be done
Let's reheat the example of Gianni Meersman from Paris-Nice. It's an example rather than anything critical of Meersman and the OPQS team, it could have been anyone else. You might remember Meersman crashed during Stage 2 and was paced back to the bunch by his team car. A written rule says nobody can be paced back, an unwritten rule tolerates a rider taking advantage of the convoy to make amends for their misfortune. To crash and then, open-wounded, dash back to the peloton is always difficult, even when sat in the vacuum of a team car. But TV viewers were treated to the spectacle of Meersman flying past other crash victims and dropped riders, an inequitable situation.
We can debate whether it's ok to be paced back but the rules do say "no" and Meersman got a fine, was docked time and the team took a penalty too. Only the viewing public didn't see this, they just saw a rider being paced back. It's here that a red, yellow card or even a rainbow-striped card could come into use. A commissaire in a car or a motorbike could pull up alongside and theatrically wave a card. Perhaps the chase could be stopped? Or if not, it would at least signal that the offence has been noted and will be dealt with.
Better still the commissiare doesn't have to travel but could sit in the TV production car and when something naughty is noticed an on-screen graphic appears with the rider, the team and a red card logo. All this is thinking-aloud but it is a means to allow the public to see that sanctions are noticed and dealt with as opposed to the current discretion. Just because the fines are in Swiss francs doesn't mean we need Swiss-banking levels of secrecy.
Business Expense
Currently the fine system looks like a tidy money earner but the funds are spread around. Not all the money goes to the UCI, some penalties are paid to the national federation of the race in question (in the Tour, the French cycling federation) and in other cases to the licence holder's national federation. But more than the quantitative side, its the qualitative aspect that counts. The sport seems to treat fines like a cash expense rather than a breach of the rules. It's a bit like a country that fines motorists for speeding with such low rates that many drivers in a hurry prefer to put their foot down because their time is worth more than the fine. In fact in cycling many rules are broken because the fines are so cheap it simply doesn't matter if you get caught. Consequently the table of fines and sanctions in much of the UCI's rulebook is an à la carte menu where riders and teams can see the bill for offences just as a diner knows what a bottle of wine or a side of fries will cost. Of course some acts come with severe penalties like exclusion from the race but the majority don't. Sling some litter into the countryside and maybe there's a cash fine when what's needed is on the spot action and visible justice so that the millions of TV viewers know it gets dealt with.
Conclusion
We could give out red and yellow cards to dangerous riders but the peloton often knows who takes the risks and like any micro-society, tends to deal with it in a private way, for example if someone "dive bombs" into a corner one day chances are they'll get chopped the next time they try. Trying to legislate for safe racing is very difficult with riders fighting for gaps while under pressure and fatigue.
But rather than penalties for bad cornering or poor braking technique a system of visible sanctions like giant bright cards could be workable even if it was merely designed for public consumption. It wouldn't capture every offence but it could reassure TV audiences that it was noted, indeed there are arguments for a "TV commissaire" tasked with reviewing live footage to ensure that what the audience see is dealt with as a priority.
Maybe it wouldn't work. But too often viewers see an offence committed in public but it gets dealt with in private via wire transfer. I can't think of another sport that does this. A start would be for the UCI to publish the fine data and the next move could be to up the tariff towards more prohibitive levels to make some think twice.