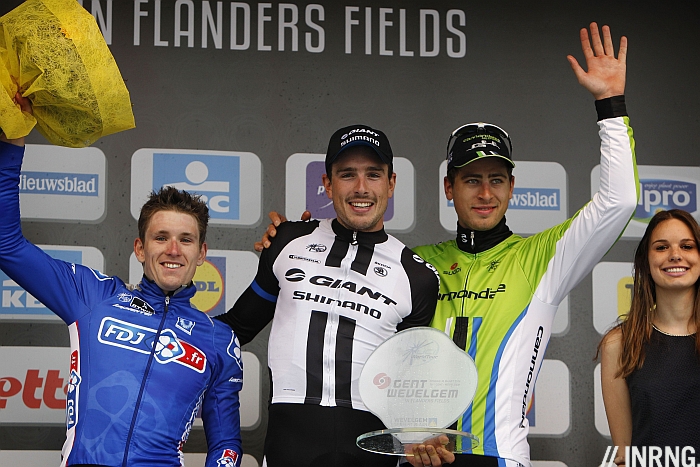 The Brabantse Pijl takes place today and marks the transition from the cobbled classics to a season of hillier races stretching from the Ardennes to the Alps and beyond. Before the peloton collectively heads for hills, time for a short look back in order to look forward to 2015.
This year's Tour of Flanders and Paris-Roubaix were vintage editions with excitement and action. They took place with note of history-in-the-making as Tom Boonen and Fabian Cancellara each had a chance to engrave their name alongside past champions like Roger De Vlaeminck and Alberic "Briek" Schotte. But what of the future? Certainly Boonen and Cancellara have a chance to win again next year but there's a whole new generation of riders coming through who want to win and they'll be making plans to return with a bang in 2015.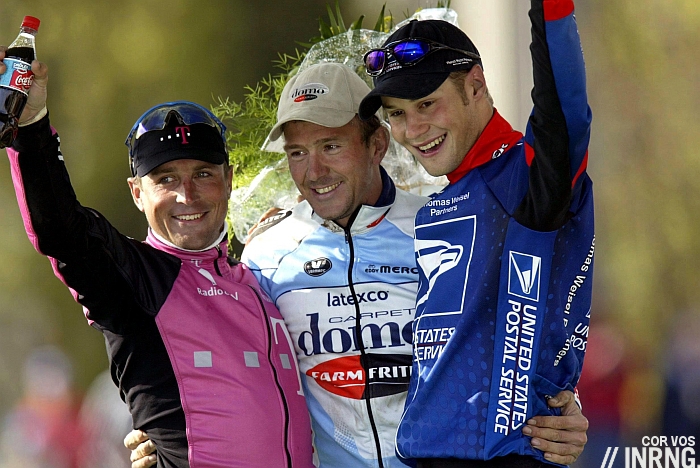 Tom Boonen was the future once. As a first year pro on the US Postal team he stood on the podium of the Paris-Roubaix. It was an exceptional performance and we've didn't see a neo-pro make such an impression this year. But look closer and there are some new names and as well as established but younger riders who look set to dominate the classics for years to come.
Peter Sagan came up short but look again at the results and he won the E3 Harelbeke, was third in Gent-Wevelgem and finished sixth in Paris-Roubaix, after skipping it last year, DNF the previous year and 86th in 2011. He's only just turned 24 too. But his story is one of momentum, he's started his career so strong we've come to expect progression and impression. Indeed he was a regular "prime pick" on here only he didn't win big. There's talk of new team which could give him the backing he wants although you suspect if he joins the Alonso team he'll have to work with another star or three plus a new team always takes time to start working. In short moving teams isn't necessarily the remedy.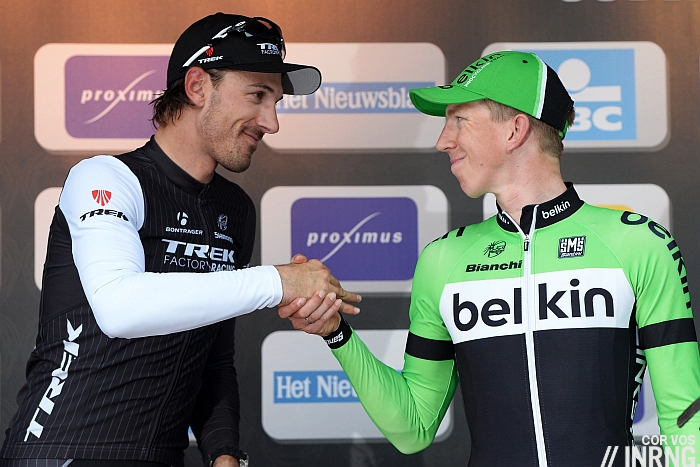 Sep Vanmarcke was very consistent all spring with the high point being a podium in the Tour of Flanders. Able to follow Cancellara up the Oude Kwaremont the podium photo above says plenty. At 25 his best years may be ahead but so far his best result is two years old when he smoked Tom Boonen to win the Omloop Het Nieuwsblad. Second in Roubaix last year he won the GP Impanis in September too but that's it: two wins in three years. So in the meantime a little test will be to see how he copes with the second half of this year, will he pick off wins here and there? He seems a Flandrien at heart but wins during the rest of the year will help his progress.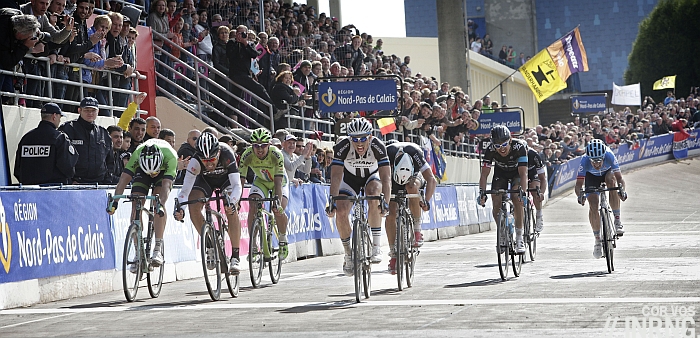 John Degenkolb went from a sprinter to classics rider in the eyes of many this year. But he did it last year too if you watched Paris-Tours. In a thrilling finish he got away in a breakaway on the hills near the finish… the move was caught late in the race but he won the race. He turned 25 in January.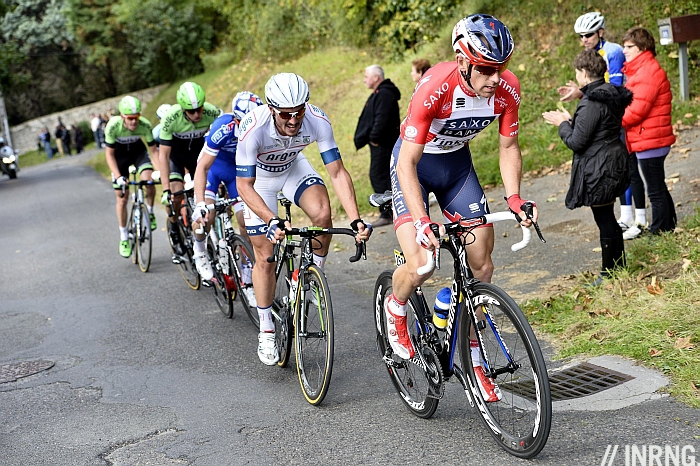 In the same Paris-Tours Degenkolb got in the breakaway with Arnaud Démare who was second in the sprint. The FDJ rider is similar, a classics contender who can sprint. In a peloton of specialists both Démare and Degenkolb might confound us but doubling up in the sprint and the spring is the traditional model that's served everyone from Freddy Maertens to Erik Zabel and even Tom Boonen. Démare's just signed a contract with FDJ to the end of 2016 and is 22 years old. I think he's got room to improve elsewhere, his long sprint could translate into prologue wins if technical gains are made on the time trial bike.
Taylor Phinney is no new name. He won the U-23 Paris-Roubaix twice which is impressive but only one rider, Marc Madiot, has won the amateur race before winning the pro race so the correlation isn't big. I think Phinney has everything needed win and is gaining in experience but it takes time. Phinney's been slotted into the "Hincapie role" by the US media meaning huge coverage and hopes for the spring classics are pinned on him. Apart from Gent-Wevelgem Hincapie always struggled with the alchemy of turning hopes into cobbled results although this was the media's result as they needed an English-speaking contender every spring. But Phinney can and does win other races during the year from time trials to road stages. He's been a pro since 2011 but is just 23.
Now for some riders who didn't necessarily appear on TV but quietly had a good time. Florian Sénéchal is a neo-pro with Cofidis. 49th in Paris-Roubaix, he had a series of mechanicals and has been in the top-20 in other spring classics this year but it's Roubaix he dreams of. Normal since he grew up next to the race route and rode on the cobbles from the earliest age and has had a reputation as "future Paris-Roubaix" winner for years, boosted by a win in the junior edition. He was recruited to the OPQS development squad Etixx-IHNed CT and joined the senior squad as a stagiaire. The Belgian team wanted to keep him in the feeder team for another year but Sénéchal was impatient to turn pro and took an offer from Cofidis. It's impressive to see a rider taking control of their career but hopefully he is well-managed and gets the support needed because Cofidis look desperate for results. He's 20.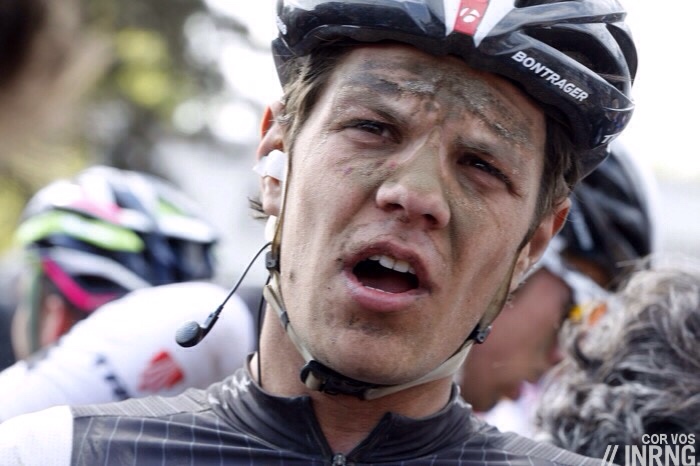 Jasper Stuyven turns 22 tomorrow. A neo-pro with Trek Factory Racing he was on my list of riders to watch for 2014. Glance at his results and there's been nothing special but he's not been racing for first place, instead it's all about experience and education while helping the team. After all he's been a neo tasked with helping Fabian Cancellara, no light task. If you want results, see last year when he was mixing it in the Tour of California, was second in the Grote Prijs Jef Scherens and so on. In short, if he's not had the headline results, it's because he's being quietly schooled.
Guillaume Van Keisbulck is getting the "new Boonen" headlines rather than Vanmarcke presumably because of the OPQS kit and the similar chunky build. Still 23 "GVK" has certainly got bigger, he started out as neo-pro in 2011 and looked very rangy but now has a bulkier presence. More power? Yes if you read the results where he won the Three Days of De Panne and was second in the Three Days of West Flanders too.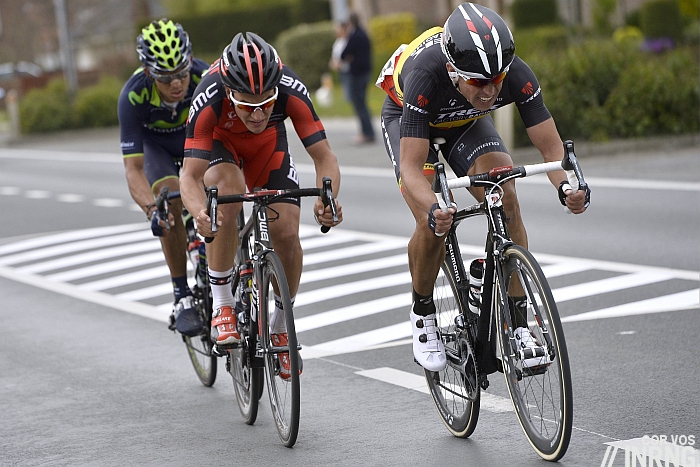 Finally Silvan Dillier gets another mention. The 23 year old is a first year pro with BMC Racing. He was sixth overall in the Three Days of De Panne but was maybe more visible as accomplice of Stijn Devolder in the Gent-Wevelgem breakway which was late in the race and therefore no fluke. An amateur last year he won a couple races against the pros.
I've picked riders aged 25 and under… but there are others who may win the in the 2015 cobbled classics like Geraint Thomas (27), Zdeněk Štybar (28), Greg Van Avermaet (28) and last but not least, Alexander Kristoff (26). All are capable of winning and gaining in experience too.
Any omissions or tips for the future? Let me know below…