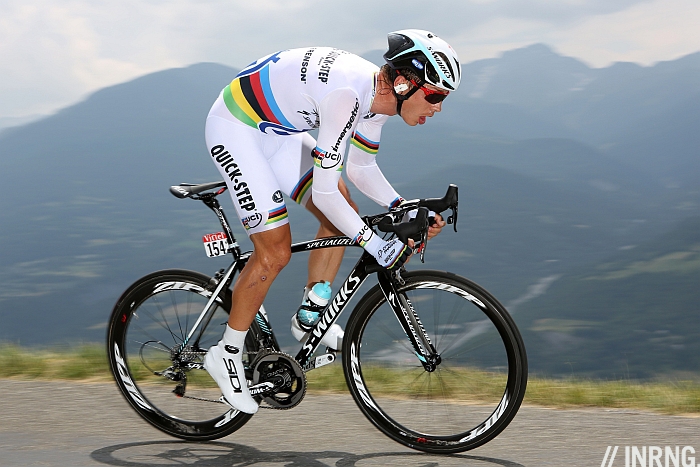 As the 2014 season approaches here is a selection of riders to watch for. I've picked six established riders who face different challenges in the new year and six young riders who could impress but first have to bunnyhop the chasm from amateur and pro.
Tony Martin is a winning machine. But if he's so dominant in time trials, success in bunched racing seems elusive for a rider of his talent and power. Perhaps Martin's reputation precedes him, nobody can afford to let him get a gap. But he's almost in danger of being too specialist, too niche. He won't ride the classics but is too heavy for the high mountains. Now being a specialist is fine and being the world's best in a speciality is even better, hallo big contract. But it's just whether he can take that power and deploy it elsewhere, especially to win races rather than act as an engine for OPQS's sprint train.
What can Taylor Phinney deliver? His win in the Tour of Poland was impressive and great TV. It demonstrated the talent but he's now about to become a fourth year pro and hasn't had the success some expected. It's all relative, he's got world championship medals, a stage in the Giro and the maglia rosa plus a top-10 in Milan-Sanremo but he can do more. Is a result possible in the classics? One unsung element is his determination, he's been dropped in a race but ridden on to the finish even if it meant missing the time cut.
Romain Bardet is out of the neo-pro ranks. As Bernard Hinault is only too ready to remind people, a champion like him was winning big right from the start. But beyond Hinault's worldview a career can be managed with progressive goals. Bardet's been combining studies with riding and got a labelled at times as "the student cyclist" or "an intellectual" but he's more than a bookworm brainbox. He's a bit like Dan Martin, a very good climber but able to read a race and remain cool under pressure and with a useful finishing kick. He won the Tour de l'Ain this year, apparently frustrated to wait so long for a win but watch out for more in 2014.
Where are the limits for Michał Kwiatkowski? The lucky victim of a bidding war between Radioshack and OPQS, the Pole had a quiet season in 2012 before become famous this year. He had a very consistent spring with placings in the Volta ao Algarve and Tirren0-Adriatico where he was at ease on the mountain stage with Chris Froome and Vincenzo Nibali. Fourth in the Amstel, fifth in the Flèche Wallonne and then 11th overall in the Tour de France after wearing the white jersey for much of the race. What will he aim for in 2014 and if he has GC ambitions, how to these overlap with the sprinting support needed for Mark Cavendish and the goals of new OPQS recruit Rigoberto Uran? He's an elegant rider too with a mellifluous pedalling style but we'll watch to see the wins rather than his ankles.
Everyone knows Rui Costa is World Champion but I'd pick him if he wasn't wearing the rainbow jersey in 2014. He won two stages in the Tour de France, combining tactical calm with big power to launching the right moves at the right time. Some might say he was only able to win these after losing time earlier in the race but he's won the Tour de Suisse two years in a row proving he can cope with the high mountains and time trials. But so what if he's lucky or sits on the wheels before pouncing, that's how you win big, no?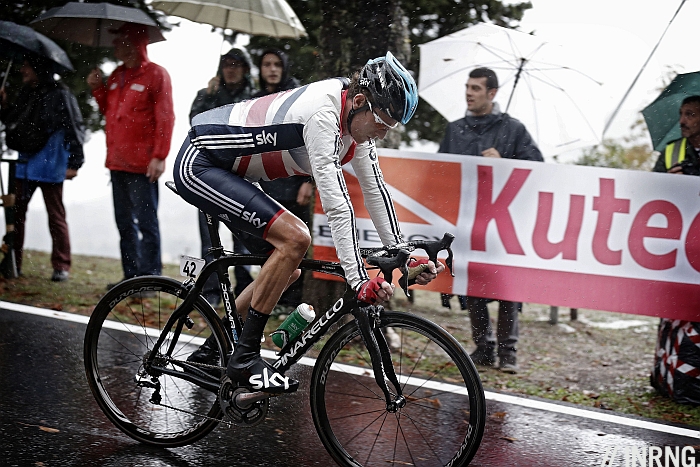 Finally after wondering what the riders above can do, perhaps it's more a question of what Bradley Wiggins will do? He might be an awkward team mate at times for some but in a broader sense his character often brings something extra to the sport so his absence is noted. After the winning streak of Paris-Nice, Romandie, Dauphiné, Tour de France and Olympic gold, not to mention popularity awards and even a title from the Queen 2013 was always going to be a tricky second album but he struggled to get in shape for the Giro, there was talk of a knee injury but he was turning down Tenerife training camps to spend time with his family. Motivation came back for the Tour of Britain where he was even scouting the stages weeks before the race but if it was at home it's still a modest event. He's on a good contract and it's up to Team Sky to help him find motivation again whilst avoiding a clash with Chris Froome who has quickly become Team Sky's central rider.
Neo Pros
The strict definition of a neo-pro is any rider who joins a UCI ProTeam or Professional Continental Team for the first time no later than during his twenty-fifth year. In other words it's not just someone in their first year. Here the challenges are different, the stories above are about confirming talent and assuming leadership. Below it is about coping with pressure, finding your way and learning.
Lachlan Morton seems to have been around for some time but he's just 21 years old. A member of the Slipstream, aka Garmin, development team for years, he turned pro in 2013. A pure climber he was off the radar in the Tour de Romandie and Tour de Suisse this year but came good in the second half of the season with success in the Tour of Utah and the USA Pro Challenge.
Bryan Coquard was second to Hansen in the Olympics but got the jump on him as a pro. Now heading for his second year as a pro, he had an impressive début with an exceptional sprinting speed, all in a 60kg package too.
Is Jasper Stuyven the replacement for Tom Boonen? I thought about including Tommeke on the list of riders to watch for 2014 to see if he'll be back but instead here's Stuyven who's joined Trek Factor Racing. He had a solid 2013 with a stack of top-10 finishes on a variety of terrain, including fifth in Stage 1 in the Tour of California. He'll join Bob Jungels who can pass on some tips about being a neo. The Luxembourger won his national championships this year but had a series of solid results elsewhere, he can sprint fast and is excellent against the watch so will he emerge as a Cancellara-type of classics rider or become more an all-rounder for stage races.
If you've been following the sport for long enough you'll remember Erik Zabel standing the Champs Elysées year after year to collect the Tour's green jersey with his young son Rick Zabel. Zabel junior has grown up fast and will be a pro with BMC Racing in 2014. It seems early given he's just turned 20. If you wonder if Andy Rihs's Swiss Francs have been deployed once again to hoover up a big name, think twice because at the age of 18 he won the German U-23 national championships and this year he took the U-23 Tour of Flanders. Having a famous dad can open doors but it means inevitable comparisons and extra media attention.
If the Zabel story is about inheritance, here's one of identical DNA. It feels hard to chose between Simon Yates and his twin brother Adam but Simon's had the better results of late. Points race world champion, he took two stages of the Tour de l'Avenir and then beat the pros to take the Tour of Britain's "mountain" stage. It's interesting to see the brothers join Orica-Greenedge but logical, pro teams might have national roots but this does not mean it is the best environment for every compatriot. As others of have said Alex Dowsett would not have won the time trial stage of the Giro if he was on Team Sky because he probably would not have been selected for the race. Orica-Greenedge has seen several Aussies slip their grasp but it'll be interesting to see how Simon Yates fares on a team already packed with fast-finishers like Michael Matthews, Daryl Impey and Simon Gerrans.
Long list
Finally lists are often as much about the names you exclude. Beyond any riders included the peloton's a big place packed with interesting stories. I didn't include Chris Froome because he's bound to aim for a similar linear trajectory towards the Tour de France although a repeat is not a certainty; Richie Porte won't be there to help as he bids for the Giro. MTN-Qhubeka have two returning riders in Linus Gerdemann and J-L Augustyn and their comebacks will be worth following. Diego Ulissi finished the 2013 season with a string of wins to finally confirm the promise, can he pick up where he left off? Meanwhile Tom Boonen seems to alternate between good and bad years, will 2014 prove successful again? Matej Mohorič stays in the U-23 ranks for a few months and he's perhaps too young to expect much in the pro ranks but his win in the junior worlds in 2012 and then U-23 in 2013 suggests something very special and Caleb Ewan gets the same treatment, he's signed a contract with Orica-Greenedge but will only move up at the end of the season.