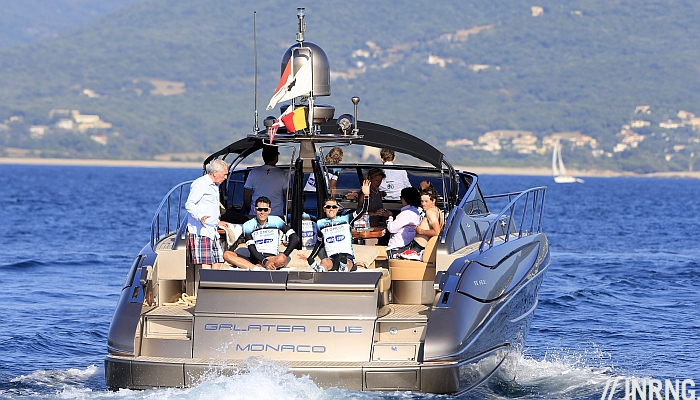 Having listed the billionaires who fund several pro teams, time to take a look at their impact on the sport.
It's great to see these people spending their money on the sport. But at the same time a large proportion of their money isn't investment, merely that goes into the sport and straight out again. Along the way the money can be useful but it can also push others out of the way.
Wealthy team patrons aren't new. If anything pro cycling is the odd sport out with teams named after companies. Many a football squad, motor racing outfit or baseball club belongs to a wealthy individual whilst pro cycling teams have typically been created in the name of a brand, from Alcyon to Nivea or Quick Step over the past 100 years.
But that's the point, tradition says cycling teams are supposed to have sponsors and we see several squads can't find a backer. Look at Orica-Greenedge, it might have a wealthy benefactor thanks to Gerry Ryan's generosity but the Ryans would surely love to find another sponsor to complement Orica.
The lack of sponsors is a fact but it's not eternal, merely a case of supply and demand. Some might be put off by the doping reputation or an audience that doesn't offer the right demographics. But for the others the price isn't right. You know the deal by now, cycling is supposed to offer big publicity for a small outlay. Well if the outlay was smaller then we'd have more sponsors. Reductio ad absurdum, if it was cheap enough then every baker and candlestick maker would fancy their name on a World Tour jersey in exchange for €5,000 a year.
But in the absence of a queue of sponsors we have arguably six of the 18 World Tour teams supported by wealthy benefactors, that's including Astana which relies on political patronage. BMC, OPQS, Orica-Greenedge, Katusha, Tinkoff-Saxo. I know the likes of Belkin and Sky made the "rich list" but those teams are sponsored by large corporations.
In bidding above the rate that corporate sponsors pay, these "sugardaddy" team owners exclude the regular sponsors who get priced out. Now taking more money out of a Russian or Swiss bank account and putting it into cycling has to be good, right? Yes and no. Yes because its paying for some good things but no because it distorts the market for teams and second spending on sport invokes the "prune juice" phenomenon. We'll get back to the good things in a second.
Prune Juice
British entrepreneur Alan Sugar once described compared spending money in the English Premier League to prune juice because any money that is poured in flows out the back in no time. Sugar saw increasing TV rights money and other revenues but as soon as his football club and others in the league got hold of the cash it flowed straight into player wages. The quick take seems to be that clubs were competing for talented players and new money coming into the sport just saw player wages bid higher, the clubs never became more profitable or financially secure. If anything the larger sums available for the winners just encouraged team owners to double up their bets.
The same effect is seen in other domains like Hollywood and is likely true in cycling. When a new team comes along with more money than anyone else it can outbid rival teams and establish higher wages. Of course higher wages are good if you're a rider but if this is just inflation then only the riders benefit and this isn't always even. The best riders will get most of the new money whilst more lowly riders on modest teams won't see much at all.
What about those good things?
Extra spending doesn't just go on wage inflation. A well-resourced team has more staff, it can spend money more to improve the sport. Over the years the cost of funding a team has risen but with it comes team buses, chefs, coaching staff, logistics managers. It's also brought larger teams too meaning more riders in the peloton and indeed more peloton with some teams able to race three events simultaneously.
WAGE CAPS
So how you do get the good things without the bad things? One solution is a salary cap. These are common place in US sports to address this very problem (and to ensure team owners profit at the expense of athletes?). But franchises and other fixes are alien to European sport. Or at least it has been. Recently rugby league has used a salary cap and soccer is about to explore the issue too with a new rule that clubs must break even, at least over time. One paper by Swedish law lecturer Johan Lindholm has explored whether US-style wage caps could be introduced in Europe. Lindholm suggests they're unlikely under European law or at least open to challenge.
Pro cycling is also a realm full of side deals and more. So irrespective of the legal principles, capping salary could be a challenge. All riders get a salary but many get paid for image rights and earn other endorsement money. You could easily imagine, say Alberto Contador earning €1 million with the new Alonso team but then taking extra pay in the form of sponsorship from Specialized, Giro and others. The more you cap a salary, the more the sponsors pay and in no time things are out of control again.
Reverse Scenario
In response to the two Rich List pieces some said it's fortunate we have these benefactors otherwise some teams would not exist. True but it just means that others would take their place. If BMC or Orica-Greenedge were not around then the riders would be on other teams and two other teams would fill their place in the World Tour. So the sport would go on, just on a reduced budget.
Bank Guarantee
One factor that deters some sponsors is the bank guarantee demanded by the UCI. This is protection against financial problems, for example the team collapses or wages are unpaid. But it is expensive, north of a million Swiss francs (over US$1m) and must be paid before the team even starts. It's a good idea but does mean a high upfront payment. Aussie newcomers Drapac have had to pay "in excess of $500,000" to move from the third tier UCI Continental to UCI Pro Continental.
Conclusion
More money in the sport should be a good thing and it does help create extra jobs and when billionaires have teams to play with then riders are likely to benefit from the bidding. In a sport where riders and teams compete we expect owners and sponsors to form part of this competition too. But there's a paradox because more money upsets the system, it breaks the equilibrium. Wage inflation created by a couple of high bidders can destabilize in the same way an oligarch sailing his mega yacht into a small port rocks every other boat.
Whether teams are funded individuals or corporations shouldn't matter. Ideally there'd be a short queue of sponsors waiting to come in meaning if an existing team owner gets cold feet or goes bankrupt then there's someone else willing to take their place.
But this position is hard to achieve, even if the law allowed for franchises and wage caps. Until then the sport will remain a free-for-all where a team's owner can be as important as its sprinter or stage race star.
The Wealthiest People in Pro Cycling, Part I
https://inrng.com/2014/01/pro-cycling-rich-list-2014-part-2/