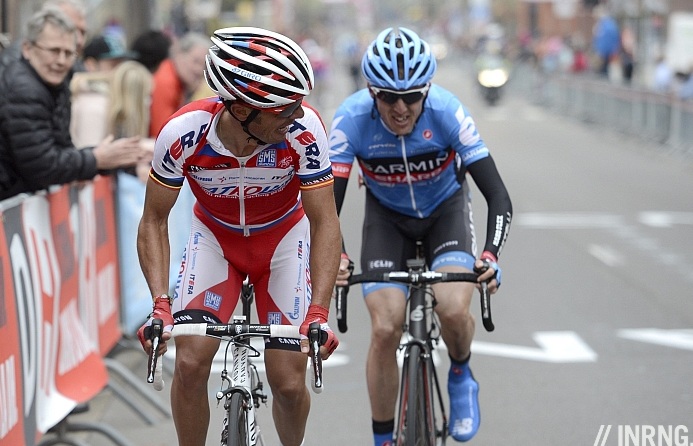 Many a weekend warrior sees the pro cyclist as a role model but it's not so often that pro riders draw inspiration from a rival, at least in public. But here's a quick note to explain how Dan Martin's win in Liège-Bastogne-Liège seems to have inspire others.
The finale of La Doyenne was another highlight of the year. You might remember the Panda but it was a good race to watch too. From the top of La Redoute to the finish line the front of the race resembled a game of Tetris as it changed size, shape, composition all the time. A roll call of big names featured and eventually Dan Martin got the better of a small lead group containing the likes of Joaquin Rodriguez and Alejandro Valverde, in part thanks to sacrificial work by Ryder Hesjedal. But how events happened is secondary, it was the win by a 26 year old rider that resonated with others. Don't take my word for it…
"This season Dan Martin's win gives me the right to believe even more than before. He succeeded in getting past rides like Valverde and Rodriguez which you can't ignore"
– Romain Bardet

"Dan Martin's win this year makes me think that you can even win this race when you're quite young. You just have to believe."
– Warren Barguil
Those are two translated quotes from Vélo Magazine's current issue. Other riders are tweeting or thinking the same. Suddenly a classic, a Monument, might be in their reach and if a 26 year old can win, then they have a chance too, maybe not in 2014 but in the years to come. For a long time the big race have been reserved for older riders. Also as the past list of winners testifies, many names have correlated with the client roster of Michele Ferrari and others.
Interesting palmares by ASO MT @stevendalebout: ASO geeft palmares nieuwe stijl. #lbl. Interessante ontwikkeling pic.twitter.com/BSBx8aj6Zj

— Reno (@renovandael) April 21, 2013
For a long time a race like Liège-Bastogne-Liège was out of reach for many. The distance and succession make it the ultimate one day race in terms of effort. The inverse of this means a doped rider had a huge advantage over a clean one. As the recent Humans Invent podcast sets out, a generation of riders, especially the French, saw "two speed cycling" and opted out the arms race needed to compete for the big races. Now this period is over – or just contained? – and French riders, for long the most defeatist, can dream of winning big. But it's not just dopage, it seems the new generation recognise themselves in Dan Martin – who speaks French – and hope to imitate him. Time will tell.
Summary
You might have enjoyed watching the race back in April but some riders took more from it than a day's entertainment. It wasn't the biggest day of the year nor is it loaded high with symbolism, it's just one example. But this small example is an illustration and it's striking how Martin's win has been mentioned several times by younger riders who now feel even the hardest races are within their reach.