There are many ways to ride faster uphill. The marginal gains industry supplies everything from lightweight helmets and shoes all the way to the frontier of eating disorders as cyclists, mindful of their power/weight ratio become dominated by the denominator of this crucial ratio.
But the search for every watt and gram seems one-sided, the effort to go uphill fast exceeds all thought about what to do once the mountain pass has been scaled and the descent awaits.
It would take too long to think of all the aids to climbing fast from lightweight helmets with extra cooling to ceramic ball bearings and more. Now tell me how many products you can buy to descend faster? Sure there's aero equipment to help at high speed but this is often sold for riding on the flat. Where are the aftermarket brake pads for heat, the glue that promises not to get sticky, the high grip tires or more? I'm less interested in buying speed but the example shows how the market doesn't supply this still vital area with many goods.
Thinking aloud
We've all seen the image of a rider tucking low on a descent. Apparently wind tunnel work says getting off the saddle and sitting on the top tube is the most aero way. You might even remember Matej Mohorič on his way to the U-23 world championship win pedalling whilst sat on the top tube. But try this and it's uncomfortable, unstable. What if you could press a button or flick a lever and the seatpost could go down? This is what MTB riders used to do with quick-release cams for the seat tube collar. It's a bit Rube Goldberg but imagine a spring inside the tube to return the seatpost to the correct height.
Practice makes perfect
But enough wallet-emptying consumerism. Descending is an art but like all arts, a skill most can acquire with work even if they won't become mountain Mozarts and downhilling Da Vincis. The problem comes in practice, you can visit the mountains but even the longest descents are over quickly and then it takes time to climb back up a again. It's the equivalent of trying to master a tricky movement in a Rachmaninoff piano concerto – only instead of doing the one movement again and again until it's nailed, the cyclist must do a whole concert before being able to return to the part they struggled with. What's needed is regular repetition, to repeat a corner again and again but this is impractical because it would mean cornering, stopping, riding back up and then repeating and by now the feeling of repetition is lost. Perhaps a rider needs some kind of test track on a wide slope so they can practice cornering the way a skier crosses a slope, turns and then repeats?
Practice makes perfect but easier said than done, probing the limits of tyre grip can easily mean leaning over one degree too far, getting scraped to bits and then becoming fearful of injury. Perhaps protective clothing is an idea but we quickly leave the realm of what riders currently do and start exploring a range of unusual ways.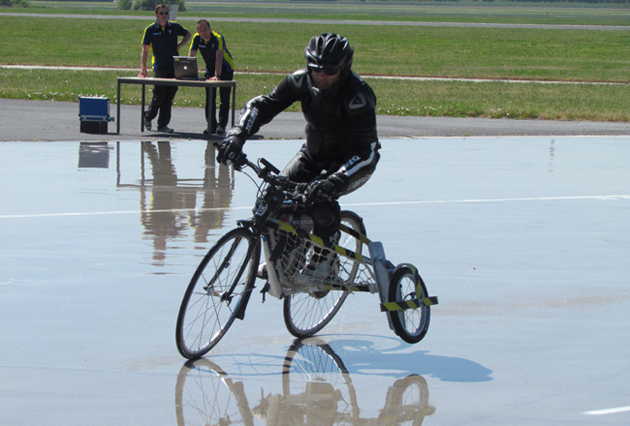 Alternatively something like the image above from Michelin's tests could be of use. It might look strange but learning just how far the bike can be leaned over can help. After all you might think you know your cornering limits but how many times have you done a "save" or seen it on TV: You go into a corner and it's tighter than expected or there's something on the road itself, maybe even a cat runs out in front of you and the bike can be made to take a much tighter line than feels comfortable. Is this the actual limit of rubber rather than what passes for edgy on a hairpin bend?
Often the limits are mental rather than adhesive. Frenchman Thibaut Pinot has struggled this year with descending and it wasn't because his tyres are any less grippy. He's at Alpe D'Huez this week… but not for riding uphill. Instead he's been racing a car on ice in the Trophée Andros. The idea is to get used to speed. Each rider has their thing, some fear injury, for some it's the fear of failure itself.
Some will always struggle. A light and lanky rider has a higher centre of gravity because their torso is higher off the road meaning the body because a large lever and the G-forces of cornering are increased the longer the lever. Plus this lever is not rigid so the more a taller rider tries to crank it over, the more they risk wobbling.
But all the more reason to work at it. A long descent means sitting uncomfortably for long periods broken by hard sprints out of corners. Just being able to carry 2-3km/h more out of a bend means a big saving on the sprints. Nobody would think of sprinting out of a hairpin bend on the way up a mountain but it becomes essential for some on the way down. And it's not just for the Alps, take two seconds per bend on the Poggio and Milan-Sanremo can be yours.
Tactics
Of course descending can be neglected because it's not always fatal to the chances of winning. It's the "summit finish" that's crucial and there's often time to regroup after a descent. But that still means wasted watts out of every hairpin bend or, worse, a longer chase on the valley roads which ultimately has a price to be paid on the final climb.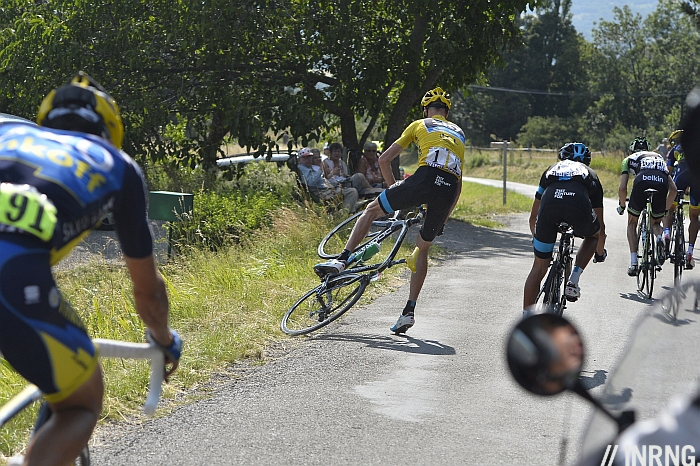 Ex-MTB riders
Do mountain bikers make good descenders? It's often said but there's little real evidence, in fact many MTB riders are very good uphill too. Where I think we see the difference is when things go wrong. An experienced off-road rider will not panic when the rear wheel locks up and the back end comes around.
Conclusion
Being able to go up a mountain fast is essential to winning many races. But less attention, whether sports science or consumer products, gets paid to the descent.
Science and shopping can be skipped as cornering at speed is an art, a skill to be worked. But often descending woes come from somewhere else, including the mind. A prior crash, a memory of a lost race or the fear of failure makes some nervous and this prevents rational, technical abilities.
So for now most get by with a mountain training camp, a key stage reconnaissance… and a prayer.