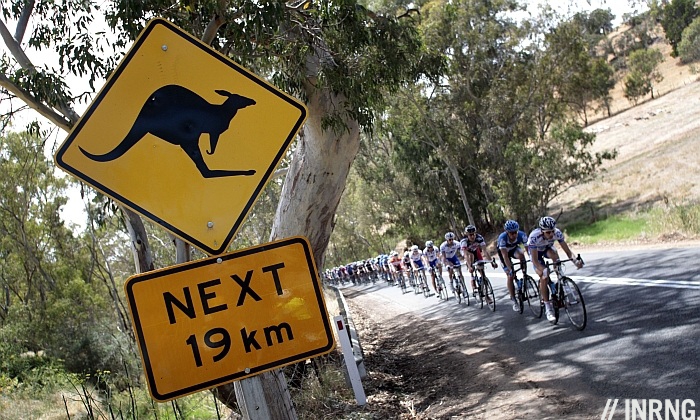 Who knows what 2014 will bring? There are some signs but it's often the unexpected events that delight and intrigue. Here are some extrapolations and wild guesses for the year ahead.
Chris Froome will win the Tour de France. An obvious one but telling as it's the fundamental question in the sport and reflects the Tour's dominance of the calendar. As for Froome, yes… but only if all goes well. A lot can happen between now and July and even during the three weeks. One slip, one injury and it all changes.
Tom Boonen will be back to form for the classics. He seems to alternate between years of success and then bad luck. So after a rotten 2013 he should bounce back. Now 33 his performance can't get much better but if he can recover his level in 2012 he'll be ready to face the likes of Fabian Cancellara and Peter Sagan… although he's got competition in his team from the likes of Zdenek Stybar.
Europcar will struggle in the World Tour. The French team were by far the best in the Pro Conti ranks this year but that doesn't mean they're ready to move up. The World Tour means quality and quantity, a much higher level of competition and crucially, a lot more days of racing. The team has the UCI-minimum of 25 riders which means coping with simultaneous races and doing three grand tours is a stretch, all whilst the majority of the team really want to race the Tour de France. There are some good riders but management will have to approach 2014 in a very different way to cope with the change.
Fernando Alonso's new team might turn out to be an old team. An outsider with a lot of new money – reportedly from Gulf airline Etihad – but so far all the talk is about hiring Chechu Rubiera and Paolo Bettini, two names from the old school. If this keeps up the new team will resemble an old team rather than a fresh approach. We'll see, will they try anything different like basing all the riders in one place? Or is this going to be a copy of the old model, only this time with petrodollars and consequent wage inflation in the peloton?
Points will matter: UCI points are the sporting version of Bitcoin, soaring and crashing in value. By the end of 2012 UCI points were valuable, so much so that riders were blaming their lack of points for the lack of a contract, in some cases in ignorance of the way the team ranking and "sporting value" system actually works. But this year there were 18 teams applying for 18 places so points didn't matter. But if one more team wants to apply for a spot in 2015 – Hola Señor Alonso – then the other teams sitting near the relegation zone will have to start playing ranking points chess.
Orica-Greenedge will get a co-sponsor. Orica-"your name here" and the Australian team surely deserves a second sponsor. As wealthy as Gerry Ryan might be there's value to be had in linking up with this team which is improving and capable of big publicity… and not just from blocked buses.
Chavanel celebrates whilst Gilbert can only look on pic.twitter.com/eMSLHByRe0

— the Inner Ring (@inrng) March 9, 2013
BMC get their act together. You know the story: pots of money but a poor yield. The US-Swiss team has at times resembled a country club where wealthy folk waste time rather than a band of brothers ready to storm a race. But much of this has been about luck and perception, they had so many second and third places in 2013 that only a few lucky breaks are needed to improve; for example just how often does Sylvain Chavanel win bunch sprints… to deny Philippe Gilbert? As turnaround stories go this could be one of the easiest to achieve. People say performance director Allan Peiper is shaking things up and new coach Marco Pinotti should help riders perform better.
MTN-Qhubeka will ride the Giro. That's 99% certain and much will be made about the first African team – don't mention Barloworld – and this is notable for the sport and global business as a whole. But this story now seems baked in to the mix. Perhaps the next test will be whether the Giro squad is composed of a majority of African riders or instead relies on the base of Germans in the squad?
Goodbye Katusha? A bit of a wild idea but "the Russian global cycling project" hasn't worked out too well so why does the team exist? The team's Russians are often invisible or worse, rumbled for doping, and it's Joaquim Rodriguez who gives the team so many wins and ranking points. No other team is so dependent on one rider. Team patron Igor Makarov sold his Itera business this year; he has the cash to fund the team personally but are Gazprom and other Russian agencies interested, especially if Rodriguez moves team? Quitting is probably too much but its owners might order a review, although the team has changed managers regularly to shake-up performance.
If 2013 was the "year of the Colombians" then which country will surprise in 2014? Err… Colombia. I'm concerned about Team Colombia, the black-jerseyed team run by Claudio Corti as all their best riders get poached faster than an egg in a changua stall. But there's still plenty of room for the likes of Rigoberto Uran, Carlos Betancur, Sergio Henao and more to improve. The question is whether they're hungry to succeed and keep working. Hopefully the answer is yes and expect to see them at the front in one day races too rather than just the Alpine stage races.
Meanwhile the Italians will struggle. Once pro cycling's top nation but you could probably correlate sales of EPO vials with Italian wins. Now there's only Lampre-Merida at the top, although Cannondale and Astana retain Italian DNA. But Italian woes are not just restricted to vanishing teams, their races are disappearing as a struggling economy means fewer public subsidies and the calendar is being decimated. Even at the top Giro owner RCS is engulfed in financial scandal. This isn't something for 2014 alone, it's a longer trend. The good news is much of this decline is relative, Vincenzo Nibali is at the top of his game and more comforting, the base of the pyramid is strong with a network of clubs, U-23 teams and it remains a land of fine roads. We just need some charismatic riders to spark greater public interest.
Sponsorship will get more innovative and we're already seeing signs. Some squads change their kit slightly when racing in different countries which represent different markets for sponsors. Now Belkin is offering co-sponsoship on its kit for a race-to-race basis. It makes sense because for all the talk of "globalization", cycling has a fragmented presence. There's massive publicity to be gained for a Belgian sponsor backing the team in April and an Italian name joining for May. Just excuse the commentators who might struggle to keep up. But there's room for much more, for example charging $X to become a premium team supporter and getting team-issue bike, a seat in the team car during a big race.
The UCI's truth and reconciliation programme won't be what you  expect. Don't picture a South African-style process of forgiveness, instead the scheme looks set to be framed by the WADA rules and illuminated by the spotlight of media attention which means little room for manoeuvre and fear of participants being plastered over the press for their doping past. See Stuart O'Grady for an example of how the past can come back to ruin a reputation.
What if race-fixing replaced doping as the new new scandal? Doping isn't going away but it got out of control because the sport thought it was a private matter and part of the job of "being professional". All this sounds a lot like the continued practice of buying and selling races, whether outright trades of races for cash or hiring rival teams like contract worker for an afternoon shift on the front of the bunch. "Sure it's unusual but it's what we do" says the peloton but that's hard for outsiders to accept. Yes cycling's special because you conspire with rivals to attack others, to share the work in a breakaway and so on but as much as insiders know this, the law doesn't. Fixing the outcome of a sporting event is illegal in many countries, indeed the act need not even involve payment, just conspiracy. The hard part is policing this, perhaps the sport will just stop doing this so openly, no longer will riders talk cash payments within range of a TV mic or make the thumb and finger-rubbing baksheesh gesture.
Finally,  a bonus prediction says most of these calls will be wrong. That's the beauty of sport and the folly of forecasting. Look back at 2013 and who would have bet that Marcel Kittel would consistently beat Mark Cavendish in July? That Nairo Quintana would be second in the Tour de France and Chris Horner would win the Vuelta? Who imagined this time last year that Pat McQuaid would be gone? I look forward to being proven wrong.