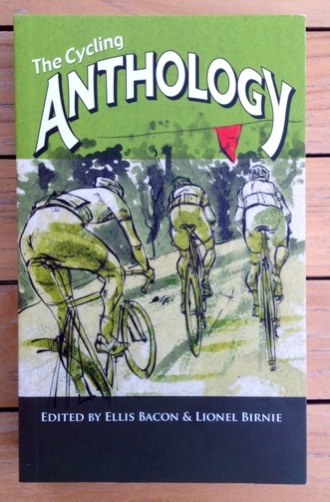 A short review of the latest version of the Cycling Anthology and then a question: why are there so many books about cycling from Britain?
The Review
I could just suggest you buy it. If you've reached this corner of the web chances are you want to read about pro cycling races so here's a collection of articles written by professional writers.
Still to whet the appetite, Anthony Tan's piece on Australian cycling is great and worth reading alone for the tale of Steele Von Hoff and his recumbent HPV race against Jack Bobridge. Klaus Bellon Gaitán – you might know his Cycling Inquisition blog – adopts the "brace brace" position to look at suspicion and Nairo Quintana. Meanwhile I just discovered Richard Moore looked at pro Cycling's masculine culture after I wrote about the "man's world" aspect. There's a lot more so I won't list the chapters and content but am suggesting its view ranges far beyond Britain. It's also a handy format, a good travel companion, fits into a pocket and easy to read piece by piece.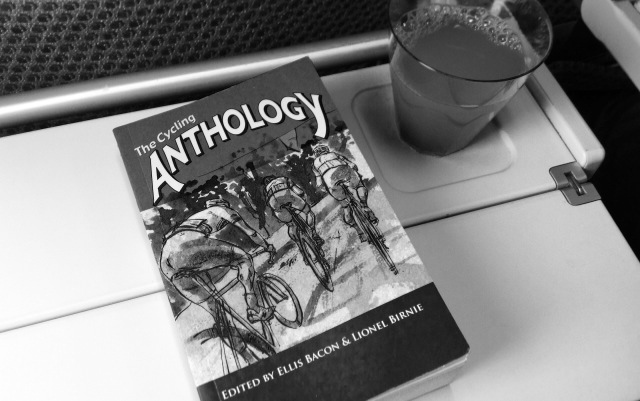 Why are there so many British cycling books?
Many of the contributors to the Cycling Anthology are British, it's edited by two Brits and published in Britain. Indeed there seem to be more British books than every other nation combined.
A vibrant industry, at least if measured by output, seems to be one factor. The UK is apparently the world's third largest publisher of books meaning it leads on a per capita basis
Cycling is also on the up as you'll know with the Olympic alchemy and riders Bradley Wiggins and Mark Cavendish. According to writer Richard Moore a third of the sports books sold are cycling related although presumably this ranges from sport to mechanics to tourism
Another factor has to be the way cycling lends itself literary endeavour, the same as baseball and cricket which are slow sports where the result can take hours or days to emerge, giving time and space to though, analysis and reflection
Last and hopefully least is the distorted economic model of publishing. For every Harry Potter or Da Vinci Code there are thousands of titles that don't sell much. If this is how the market works then publishers have an incentive to publish plenty in the hope that one title takes off, a scattergun model where you fire off lots and hope to hit the jackpot with a few
But the final factor doesn't explain the shortage of books from other countries. Charly Wegelius has some stories to tell from his time as a domestique and Michael Barry told his selective tale of life on the US Postal bus. But you won't find much about French or Italian domestiques and gregari and don't assume this is because European readers know from an early age what riding in service involves. Meanwhile the likes like Vincenzo Nibali, Alberto Contador and Fabian Cancellara have grand trophy cabinets but the slimmest of bookshelves. There is some literature dedicated to cycling in French and Italian but if you want to read The Rider you must find a Dutch original or the excellent English translation.
All this suggests there must be 1001 untold stories from the peloton and many in cycling's heartlands may find a race passing their front door but there's little reading material for the dark winter evenings. It varies from place to place though, anecdotally it seems Dutch and Belgians might be able together by more than the French or Italians.
If you want more on this there's also a tie-in with the Humans Invent podcast where editors Ellis Bacon and Lionel Birnie discuss the Anthology and discuss their trade.
Note: this copy was sent by Prendas Ciclismo for review a while back but I selfishly kept it for a recent long-haul flight.